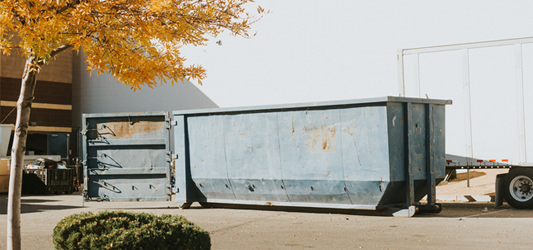 Updated August 1, 2022
Renting a dumpster isn't something that most people do everyday, so it's common to wonder, "Who offers the cheapest dumpsters?"
There are a few different types of companies who offer temporary residential dumpster rentals and knowing the difference between them is key to ensuring you get the best deal and customer service.
Jump to:
---
---
Types of Dumpster Rental Companies
There are 3 main types of companies that offer dumpster rentals:
Dumpster brokers
National waste companies
Local dumpster rental providers
We recommend avoiding dumpster brokers if possible. They act as the middleman between you and the actual dumpster provider and charge you more as a result.
They essentially do what you could do on your own—research local providers that service your zip code—and they often do so from a completely different location that is not local to you or the dumpster provider.
For example, if you're renting a dumpster in Michigan, you typically don't want to be dealing with customer service stationed in California.
National waste companies tend to put their focus on weekly trash pick-up services. Nationwide waste management companies often provide the cheapest weekly residential trash service, but when it comes to dumpsters, they tend to cost more than their locally-owned competitors.
Locally-owned and operated companies that specialize in dumpster rentals tend to offer the most competitive pricing.
It's also worth mentioning that their customer service tends to be better too, because you're able to speak directly to the person who will be providing your service rather than someone who works in a call center.
Keep reading:
How to Get the Best Dumpster Rental Price
To get the best dumpster rental price, don't just rent from the first local company you find.
It's always best practice to get multiple dumpster rental quotes from providers in your area to ensure you're paying a competitive price and receiving the highest quality of customer service.
There are several different factors that will affect the going rate for dumpster rentals in your area, like:
Size
Weight
Dumpster style
Type of trash/debris
Local landfill fees
Length of rental period
Where you live
Who you hire
When reaching out to several different companies to check on pricing and availability, make sure you ask the right questions, like:
How much weight is included in the quote?
What do you charge per ton for going over the included weight allowance?
How long is your rental period?
How much do you charge per day beyond the rental period?
What items are not allowed to be placed in your containers?
Are you licensed and insured?
Where will you place the dumpster and how do you protect my driveway?
Do you offer senior/military/student discounts?
Do we schedule pick-up ahead of time or do I have to contact you when I'm ready for you to pick it up?
These questions will help you understand the dumpster rental quote you're being given to best determine which company is the right fit for your waste disposal project.
---
---
Learn more: