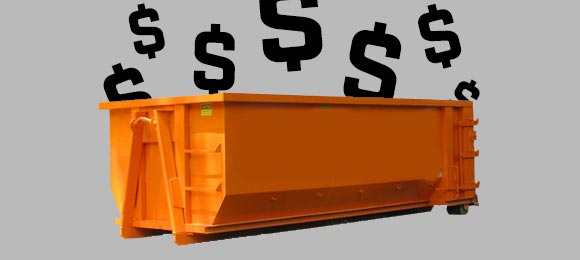 Updated August 1, 2022
The cost of renting a dumpster can range anywhere from $250 to $600 or more in some areas.
For most, this is a pretty substantial expense, so it's worth getting the best deal possible rather than simply settling on the first quote you get.
Below are a few questions, tips, and negotiation strategies that will help you get the best deal possible on your rented dumpster.
It's important to point out upfront that not all dumpster rental companies offer discounts, so don't expect to get a better-than-advertised deal on every transaction. That said, it's definitely worth trying the strategies below.
First things first…
To get the best price, it's imperative to call or get quotes from at least two or three dumpster rental companies in your area.
Prices for similarly sized dumpsters can differ by 10% or more between rental providers.
Plus, one company may offer terms that better meet the needs of your project, like a longer rental period, increased weight allowance, etc..
So, the first and most important step in getting the best dumpster rental price is getting quotes from several local rental providers and comparing terms to rule out the companies that won't be able to accommodate your disposal needs or timeline.
Once you've got one or more local rental providers that can meet your project's needs, you can get down to the nitty-gritty.
---
---
Price-Matching Competitors' Prices
Asking companies if they price-match competitors' prices is probably the best strategy to get a lower price on a dumpster, especially in competitive markets.
As with any industry, businesses will compete for your dollar. If one rental company is quoting you a price on a 20 yard dumpster for $25 cheaper than the company down the road, you can use that information to potentially negotiate a better price.
When calling for dumpster quotes, ask if they "price match" or "beat competitors' prices."
For this strategy to work, it's best to get quotes from at least three dumpster rental companies in your area.
This will give you a more accurate picture of the current going rates for the roll-off dumpster size you're after.
Clean-Loading for a Discount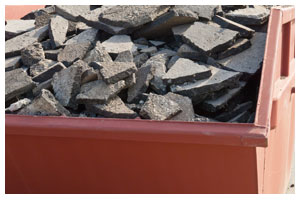 A 'clean load' refers to filling the dumpster with one type of material only, like concrete or roofing shingles.
This makes it quick and easy for roll-off companies to drop off the load at the nearest recycling facility, where dump fees are often less than disposal fees at a municipal landfill.
The key here is to let your dumpster rental provider know ahead of time that you plan to load only concrete or only roofing shingles.
This will ensure you get the best rate.
Short-Term Rental Discounts
This strategy is particularly effective during busy dumpster rental months (i.e. spring, summer and fall). Dumpster rental companies have limited containers in stock, so quick turnarounds ensure they have a container available for the next customer.
So, take advantage of this fact by asking if they can offer a lower price if you keep the dumpster for one, two, or three days rather than the standard 7-day rental period offered by many rental companies.
Keep reading: 3 Easy Ways to Get a Lower Price for a Single-Day Dumpster Rental
Military and Senior Discounts
Some rental companies will offer discounts of around 10%, give or take, for veterans, active members of the military, seniors, and other groups they may be affiliated with or support. This is an easy way to score a nice discount with no negotiation skills necessary.
The key is to make sure you ask if discounts are available because the rental company likely won't ask you.
You can try checking their website, but keep in mind that many local dumpster rental companies either don't have a website or have outdated sites with limited info.
Your best bet is to ask politely if they offer discounts for military, seniors, or other groups when calling to get a free quote over the phone.
Referal Discounts
While not often advertised, a local dumpster rental company may be willing to offer cash back or a discount on dumpster rentals if you bring them more business in the form of a referral.
If you know of someone in need of a dumpster in the not-so-distant future, have them use your dumpster rental provider (assuming you were happy with their services).
This is a win-win scenario for you and the dumpster company.
Just be sure to discuss the terms of the deal with them ahead of time.
Don't forget these additional money-saving tips…
Share the cost of the dumpster with a neighbor.
If possible, rent during low-volume months (winter) when rental companies aren't so busy.
Go local. Renting from a local company rather than a big-name national company can reduce costs and generally gets you better service.
Avoid disposing of restricted items (paint, flammables, etc.) or going over the stated weight allowance. Both situations can tack on significant fees.
These tips and strategies may not work every time or in every situation, but it's certainly worth a try if it means potentially reducing your dumpster rental bill by $20, $50, or more.
---
---
Keep reading: