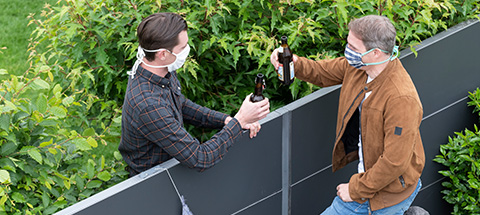 Updated August 1, 2022
Dumpster rental rates run from $300-$500 on average, depending on the size of the bin, the type and amount of debris, and where you live.
When you're strapped for cash during a home renovation or remodeling project, these dumpster rental fees have the potential to put a strain on the budget.
One of the quickest ways to cut the price of your dumpster rental significantly is to reach out to neighbors to see if they'd be interest in splitting the dumpster and the costs.
In this article, we'll discuss the main benefits of this money-saving method, how much money you can save, and how the dumpster-sharing process works.
Jump to:
---
---
Main Benefits
If you have neighbors, chances are, they have items lying around the house that they'd love to get rid of in one swift go.
Reach out to your neighbors to see if they'd be interested in sharing a dumpster with you.
This gets you both a dumpster for less, and can cut costs for everyone by up to 50%.
This is an excellent way for you and your neighbor(s) to save on disposal costs during:
Renovation projects
Spring cleaning
Yard debris disposal
Storm damage cleanups
You both benefit from the cost savings and the convenience of a dumpster rental.
Average Costs
Dumpster prices vary by location, container size, type of debris, and availability.
The table below lists average dumpster prices for the most common dumpster sizes.
Average Dumpster Rental Costs by Size

| Dumpster Size | Average Cost |
| --- | --- |
| 10 yard | $250-$450 |
| 20 yard | $350-$550 |
| 30 yard | $450-$650 |
| 40 yard | $550-$750 |
Learn more:
---
---
How It Works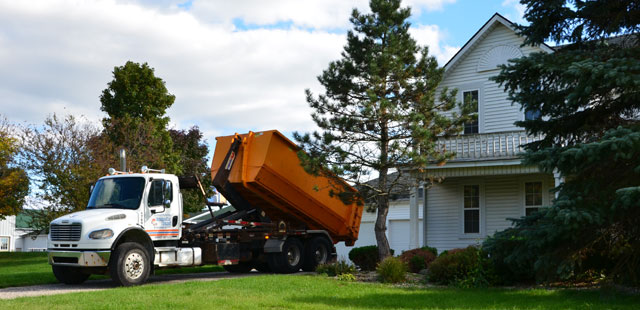 Step 1: Determine the type of debris and roughly how much of it your neighbor wants to toss.
Step 2: Work out a payment plan with your neighbor ahead of time.
Step 3: Inform the dumpster rental company of the types of waste and debris you will have to pick the best size.
Step 4: Make sure both parties understand all potential overage fees and charges.
Step 5: Decide on the best location for the dumpster that is convenient for both parties.
Step 6: Load up your dumpster, then call to have it picked up when you and your neighbor are done.
Let's look at this process more closely...
Say you have roughly 10 cubic yards of different items and materials that you want to get rid of.
Typically, you would rent a slightly larger bin to ensure you have enough loading capacity for the job.
For example, a 15 yard or 20 yard dumpster would be ideal for 10 yards of debris.
The average cost of this range in dumpster size is $350-$550.
However, if you plan to share the dumpster, we recommend renting a 30 yard or 40 yard dumpster instead.
The cost of this dumpster size is $450-$750, but splitting it in half with a neighbor will cost you only $225-$325.
So, you could get the same 15 or 20 yards of loading capacity for $100-$200 less, while also helping out your neighbor.
Be aware that some types of debris cannot be mixed with other types. This can vary, but common examples of debris that must be kept separate from other types of debris include concrete, roofing shingles, and dirt.
Be clear with your neighbor and the dumpster rental providers you speak to regarding the amount and type of debris you have. (We recommend getting dumpster rental quotes from at least three companies.)

Likewise, be sure you have a clear understanding of what your neighbor expects to dispose of for their portion of the costs.

This will help ensure you get the right dumpster size, and that you and your neighbor both have successful, stress-free experiences.
---
---
Find out more: