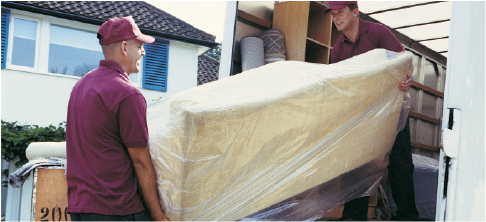 Updated April 27, 2022
Looking for answers to some of junk removal customers' most frequently asked questions? We've got the answers you're looking for.
In this guide, we answer some of the most common junk removal questions:
---
---
How Do Junk Removal Services Work?
Browse Local Junk Removal Companies Near You
Search for junk removal services in your area using Hometown's easy-to-use database.
From there, you can compare the services each company offers, read customer reviews, and request quotes from as many service providers as you'd like.
Get Multiple Quotes to Compare Pricing and Service
If you have just a couple of bulky items to toss, like an appliance or a small furniture set, then the junk hauler may be able to give you a quote before coming out to your site.
If you have more than a few items to get rid of, the junk removal service will likely need to see the junk in person to give an accurate estimate.
Typically, a crew of two people will come out to your property to assess the junk's volume and the amount of effort necessary to remove it.
They then provide you with an exact quote, and if you're satisfied with the price, the team removes the junk on the spot.
Say Goodbye to Your Junk
If you don't like the price that particular company quotes you, you're not obligated to hire and estimates are free.
Payment is only taken after the job is completed and your junk is gone.
If the price works for you, then most haulers will remove the junk on the spot.
The crew who gave you the estimate will then load all your unwanted junk onto their trucks and haul it away, leaving you with a clean-swept space.
Relax and Enjoy Your Newly Clean Space
After your junk is hauled away, relax and enjoy your clutter-free space.
It feels great to get rid of unwanted or unneeded items cluttering up your life, especially when someone else did all the heavy lifting and dirty work for you.
Most junk removal experts will handle your debris responsibly, donating reusable items in good condition and recycling when possible.
Keep reading:
Do Junk Removal Companies Donate and/or Recycle?
Junk removal companies structure their services in a way that allows you to get rid of a large (or small) amount of junk in a single trip without sending it to the landfill by throwing it away with a dumpster rental.
Items are separated so they can be donated or recycled whenever possible.
If you only have a couple items to get rid of and they're all going to the same place, the company will typically drive them there directly, either to a local donation center/charity or to the local recycling facility. Whatever cannot be donated or recycled is taken to the landfill for disposal.
If you are donating furniture or a large amount of items, the company should provide you with a donation receipt.
Read on:
What Items Do Junk Removal Companies Take?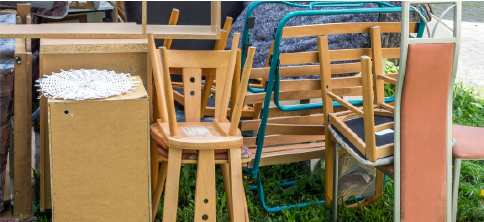 Junk removal companies are willing to take nearly anything off your hands, including items you can't put in a dumpster, like air conditioning units, refrigerators, and other freon-containing appliances.
Here's an idea of what most junk removal companies will take:
Appliances
Furniture
Electronics
Mattresses
Air conditioners
Clothing
Toys and books
Construction and demolition debris
Yard waste
Hot tubs/Spas
Exercise equipment
Boxes, storage containers, and miscellaneous household trash
Keep in mind: There are some items are not accepted due to safety concerns, like hazardous materials (mold, asbestos, lead paint), chemicals, etc.
Double check with each company you speak to that they accept the items you have.
Keep reading:
---
---
How Much Do Junk Removal Services Cost?
Getting a quote from a junk removal company is always free, but the cost for your specific junk removal project will depend on a number of factors.
Most junk removal services have a minimum charge of $75-$100.
This will generally include the pick-up of a couple small pieces of furniture or a very small pile of lightweight junk.
The average junk removal project, however, is typically bigger than this, so the average cost of junk removal services is typically closer to $500-$1,000.
As you might imagine, one of the biggest factors influencing cost is the amount of items you have, because the more items you have to remove, the more space it takes up in the company's truck, the more labor hours and people it will take to get the project done, and the more it will cost for the job.
For example, if you have heavy or large items to get rid of, it will take more than one person to haul them away, which results in a higher cost.
Likewise, if you live in a remote, rural area, it will cost the company more to get to your property and haul the junk to the nearest recycling facility or landfill, and you will have to cover that cost difference.
Learn more: How Much Does It Cost to Haul Away Junk?
Which Is the Better Deal: Junk Removal or Dumpster Rental?
In most cases, dumpster rental prices fall between $250 and $550 for a seven-day rental, while junk removal can be as low as $75 or as high as thousands of dollars.
Typically, junk removal services cost more than renting a dumpster because they do all the work for you.
However, the exception to this rule is when you have a smaller cleanup, like hauling away a couple pieces of furniture or getting rid of a refrigerator.
In general, if you need to get rid of only a couple larger items like appliances or furniture, junk removal is usually the more cost-effective option.
But, if you have a larger project, then dumpster rental is likely less expensive.
Dumpster rental saves you money when you have more than a few yards of debris or junk to get rid of.
Find out more:
How Do Junk Removal Estimates Work?
Junk removal estimates are almost always provided on-site.
The junk removal crew will come out to your home, yard, or business to see your junk cleanup project in person before providing an estimate for the junk removal work.
Because junk removal pricing is based on how much space your items take up in the company's truck, they will need to see the items in person before they can provide an exact quote. For single item removals, they may be able to offer an estimated price, but the final cost is not given until the crew is on site.
When the junk removal company comes out and gives you an estimate, if you agree to their price, they'll often get started right away or schedule a time that's convenient to complete the work.
These quotes may be provided in person, but you are in no way obligated to hire a junk removal company if you don't feel like their price is fair or there are other red flags, like poor customer service.
Learn more: What Is an On-Site Junk Removal Estimate?
Should I Tip My Junk Removal Company?
Tips are not required or expected, but if your junk removal crew does a great job, it's relatively standard practice to tip 10-20%.
A basic guideline for tipping a junk removal company is 10-15% tips for a small cleanup project and 15-20% for a larger cleanup.
However, you are in no way obligated to tip your junk haulers.
Learn more: How to Choose the Best Junk Removal Company
How Do I Find a Qualified Junk Removal Company?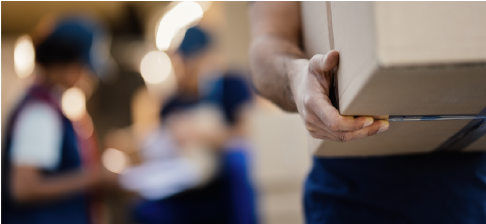 Hometown makes it easy to find the right local junk removal company for the job.
You can browse companies that serve your zip code, read their company profiles, see what customers have to say about their service, and easily request a quote from as many companies as you'd like.
We recommend reaching out to multiple junk removal providers before hiring because it will help to ensure you get a fair price, good customer service, and the services you need when you need them.
Contact a minimum of two to three junk removal companies to be sure you have a good understanding of your options and that you pick the right company for you and your project.
---
---
Learn more: