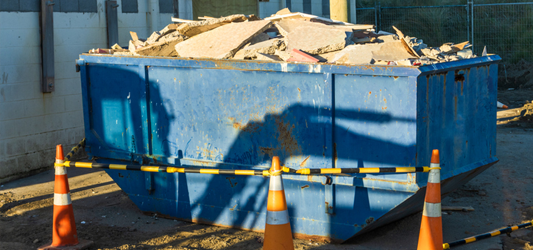 Updated August 1, 2022
Renting a dumpster is an efficient and affordable way to get rid of large amounts of trash at once, but just because you rent a dumpster does not mean that you can throw away whatever you want.
Failing to understand exactly what can and can't go into your dumpster could result in additional fines and fees that do not reflect the initial quote you were given.
Hometown understands that your money is valuable, so we've put together a guide to explain what types of items can be safely disposed of in a dumpster so that you don't overpay for your rental.
We'll go over:
---
---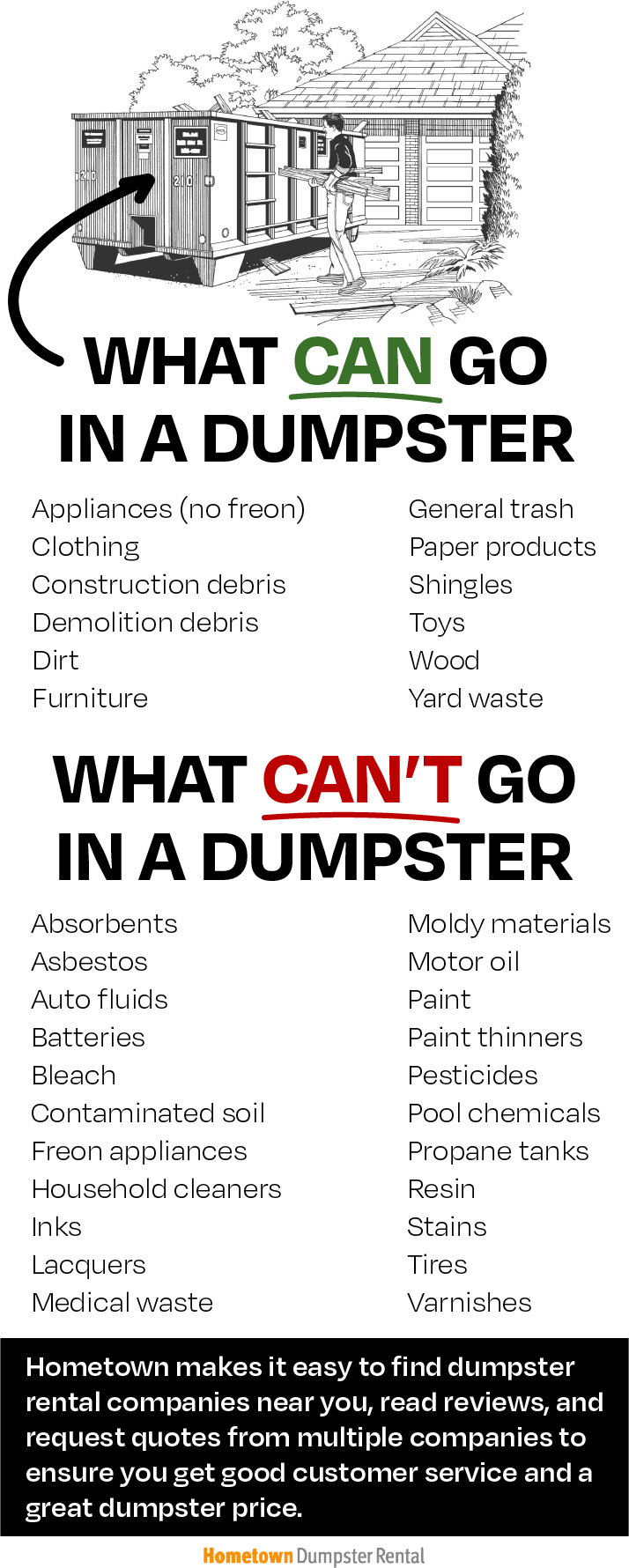 What Can't Go in a Dumpster Rental
Before we discuss what can go in a dumpster, it's important to understand what can't go in one.
Most dumpster rental companies dump their containers at local landfills and must comply with their rules and regulations in order to avoid getting fined themselves.
There are federal, state, and local guidelines to follow when dumping at a landfill, so be sure to ask your dumpster rental company what is prohibited at the landfill they plan on taking your dumpster rental to.
Items that are banned from landfills can create hazardous byproducts that leak into the surrounding soil and find its way into local bodies of water.
Common items banned from landfills:
Bleach and other household cleaners
Car batteries
Ink and resin
Material containing asbestos or mold
Medical waste
Motor oil and other automotive fluid
Paint, lacquer, varnish, and stain
Pesticides
Pool chemicals
Rubber tires
Regardless of what your local guidelines are, throwing away items that are prohibited in your dumpster rental will result in additional fines and fees, so be sure to be as detailed as possible when explaining your disposal needs with the dumpster company.
Learn more:
What Can Go in a Dumpster Rental
Items that are not considered hazardous are typically allowed in dumpster rentals.
Common household trash, used junk, yard waste, most appliances, furniture, electronics, recyclables, and construction debris are all great candidates for dumpster rental disposal.
That being said, items that are accepted in a dumpster still have their limitations.
Weight restrictions are normally placed on dumpster rentals due to safety measures and disposal costs.
The heavier your material is, the less of it you can put in the dumpster.
For example, if you rent a 10 yard dumpster to throw away common household trash, you'll likely be able to fill it and utilize most of its volume capacity.
Renting a 10 yard dumpster for a concrete removal project, however, will require you to use much less space so that you don't weigh down the dumpster to an unsafe hauling weight.
Another important thing to remember is that no two dumpster rental companies are the same and who you hire not only will affect the price you will pay for your dumpster rental, it can also affect what items will be accepted in your rental.
Some companies accept items that others do not, which is why being transparent and detailed is very important when contacting local dumpster companies for quotes.
We recommend getting at least 3 different dumpster rental quotes to make sure that you're paying a fair price for great service with a company that has the disposal options and availability that your project requires.
Hometown makes it easy to do all that and more.
You can find reputable dumpster rental companies in your area, read verified customer reviews, get answers to common waste disposal and removal questions, and more.
---
---
Keep reading: