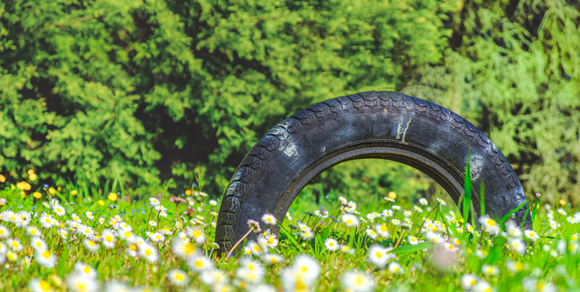 Updated September 20, 2022
Letting old rubber tires collect and sit on your property can welcome a host of health hazards, so getting rid of them swiftly and legally is important.
Mosquitoes thrive in areas where water has collected and old rubber tires being left out in the elements is the perfect breeding ground for mosquitoes and other diseases-carrying pests.
In addition to being a mosquito magnet, tires that are allowed to bake in the sun release methane into the air, posing a health risk to you, your neighbors, pets, and wildlife.
Because the material tires are made from releases methane, it causes tires to bubble to the surface of landfills, breaking the surface, and exposing surrounding areas to harmful toxins.
Recycling or repurposing your old tires are the only disposal options to consider.
Rubber tires cannot be taken to landfills and should not be put in your regular garbage or a dumpster with other debris. Attempting to do so could result in fines depending on the laws in your municipality.
Luckily, there are multiple other solutions to get rid of your old, unwanted car tires, and we'll outline each one in this quick how-to guide.
Jump to tire disposal options:
---
---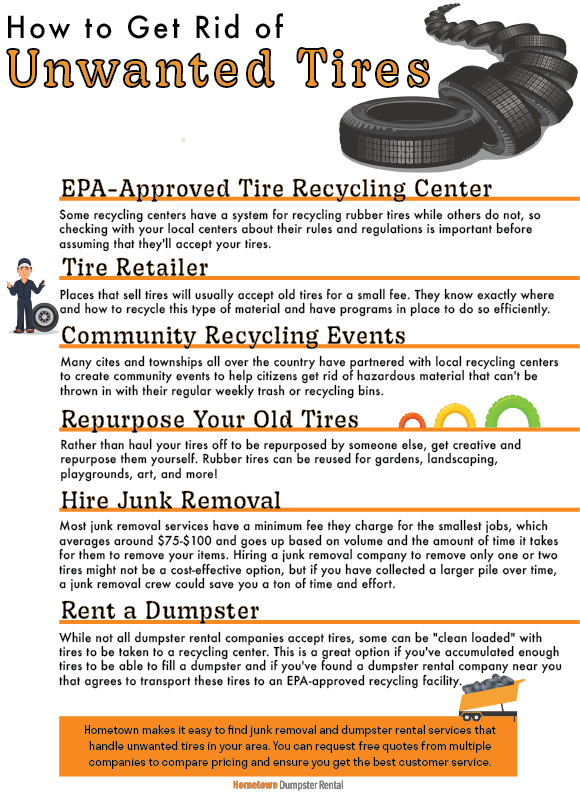 How to Get Rid of Your Old Tires
EPA-Approved Tire Recycling Center
Some recycling centers have a system for recycling rubber tires while others do not, so check with your local center(s) to confirm their rules and regulations before assuming that they'll accept your tires and taking them there.
There are also many recycling centers throughout the U.S. that are specific for just tires.
Depending on how far away one is located from you, these centers are a convenient way to get rid of unwanted tires.
Tire Retailer
Places that sell tires will usually accept old tires for a small fee.
They know exactly where and how to recycle this type of material and have programs in place to do so efficiently.
Tire retailers usually charge somewhere between $5-$10 per rubber tire that you're wanting to get rid of.
Community Recycling Events
Many cites and townships all over the country have partnered with local recycling centers to create community events to help citizens get rid of hazardous material that can't be thrown in with their regular weekly trash or recycling bins.
In addition to tires, items like old electronics, car batteries, and appliances should not be dumped in landfills and should be properly recycled.
Because communities recognize that recycling these items can cost money or require additional effort, they create these community recycling events to make it easier and encourage people to do the right thing.
Speak with a representative from your county's recycling division for more information about upcoming events.
Repurpose Your Tires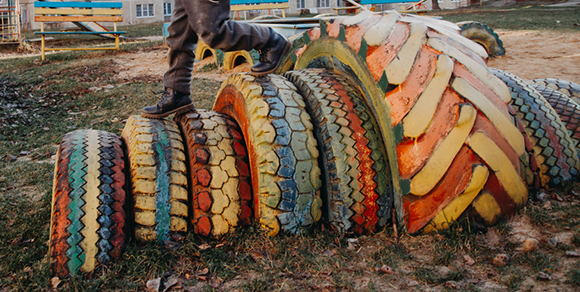 Rather than haul your tires off to be repurposed by someone else, get creative and repurpose them yourself.
Rubber tires can be reused for gardens, landscaping, playgrounds, art, and more!
Read more: 60+ Ingenious Ways to Reuse Scrap Tires
Hire Junk Removal
Hiring a junk removal company to come remove your pile of old tires is a quick and easy way to get the job done without having to lift a finger.
Depending on the amount of tires you have to get rid of, a junk removal crew could complete the removal in under 20 minutes.
Most junk removal services have a minimum fee they charge for the smallest of jobs, which averages around $75-$100 and goes up based on volume and the amount of time it takes for them to remove your items.
Hiring a junk removal company to remove only one or two tires might not be a cost-effective option, but if you have collected a larger pile over time, a junk removal crew could save you a ton of time and effort.
The best way to get the best price is to contact multiple junk removal companies for quotes to compare pricing, availability, and customer service.
We recommend getting at least 2-3 quotes to ensure you're paying a competitive price.
Hometown makes it easy to final local junk removal providers that service your area.
By providing your zip code and answering a few short questions about your service needs, you'll be shown a list of local, licensed, and reputable companies that are near you and ready to help.
Keep reading:
Rent a Dumpster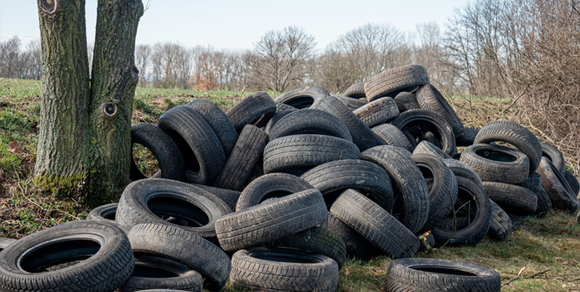 While not all dumpster rental companies accept tires, some can be "clean loaded" with tires to be taken to a recycling center.
Clean loading a dumpster means to only load one specific type of debris into the dumpster (in this case, rubber tires) so that the material can be recycled or reused somehow.
This is a great option if you've accumulated enough tires to be able to fill a dumpster and if you've found a dumpster rental company near you that agrees to transport these tires to an EPA-approved recycling facility.
Stay away from a dumpster rental company that accepts tires but intends on dumping them at the landfill.
10 yard dumpsters are typically the smallest temporary dumpster rental option and costs somewhere near $250-$350 on average.
Like junk removal, Hometown helps homeowners and business owners find dumpster rentals in their area that are affordable, reputable, and locally-owned.
You can read dumpster rental reviews from real customers and get as many dumpster rental quotes as you'd like, free of charge.
---
---
Continue reading: