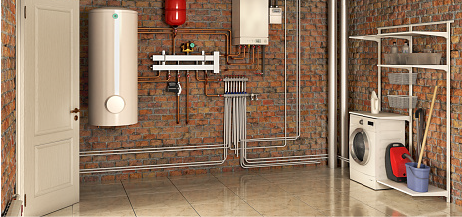 Updated June 9, 2022
Decluttering your basement doesn't have to be a long or complicated project.
The key to a clean and beautiful basement is, of course, staying on top of your junk in the first place, but this is easier said than done. Luckily, there are a number of disposal options available to homeowners looking to clean out their basement.
In this guide, we'll discuss the most popular ways to get rid of junk in your basement quickly and for as little money as possible.
Jump to:
---

Hire a Junk Removal Company to Help with the Cleanout
Arguably the easiest and quickest way to get rid of junk from your basement is to hire a junk removal company.
Junk removal companies can assist with a basement cleanout in two ways:
They can remove a pile of junk you've set aside for them to take.
They can assist with the entire basement cleanout, providing a more all-inclusive service.
Whether you set aside the junk for the junk removal company or ask them to assist with the entire cleanout, junk removal companies specialize in fast, efficient services.
One of the best features of junk removal services is their prioritization of donating and recycling materials whenever possible, rather than hauling them to a landfill.
Average Cost of Junk Removal for Basement Cleanouts
The national average cost to hire a junk removal company to clean out a cluttered basement is $800-$2,000, but can be as low as a few hundred dollars for smaller jobs.
The exact cost of your basement cleanout will depend on:
Amount of junk in your basement
Time it takes to remove your items
Type of material to get rid of
Presence of hazardous materials
Accessibility of your basement
Where you are located
Who you hire
How the Junk Removal Process Works
Reach out to multiple junk removal companies in your area for quotes. Most companies will need to come to your location to assess your project before providing a quote.
If you agree to the in-person quote, they'll usually get to work right away and start removing your unwanted items then and there. If your cleanout is going to be more involved, they may schedule a later date to begin the project.
The junk removal company will send a crew, usually made up of 2 people, to your location. You direct them on which items need to go and they'll start loading their truck with your items right away.
Once the crew has removed all of your unwanted basement junk, they will haul it off to be disposed. If your items can be reused, they'll take them to be donated or recycled. Items that aren't recyclable will be taken to a landfill.
You'll receive an invoice after the junk removal service has been completed.
Hometown makes it easy to find a reputable junk removal service near you.
Browse local junk removal companies, read verified customer reviews, request free quotes, and get answers to common junk removal questions all in one easy-to-use place.
---
---
Learn more:
Rent a Dumpster to Toss Your Junk
Renting a temporary dumpster, whether you rent a roll-off container or a trailer dumpster, is another option for basement cleanouts, and is arguably the most cost-effective way to do so.
If you have 7 or more cubic yards of unwanted junk in your basement to get rid of, dumpster rental might be the best disposal method for you.
Dumpster rental does require lifting and loading sometimes heavy items, so this is only an option if you have the strength, assistance, or tools to safely move your items from the basement into the dumpster.
Average Cost of Dumpster Rental for Basement Cleanouts
An average size basement cleanout can typically be accommodated with a 10 yard dumpster, but a larger, more cluttered basement will likely require a 20 yard dumpster or even 30 yard dumpster in extreme cases.
The average national cost to rent a 10 yard dumpster is $250-$450, while the average cost to rent a 20 yard dumpster is $350-$550.
How the Dumpster Rental Process Works
Contact multiple dumpster rental companies in your area for quotes. In order to get the most accurate quote, be as detailed as possible about the amount and type of items you intend on throwing into the dumpster. Going over your weight limit, rental period, or adding prohibited items can all result in additional fees that may not reflect the initial quote you were given.
After you've gotten quotes and have decided which company you'd like to rent from, schedule a date and time for the dumpster to be delivered. Make sure you understand all the terms and conditions of your rental agreement before filling up your dumpster.
The dumpster company will send a delivery driver to your location to place your rental wherever you'd like (as long as local regulations are followed).
Start loading your rental with the junk from your basement. If you rent a roll-off container, open the swinging side doors to make loading easier.
Once you're done loading your dumpster, reach out to the rental company to schedule pick-up.
The rental company will send someone to pick up your dumpster and take it to the nearest landfill, where it will be weighed before being dumped.
You'll receive an invoice after the dumpster company has hauled your items to the landfill. As long as you followed the terms and conditions of your rental agreement properly, your final bill should reflect the initial quote you were given.
The best pricing and customer service you can get is typically from locally-owned dumpster rental companies rather than the big name companies.
Finding local dumpster companies near you and requesting multiple dumpster rental quotes to compare pricing is fast and free with Hometown.
We recommend getting at least 3 different dumpster rental estimates to make sure you get great service for a great price.
---
---
Keep reading: