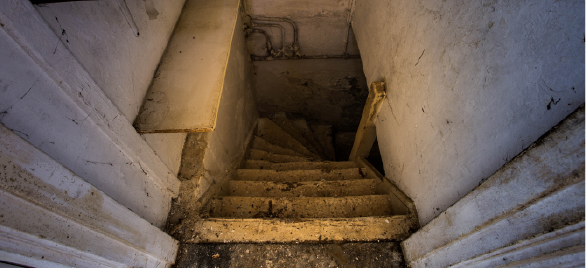 Updated January 26, 2022
Sick of your cluttered, dirty, hoarder-level basement? You're not alone.
Countless homeowners struggle with a messy basement until they get tired of the disorganization and chaos and decide to do something about it.
The good news is that cleaning out your basement doesn't have to take as long as you think, especially when you utilize your time and resources wisely.
In this guide, we'll discuss how to clean out a basement fast, breaking it down into steps, and how much it would cost you to get a little help and save a lot of time.
Jump to:
---
---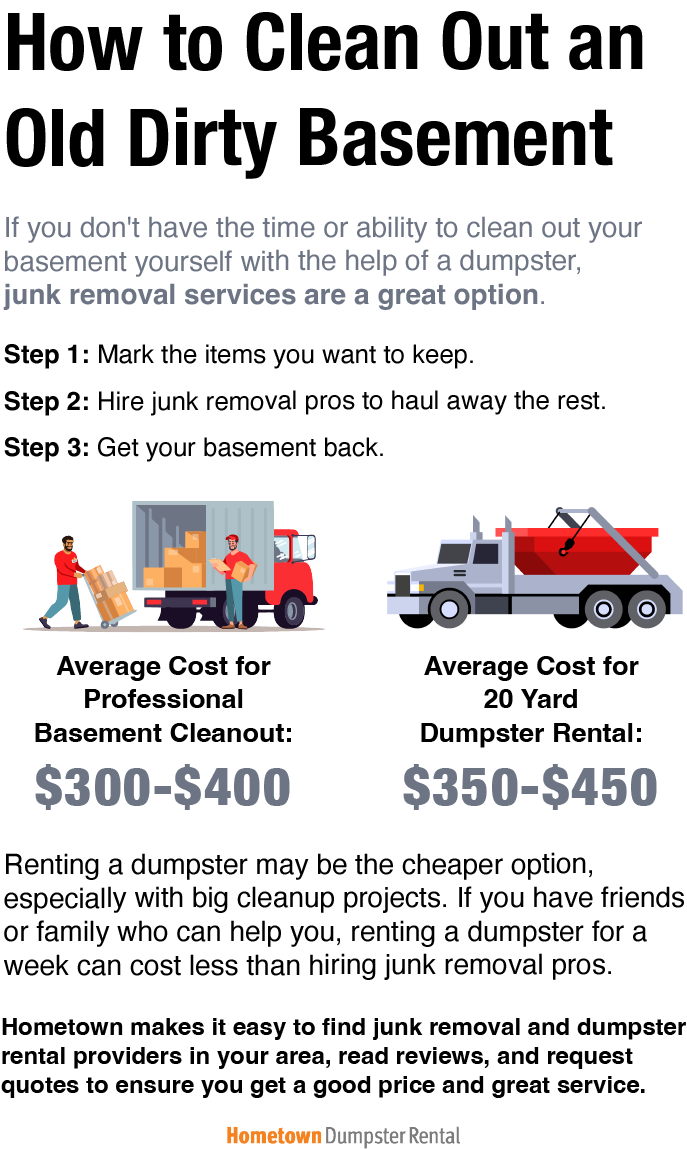 Steps to Declutter and Clean Out Your Basement
A basement can be a functional and even beautiful space for you and your family to enjoy, but it can quickly become piled with items and junk.
Ideally, you stay on top of your basement's contents and organization throughout the months and years, but more important things come up and it can be a hard thing to keep up with consistently, especially if you struggle with getting rid of things.
However, when the junk and old items get out of hand and continuously build up, they can also accumulate dust mites, insect droppings, and other gross and potentially dangerous surprises.
After a certain point, when the basement is extremely cluttered and dirty, it's time to consider getting help with a complete basement cleanout.
Here's how basement cleanouts work...
1. Mark What You Want to Keep
Before hiring help with your basement cleanout, tag the boxes you want to keep with a post-it or set aside the items you don't want to get rid of.
If you're unable to go through all the items you have, it's best to enlist the help of family or friends to help you sort through it all.
If you're having a hard time choosing whether or not you want to keep something, ask yourself the following questions:
When was the last time I used this item?
Did I completely forget about (and not miss) this?
Have I already replaced this?
Can someone else make better use of this item?
Why do I want to keep this item?
Be honest with yourself and only keep the items that serve a purpose in your life and bring you joy.
Step 2: Hire a Junk Removal Service to Help
Once you make it clear what you want to get rid of, or if you want to get rid of everything in the basement, the next step is to reach out to local junk haulers in your area.
These companies are experts in basement cleanouts and do not simply haul things to the dump; they separate the items that can be donated or recycled, so you can be comfortable that your items will have a new life in a new home rather than filling up landfills.
Typically with big projects like basement cleanouts, junk removal companies will need to give you a cost estimate in person after fully assessing your project needs.
It's ideal to get at least three estimates when hiring a professional to help you with any project, but it can be a little hard to do that when the companies have to come out to your basement to give you a quote.
And with COVID, you may want to minimize the number of service providers you have in your home.
We recommend recording video or taking adequate photos to capture your project needs. That way, the junk haulers can quote your project without needing to come out to your basement.
Step 3: Get Your Basement Back
Once you agree to a project estimate and hire a company, they'll get to work removing your items.
A team of two or more will come haul your items onto their truck.
They then transfer your items to their headquarters where the items can be sorted, donated whenever possible, recycled, or tossed as a last resort.
If you have a lot of items that can be donated, most companies are happy to provide you with a donation receipt.
After all of your items are hauled out of your basement, the company typically sweeps the area, takes your payment, and goes on their merry way.
Learn more:
When to Use Basement Cleanout Services
Professional cleanout and hauling services are extremely helpful for cleaning out messy basements.
These companies have the equipment and experience needed to safely, efficiently, and tactfully complete basement cleanouts of all shapes and sizes.
If you don't have the time or physical ability to clean out your basement yourself with the help of a dumpster, junk removal services are a great option.
Keep reading:
How Much Basement Cleanouts Cost
The average cost of basement cleanouts is $300-$400, but your exact cleanout costs can vary.
The cost of your basement cleanout project will depend on:
How much you have to get rid of
How accessible the basement and items are
Where you live
Who you hire
Note: In some cases, renting a dumpster is the cheaper option, especially with big cleanup projects. If you have friends or family that are willing and able to help you, renting a dumpster for a week can cost less than hiring junk removal pros to do it for you.
---
---
Find out more: