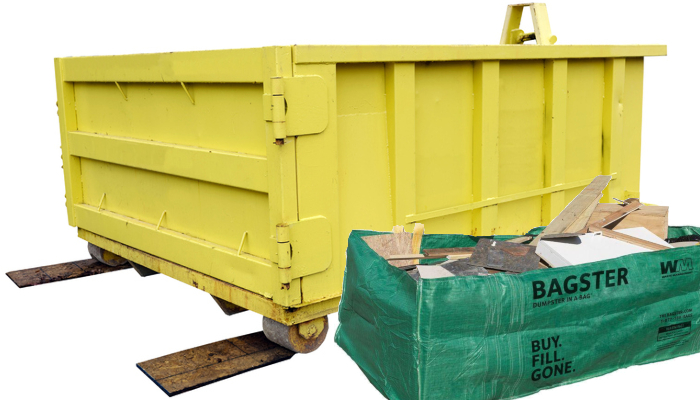 Updated October 5, 2023
Small renovations, remodels, and cleanout projects generate several cubic yards of construction debris and waste that will need to be disposed of.
Renting a small dumpster is an efficient solution, but deciding which style of dumpster to use for your project can be difficult if dumpster rental isn't a service you're particularly familiar with.
Two of the most popular dumpster options for smaller residential projects are traditional roll-off containers and bag style dumpsters, like Waste Management's Bagster.
A Bagster or similar type of dumpster bag (there are several others on the market) can hold about 3 cubic yards of debris or up to 3,300 lbs. That's equivalent to 800-1,000 square feet of roofing shingles, 1 cubic yard of heavy debris (e.g., concrete), or 47 sheets of drywall.
If your project is estimated to generate anywhere near 3 yards of debris or 3,300 lbs, choosing a traditional roll-off container is a better option, as it can save you time, money, and hassle.
The two biggest factors to consider when deciding between these two options involve the amount of waste you have to dispose of and your budget.
We'll break down and compare average costs for bag-style dumpsters and 10 yard roll-off dumpsters so that you can choose the best solution for your disposal project.
Jump to:
---
---

Average Dumpster Bag Costs
If your cleanup project is within the dumpster bag capacity requirements and you're considering going this route, it's important to understand the costs associated with such a service compared to that of renting a traditional roll-off dumpster.
The upfront cost of a Bagster is generally low, averaging $25-$30 depending on where you live. You can get one at Home Depot, other big box home improvement stores, or directly from the company that will be hauling away and disposing of your dumpster bag and the waste you put in it.
This low upfront cost may sound like a great deal initially until you factor in the pickup fees. These fees average between $130-$320, putting the total cost of a bag style dumpster as high as $350 in some areas.
Learn more:
Average 10 Yard Dumpster Cost
The national average cost to rent a 10 yard dumpster is $250-$450.
In some locations, a 10 yarder can be rented for as little as $200, while more expensive markets, like New York City or Los Angeles, may cost $600 or more to rent a dumpster this size.
This pricing typically includes a 7-day rental period and a weight limit of 4,000-6,000 lbs, meaning you get more than triple the loading capacity by volume compared to a dumpster bag.
Comparing Costs
Broken down by cost-per-yard, 10 yard roll-off containers offer the better deal.
10 yard dumpsters cost $250-$450 on average for 10 cubic yards, making them average $25-$45 per cubic yard.
Bagsters cost $150-$350 on average for 3 cubic yards, making them average $50-$117 per cubic yard.
Additional Costs to Consider
It's not uncommon to underestimate the amount of waste your project will actually produce, and a dumpster with a 3 cubic yard capacity can fill up much faster than the average person realizes.
The cost of bag-style dumpsters can really start to inflate in cases where a second bag needs to be purchased in order to finish a job you thought could be handled with one.
Total costs can jump up to $300-$700 in cases where two Bagsters are needed, which is more than the cost of a single 10 yard dumpster that contains over 3x the loading capacity.
There are also additional fees for overweight loads when choosing either option. Be sure to abide by the weight allowance offered by your dumpster provider in order to avoid these charges.
Overage fees average $75-$100 per ton over the stated weight allowance.
Read more: The Average Cost of Dumpster Overage Charges
Final Thoughts
Bagsters are a viable option for very small cleanups, but it's extremely important to properly plan ahead to ensure the bag will accommodate all of your waste and debris. If your estimated amount of waste is anywhere near 3 cubic yards or more, going with a 10 yard dumpster is the more cost-efficient solution.
Beyond debris volume and costs, be sure to consider convenience when deciding between a dumpster bag and a 10 yard dumpster.
Roll-off containers are typically the more convenient option since the bin is dropped off at your project site, while a dumpster bag usually requires that you go out to purchase it and bring it back to the project site yourself.
If you'd like to learn more about the cost of dumpster bags and 10 yard roll-off containers in your area, we recommend reaching out to at least 2-3 different dumpster providers for quotes.
Getting multiple quotes not only allows you to compare pricing, but it also allows you to get a feel for the type of customer service each company offers.
Hometown makes it easy to request quotes from locally-owned dumpster companies in your area. By simply entering your zip code and answering a few short questions about your disposal needs, you'll be shown licensed, reputable dumpster companies that service your area.
You can read verified reviews from real customers, read more about each company, and get free estimates to help you make the most informed decision for your disposal project.
---
---
Keep reading: