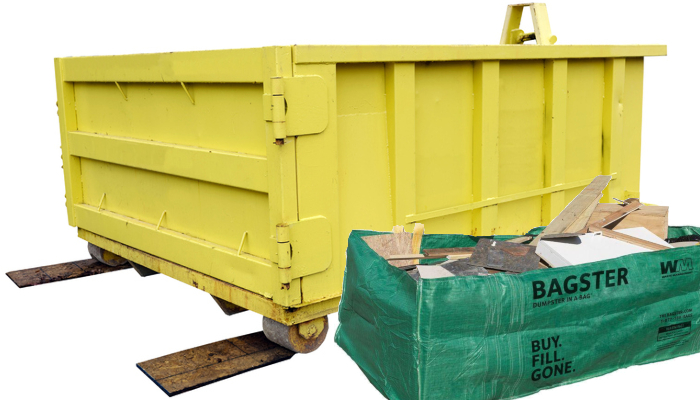 Updated September 24, 2021
Small renovations, remodels, and cleanout projects generate several cubic yards of construction debris and wastes that need to be disposed of.
Renting a small dumpster is an efficient solution, but should you choose a "Bagster" style dumpster or go with a larger 10 yard dumpster?
There are two key considerations when deciding between these two options:
Amount of waste to dispose of
Your budget
A Bagster from Waste Management or similar type of bag dumpster (there are several others on the market) can hold about 3 cubic yards of debris or up to 3,300 lbs. That's equivalent to 800-1,000 square feet of roofing shingles, 1 cubic yard of heavy debris (e.g., concrete), or 47 sheets of drywall.
If your project is estimated to generate anywhere near 3 yards of debris or 3,300 lbs, choosing a larger dumpster is a better option—it can save time, money and hassle.
Read on: A Comprehensive Guide to Dumpster Weight Limits
---
---
Average Bagster Costs
If your cleanup project is within the Bagster capacity requirements and you're considering going this route, it's important to understand the costs associated with such a service compared to that of renting a traditional roll-off dumpster.
The upfront cost of a Bagster is generally low, averaging $30 to $50 depending on where you live. You can get one at Home Depot and other big box home improvement stores.
This may sound like a great deal, until you factor in the pickup fees. These fees average $160 but can be as high as $200 in some areas, putting the total cost of a Bagster as high as $250.
Average 10 Yard Dumpster Cost
The average nationwide cost to rent a 10 yard dumpster is $300 based on data collected by Hometown (2021). In some locations, a 10 yarder can be rented for as little as $199, while other more expensive markets (e.g., New York City) may cost $400 or more to rent this dumpster size.
This pricing typically includes a 7-day rental period and 4,000 to 6,000 lbs of weight. You get more than triple the loading capacity by volume compared to a bag dumpster.
Related: How to Choose the Best Dumpster Rental Provider
Costs Compared
Broken down by cost-per-yard, 10 yard roll-off containers offer the better deal:
10 yard dumpsters cost $300 on average for 10 cubic yards = $30 per cubic yard
Bagsters cost $200 on average for 3 cubic yards = $67 per cubic yard
Additional Costs
Where the cost of bag-style dumpsters can really start to inflate is in cases where you need to purchase a second bag to finish a job you thought could be handled with one bag.
Total costs can jump to $400 to $500 in cases where two Bagsters are used for the job, which is more than the cost of one 10 yard dumpster with less total loading capacity.
There are additional fees for overweight loads when renting 10 yard dumpsters. Be sure to abide by the weight allowance offered by your dumpster provider to avoid these charges. Overage fees average $50 per ton over the stated weight allowance.
Final Thoughts
Bagsters are a viable option for small cleanups, but it's extremely important to properly plan ahead to ensure the bag will accommodate the debris. Again, if the estimated amount of project debris is anywhere near 3 cubic yards or more, going with a 10 yard dumpster or another small roll-off container option is the more cost-efficient solution.
Beyond debris volume and costs, be sure to consider convenience when deciding between a Bagster and a 10 yard dumpster as well. A roll-off container is the more convenient option since the bin is dropped off at your job site, while the Bagster must be purchased from a local source and brought to the site.
We hope this quick guide will help next time you tackle a project.
---