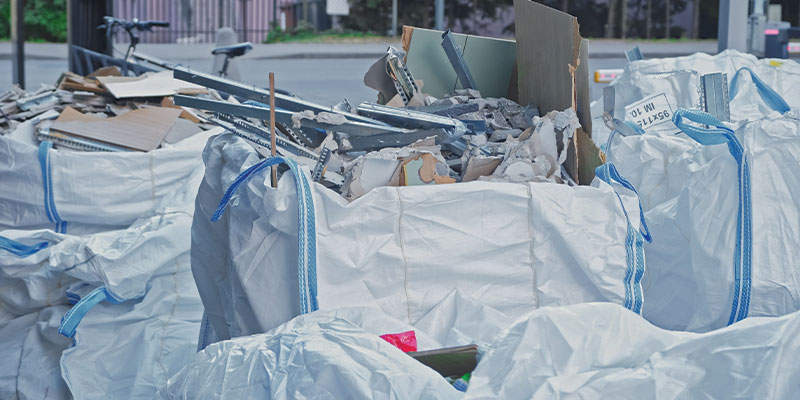 Updated September 14, 2023
Dumpster bags, also known as "dumpster in a bag" or "bagsters," are a convenient and flexible solution for waste collection and removal.
Whether you're tackling a home renovation project, decluttering your garage, or cleaning up your yard, dumpster bags can be an excellent alternative to traditional dumpsters.
In this step-by-step guide, we'll walk you through how to use dumpster bags effectively for efficient waste collection.
Dumpster Bag Steps:
---
---
Step 1: Choose the Right Dumpster Bag
Before you start, it's essential to select the right dumpster bag for your project, and that includes the right company and the right size.
The Right Company
Dumpster bags are increasing in popularity and so are the number of companies offering dumpster bag services. When choosing the right company, consider their customer service, availability, and cost.
The Right Size
Dumpster bags typically come in a 3 cubic yard size, but some companies do offer different sizes and dimensions to suit various needs. Consider the amount of waste you'll generate and choose a bag that can accommodate it comfortably. Larger bags are suitable for bigger projects, while smaller ones work well for smaller cleanups.
Read more: Bagster vs Dumpster: Buy a Dumpster Bag or Rent a Small Dumpster?
Step 2: Prepare the Area
Clear the area where you plan to place the dumpster bag. Ensure it's a flat, level surface free from obstacles like overhanging branches, cars, or other objects. Make sure the bag will have easy access for loading waste.
We also advise against placing the dumpster bag on grass, as it can kill it and leave an unsightly dead spot in your yard. The best place for a dumpster bag is on a driveway or other concrete or asphalt surface whenever possible.
Step 3: Unfold and Set Up the Dumpster Bag
Lay the dumpster bag flat on the ground, ensuring that it's centered on your chosen location. Most bags have clear setup instructions printed on them. Follow these instructions carefully to ensure proper placement and stability.
Step 4: Load Your Waste
Start loading your waste into the dumpster bag. Be mindful of the bag's weight limit, which is usually specified by the manufacturer. Overloading the bag can lead to tears or difficulties during pick-up. To maximize space, break down large items, and arrange waste as efficiently as possible.
Likewise, be sure you avoid loading items into the bag that are prohibited. The items that are and aren't allowed in a dumpster bag can vary from company to company, but they generally have the same rules.
Step 5: Secure the Bag
Once you've loaded your waste, it's time to secure the bag so it's ready for pick-up. Some dumpster bags come with built-in closures or flaps that you can use to seal the bag. Others simply have straps for pick-up and no closure.
Confirm the protocol for securing your bag when reaching out to dumpster bag companies so you know what to expect and how to properly prepare your bag for pick-up.
Step 6: Schedule Pick-Up
Contact the dumpster bag service provider to schedule a pick-up. Be prepared to provide your location and any other necessary information. Many services offer online pick-up scheduling for added convenience.
Step 7: Prepare for Pick-Up
On the scheduled pick-up day, ensure that the dumpster bag is accessible for the collection truck. Move any vehicles or obstacles that may block access, and make sure that the bag is visible and easy to identify.
The collection truck will arrive on the scheduled day to pick up the dumpster bag. Be patient, as pick-up times may vary based on the service provider's schedule. Ensure that the bag is placed where you specified for pick-up so it can be completed without issue.
Step 8: Completion and Billing
Once the bag has been collected, your waste removal is complete. Some services will bill you based on the weight or volume of waste collected, while others charge a flat fee for dumpster bag services. Review your invoice to ensure accuracy and make your payment as required.
Additional Tips:
Avoid overloading the dumpster bag to prevent damage and ensure safe pick-up.
Don't place hazardous materials, such as chemicals, paint, or electronics, in the dumpster bag. Check with your service provider for guidance on disposing of such items.
Keep the bag dry to prevent weakening of the material.
If you have any doubts or questions about using the dumpster bag, contact the service provider for assistance.
In summary, using dumpster bags is a convenient and flexible way to manage waste collection for various projects. By following this step-by-step guide and adhering to your service provider's guidelines, you can efficiently dispose of waste and keep your project area clean and organized.

When you're ready to find local dumpster bag services, trust Hometown to make the process fast and easy. Request multiple quotes from local providers, get answers to common dumpster bag questions, and read verified customer reviews so you can be sure you have a great dumpster bag experience.
---