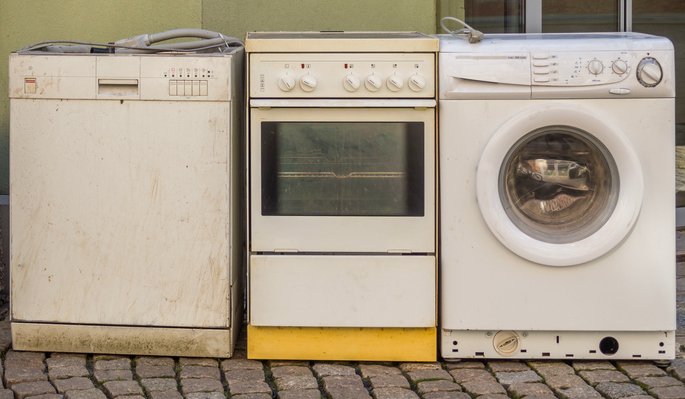 Updated February 22, 2023
Out with the old and in with the new.
If you live in a house for several years, it's inevitable there will come a time when you are getting rid of an appliance, or multiple appliances, to replace with new units.
There are several methods to cost-efficiently and legally get rid of old appliances, such as refrigerators, dishwashers, washers/dryers, and other large home appliances.
Jump to:
---
---
Disposal Laws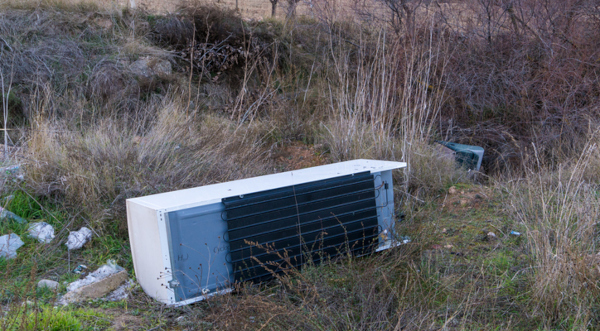 There are laws in most states and major cities around the country describing the proper way to dispose of old appliances.
Of particular concern are appliances containing environmentally hazardous elements, such as freon, toxic foam, or refrigerants.
No matter the laws in your area, home appliances require special handling for disposal.
It's best to check your local government website for details.
Your power company may also have useful information.
Read on to learn how to get rid of one or multiple appliances.
For Single Appliances
Hire a Junk Removal Service
This may be the quickest option.
Simply call or text a local junk removal company and let them know the details of the job.
You'll get a quote and can book the job.
Oftentimes, they'll come out the same day and remove the appliance for you.
They will properly dispose of the appliances according to local law.
The cost of hiring a junk removal company to handle the appliance removal can vary, but costs generally start at around $100-$150 and go up from there based on the details of the job.
Donate or Give Away
Don't throw away appliances that are still in good working condition. Others may be able to use it.
There are multiple ways to offload gently used appliances, and here are just a few:
Gift to a friend or family member
Donate to local charitable organization
Put an ad on Facebook Marketplace, Craigslist, etc.
Some charitable organizations offer to pick up gently used appliances for no or low cost.
Salvation Army will pick up appliances in some areas around the country. This service is not widely available.
Local Bounty Program
Many cities around the country offer programs – sometimes called a Bounty Program – for turning in home appliances to the proper facilities, such as local landfills or recycling centers.
Incentives are often given to consumers, such as discounts on the purchase of new Energy Star appliances.
Depending on your municipality, this service may be free or cost a fee per appliance. Read more about this at EPA.gov.
Landfill It
Haul the appliance to the landfill yourself if you have the means to do so.
Be mindful of the time and work required, as well as the landfill fees associated with appliance drop-offs. In many cases, it may be a better option to have a junk removal company come pick up the appliance and dispose of it for you instead of doing it yourself.
Learn more: Cost of Hauling Waste Yourself vs Renting a Dumpster
Scrap It
Metal in appliances can be recovered and reused.
Scrap yards will pay for old appliances on a per-pound basis.
It's usually around a few cents per pound, but this can vary based on the current metal market and your location.
As a rough example, you can expect to get around $10 for a refrigerator, $8 for an oven, and $12 for a washing machine.
Do an online search for "local metal scrap yards near me" to find a nearby location.
Scrap metal recycling facilities are not widely available.
Appliance Swaps and Rebates
Depending upon where you purchase the new appliances, the retailer may offer free or low-fee removal and recycling of the old appliance(s).
For example, Home Depot offers removal of most home appliances for a $25 fee in most markets.
Another option available in some areas is the free or low-cost removal of appliances via your power company.
This is often available for removal of refrigerators, air conditioners, dehumidifiers, and freezers. Best of all, some power companies provide a rebate you can use toward your energy bill.
Check with your power company to see if they offer such services.
Removal of Multiple Appliances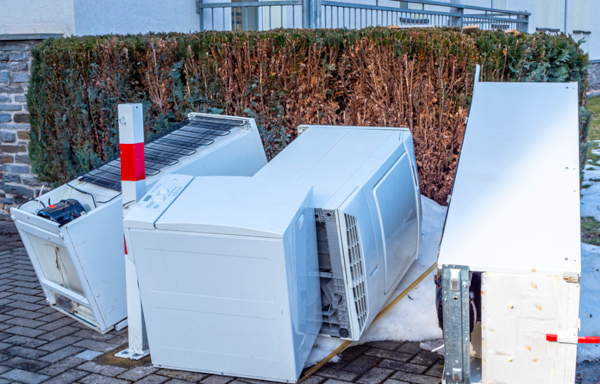 The same removal options listed above will work but use the following methods for getting rid of multiple appliances in the most efficient manner.
Rent a Dumpster
This is a great option for getting rid of multiple appliances quickly and with little hassle.
However, you must be sure your dumpster rental provider permits appliances, especially those with refrigerants or toxic foam insulation.
Most will take appliances but there may be guidelines to follow.
For reference, a 10-cubic-yard dumpster will hold the equivalent of about 10 standard-size residential stoves.
A typical stove measures approximately 3 ft x 3 ft x 3 ft, which is 1 cubic yard.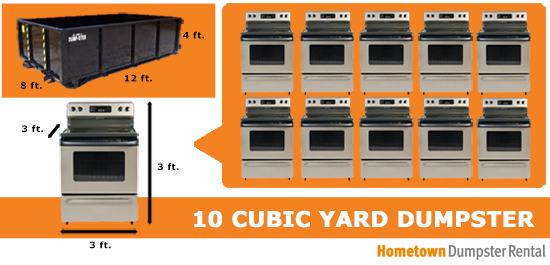 Your dumpster rental provider can help you choose the right dumpster size for your situation.
---
---
Hire a Junk Removal Service
Junk removal companies handle all the heavy lifting, loading, and disposal for you. It doesn't get much more convenient than that!
An established junk removal company will have no problem loading, hauling, and properly disposing of a house-full of appliances while abiding by local environmental rules and regulations.
The cost to have a junk removal company handle the appliance removal will vary based on where you live and the scale of the job, but costs will start at about $200-$400 for removal of multiple appliances.
Costs increase based on the number of appliances, complexity of the job (e.g., carrying the appliances down two flights of stairs, etc.), and your location.
Another potential fee to be aware of is the environmental fee charged by some companies, which covers the cost of hazardous waste removal.
This applies to refrigerators, air conditions, freezers and other units containing chemicals that need to be removed before disposal.
---
---
Learn more: