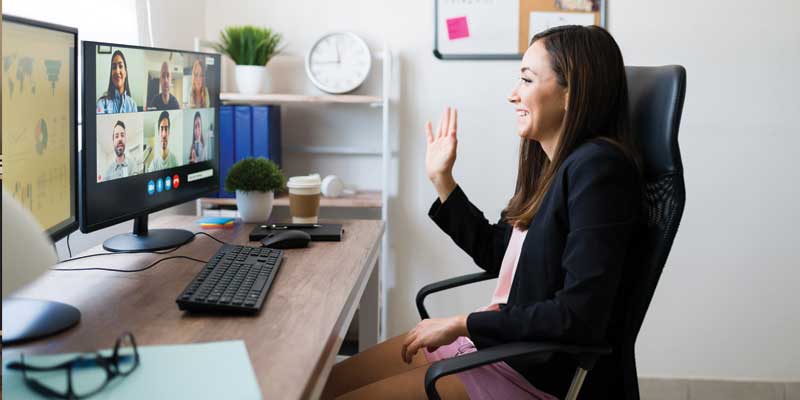 Updated May 1, 2023
With the number of people who primarily work from home tripling between 2019 and 2021, more and more people are creating home offices that suit their needs. Whether you're working with a large or small space, there are several things to keep in mind to create a cohesive work environment from the comfort of your home. We'll go over how to set up a home office in 4 simple steps so that you can make the most of your space and stay focused while you're working from home.
Jump to:
---
---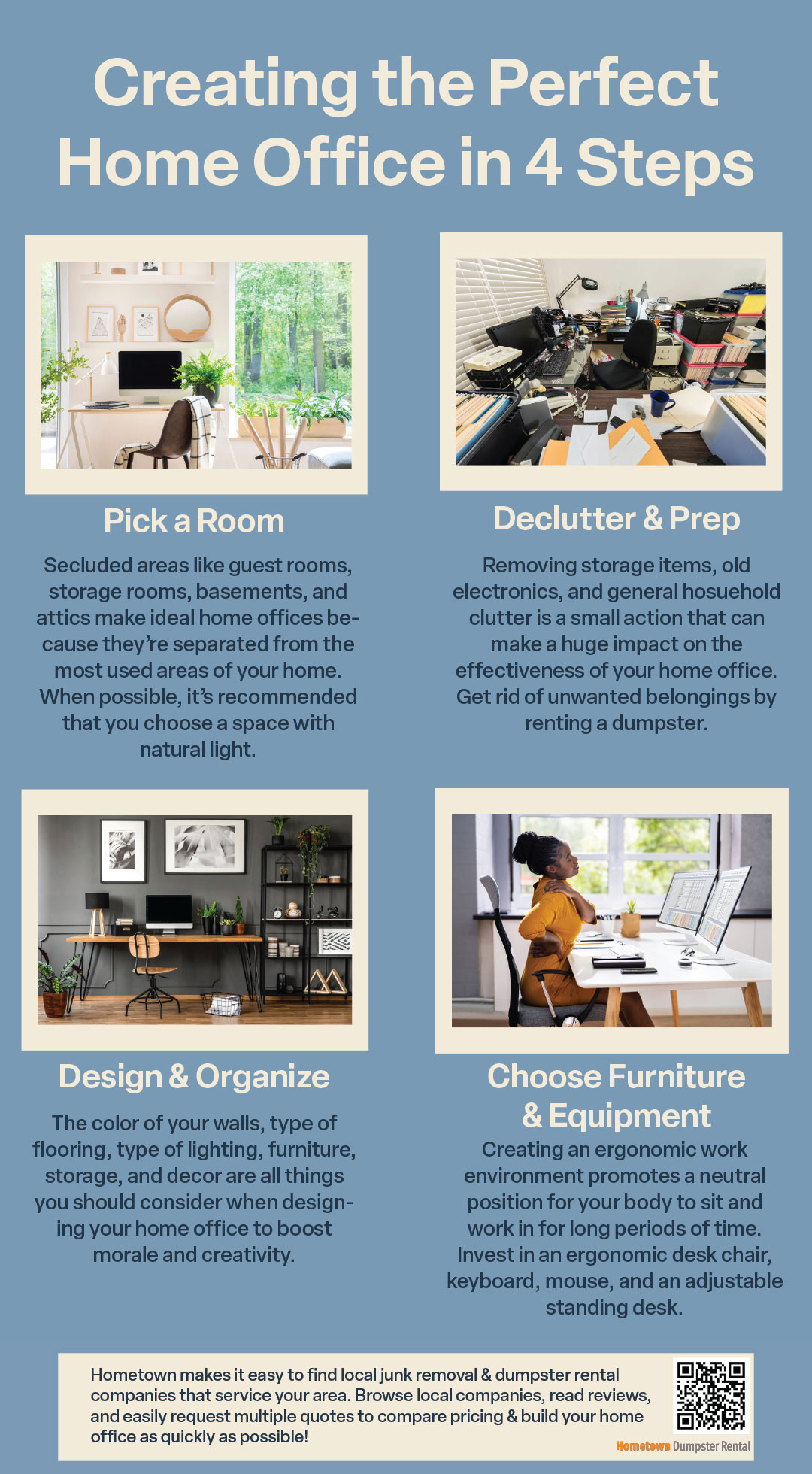 Step 1: Pick a Room to Turn into Your Home Office
Deciding where to set up your home office can be half the battle, especially for those who are working with a limited amount of space. A good place to start is to consider which areas of your home are perhaps utilized the least and/or provide the most privacy.
Secluded areas, like guest rooms, storage rooms, basements, and attics, make ideal home offices because they're separated from the most used areas of your home, like your living room, bedroom, and kitchen. If you're limited on space and don't have the ability to dedicate an entire room to a home office, the corners of your living room, dining room, bedroom(s), or even sunroom can provide a comfortable office setup that you can consciously separate from the rest of the room with a little effort.
Wherever you decide to set up your home office, it's important to consider any noise or traffic that could interrupt your productivity. A home office with a window next to your noisy neighbors' barking dogs is a recipe for distraction, while a home office in your living room can quickly turn into a nightmare if you live with other adults or children. You'll want to make sure that you're able to separate your workspace from your living area in order to maintain your productivity day in and day out.
When possible, we recommend choosing a space with the most natural light. Studies show that those who work in offices with windows and natural lighting have more energy and experience less eye strain when working on their computers, making them also less likely to experience tension headaches.
If you decide that your attic or basement is the ideal place for your home office, you may need to do some light remodeling work to get it into the right condition for your office. Oftentimes, this includes tearing down interior walls or putting up drywall. If you need to perform any interior demolition, turn to local interior demolition or remodeling professionals in your area to help you get it done safely and efficiently.
Step 2: Declutter and Prep Your Home Office
Once you choose the perfect area of your home to turn into a home office, you'll want to clear the area of non-work related items. Removing storage items, old electronics, and general household clutter is a small action that can make a huge impact on the effectiveness of your home office.
If you're setting up your office in an area that was previously used as storage, you'll want to find another area to store your items, or at the very least, a different way to store them in order to make room for your new office setup.
Once you start sorting through your items to make room for your new home office, it's possible that you'll discover you have much more "junk" to get rid of than you realized. When you start to notice you have a growing pile of items that are no longer being used or bringing you joy, consider hiring a junk removal company to help relieve you of your unwanted belongings.
Hiring a junk removal company allows you to forget about the taxing, manual labor involved in hauling your unwanted items to a donation center or landfill and allows you to direct your focus to more important matters, like setting up your home office.
Junk removal companies are known for being able to haul away your unwanted items in a matter of minutes, donating salvageable items to local charities, recycling items that are accepted in local recycling programs, and disposing of the rest. Even if you only need to remove a single piece of furniture or a small box of electronics, a junk removal service can quickly and conveniently do that, too.
One of the biggest advantages of hiring a junk removal company to help you clear out space in your home is not only how quickly they can get it done, but how much easier the project (and your life) becomes when they take care of the heavy lifting, loading, and logistics. If you'd rather do the hard work yourself, consider renting a temporary dumpster. You can get rid of unwanted clutter efficiently and affordably by renting a dumpster from a local provider.
Finding junk removal and dumpster rental companies that service your area is easy with Hometown. By entering your zip code and answering a few quick questions about your junk removal project, you'll be shown licensed and insured junk removal companies or dumpster rentals near you. You can request free quotes from local companies to compare pricing, availability, and customer service.
Learn more:
Step 3: Design and Organize Your Home Office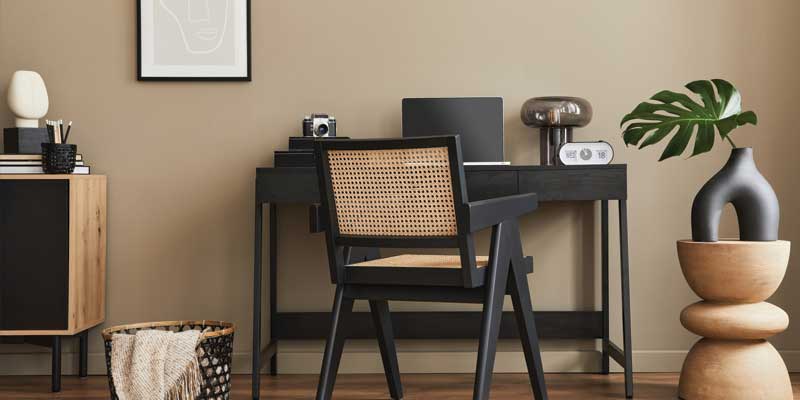 How you choose to design your home office can make a big impact on your work productivity and personal satisfaction. If you work a full-time job, your home office could quickly turn into one of the most used areas of your home, so it's important to design it in a way that is welcoming and to your taste, all while promoting productivity.
The color of your walls, type of flooring, type of lighting, furniture, storage, and decor are all things you should consider when designing your home office.
Paint Colors
There are certain colors that promote creativity, productivity, and a sense of calm, and using these color palettes for your home office can help set you up for success.
According to psychology, cool blue and navy blue tones promote creativity and visionary thinking, while beige greens and yellow greens are some of the most stress-reducing shades you can paint a home office for a calm environment.
If you can't (or don't want to) paint your home office, starting with a neutral wall color allows you to bring in decor and office furniture with any color pallet you'd like.
Flooring
Wood, laminate, vinyl, tile, and carpet are all acceptable flooring for an office, but you may need or want to bring in additional rugs or mats specifically for your home office setup.
Thick carpet is not conducive to rolling office chairs, so you may want to opt for a plastic rolling chair mat to make it easier to move around in your office chair.
Tile flooring with deep ridges may be annoying to slide over with your rolling office chair, so a plastic mat or non-shag rug can make your home office feel more comfortable and less distracting.
If you want to rip up your old flooring and replace it for your home office, hire an interior demolition contractor. HometownDemolition.com can help you find local contractors in your area that are licensed, insured, and reputable. Get free quotes to compare pricing, customer service, and availability.
Lighting
While natural lighting is best for working environments, there will likely be times of the day and even periods of the year where additional lighting will be necessary.
Bright florescent and LED lights do the best job of keeping you alert and awake, which can be helpful when you're nearing towards the end of a long work day. You'll want to avoid warm, yellow lightbulbs (2,000-3,000 Kelvin), as these tend to promote relaxation and a "coziness" that is associated with the comfort of home living. Higher Kelvin light bulbs (4,000-6,500 K) create a brighter, bluer hue that is perfect for illuminating your office and keeping you active, alert, and concentrated.
Storage
You'll want to make sure that you have storage in your home office that is specifically for your work belongings only. Mixing your paperwork and other work items in with your personal belongings can create plenty of issues, like lost or misplaced documents.
Buying an office desk with built-in storage is a great place to start, but additional tools for organization can be especially helpful. For example, if you have to store and access many paper documents, consider purchasing a mini filing cabinet.
There are also plenty of different types of desktop organizers that help to keep office supplies organized and easily accessible. Similarly, there are drawer organizers you can purchase for your cabinet and desk drawers that will help keep all your different office supplies and products neat and tidy.
Add shelving above your computer desk to take advantage of the available wall space in your home office area. These added shelving units can not only help store items you'll need, but they can also be used to display personal items or decor.
Decor
Decorating your home office helps to lift your mood, increase productivity, and boosts overall energy. Working in an environment that is cheerful and makes you happy while also being functional and promoting productivity is the perfect recipe for a successful home office.
Framed photos of loved ones or milestone accomplishments can be self-motivating during stressful times when you need an extra push to stay on course.
Step 4: Choose the Best Furniture and Equipment
Finally, the type of furniture and equipment you outfit your office with should be a point of focus when creating a home office.
Working at a desk, sitting in a chair, or using a keyboard that is not ergonomic can create posture issues that can lead to long-term health issues, like arthritis or chronic neck and back pain. Creating an ergonomic work environment promotes a neutral position for your body to sit and work in for long periods of time.
There are plenty of products on the market that are ergonomic and specifically built to promote healthy posture, so look for this description when shopping for office furniture and computer accessories, like a keyboard and mouse.
Another option is to opt for an adjustable standing desk. Sitting at a desk for long periods of time every day can increase your risk of diabetes, heart disease, and obesity. Adjustable standing desks can be lowered to allow for sitting, and then adjusted to your perfect height to allow a comfortable standing position while you work on your computer.
---