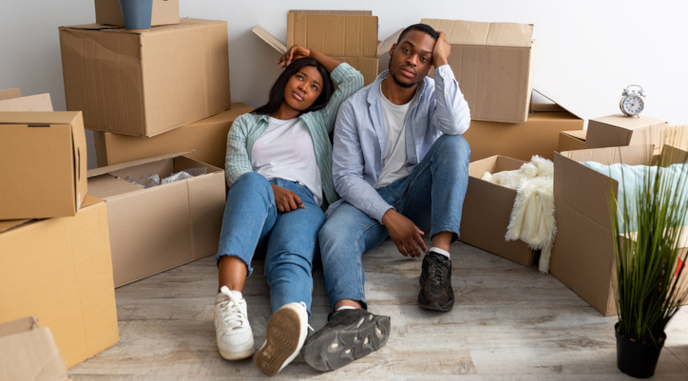 Updated March 7, 2022
Moving evokes a wide range of emotions all at once – stress, excitement, happiness, frustration, and the list goes on.
The average home contains around 300,00 items and and estimated 80% of the items we keep in our homes remain unused.
Decluttering can help reduce the stress associated with moving in a number of ways, like getting rid of unused items and organizing your belongings before packing them away.
Hometown has put together a decluttering cheat sheet so that your move is well-organized and less stressful.
Jump to:
---
---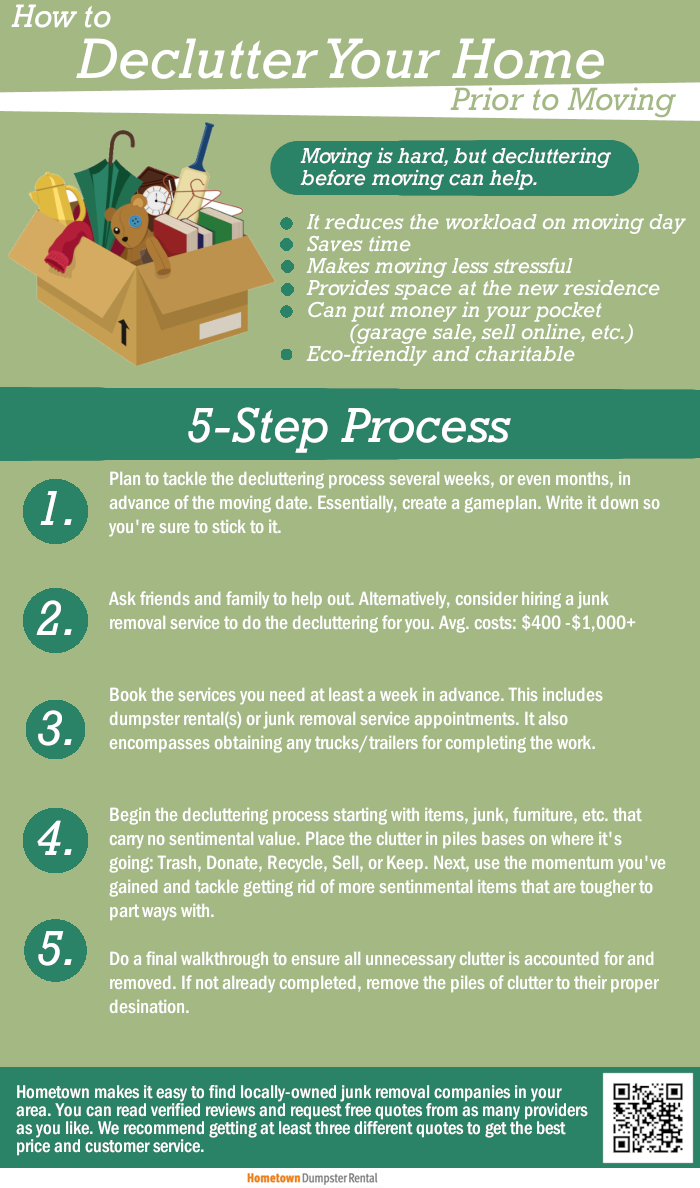 Benefits of Decluttering Before a Move
Getting rid of things you never use prior to moving can save you time in the long run.
Carefully packing away items, hauling them to your new home, unpacking them, and finding a new storage space for them is a lot of unnecessary additional work if you never touch those items again until they end up being donated.
Getting rid of unnecessary clutter will make your move easier and help to provide a clean slate in your new residence.
Learn more:
Tips for Decluttering
It can be easy to become sentimental about things during a cleanout project.
Try to detach yourself from items that haven't been used in the past year and remind yourself of all the additional storage space you'll have to store more useful items.
Start by gathering items that have no sentimental value to you, like trash, old furniture, broken appliances, damaged car parts, old tires, and other clutter.
As you get rid of these items, you'll create satisfying momentum to continue the process and will be more likely to view your unused items as pieces to part with.
There really is something so satisfying about ridding your space of old items and the more you do it, the more likely you are to be objective about items you may have struggled to get rid of prior to beginning your decluttering project.
Studies have shown that decluttering helps reduce stress, so try to view this project as something to be excited about rather than dread.
Remind yourself of how much easier your move and unpacking in your new home will be without all the extra junk clogging up valuable closet real estate.
Keep in mind that many of your used items could be going to someone who may really need it, particularly when it comes to furniture, appliances, and other staples that can get expensive when purchased new.
Knowing that your unwanted items can help someone else can significantly reduce the feelings of anxiety that creep in when it comes to getting rid of your old belongings.
If you have the time, space, and weather for it, hosting a garage/yard/estate sale several months prior to your move allows you to offload items in a relatively short period of time.
The cash made during the sale is a great bonus!
Keep reading:
Steps to Decluttering Before You Move
The key to decluttering is to start the process long before your moving date.
Sorting through one room at a time and organizing each room's items into a pile to pack, a pile to donate/sell, and a pile to throw away is the best way to strategically plan your move.
Following these steps will help make decluttering and moving efficient and well-organized:
Set a Date: Choose a period of free time, maybe an upcoming weekend, to begin tacking the clutter in your home. Create a timeline of when you'll tackle each room and how much time you anticipate spending in each area. Planning several weeks or months in advance will give you more flexibility if you need to adjust time as other projects pop up and demand your attention, while allowing you to pace yourself.
Gather a Support System: Having friends, family, or professionals help is a great way to make the decluttering process go as quickly as possible. Make sure to let those helping you know your plan ahead of time to make sure they can clear their schedule and help you maintain your timeline.
Book the Necessary Appointments: This would include renting a dumpster, booking a junk removal or moving company, or having a donation center come pick up the items you've decided to part with.
Create Piles: Sort clutter into separate piles for easier handling. Create a pile for trash, a pile to donate, a pile to recycle, a pile to sell, and a pile to keep. For situations where there is a lot of trash and junk to get rid of, dispose of these items first to make packing and moving easier with less obstacles. Rent a dumpster or hire a junk removal company to help remove unwanted items. Once the trash is disposed of, focus your attention towards the items you wish to donate, give away, etc. and place them in the proper piles.
Removal and Final Walk-Through: Scan the house for anything that may have been missed. Part ways with items that are never used or that you plan to replace, such as furniture, home décor, or kitchen items. Double check that all trash, junk, and recyclables are properly removed. Finally, remove the accumulated piles according to your original plan.
This basic process will help eliminate a lot of work when it's time to move. It can also save money by reducing the amount of labor and equipment necessary to get the items from point A to point B.
Read more:
---
---
How to Get Rid of Old Junk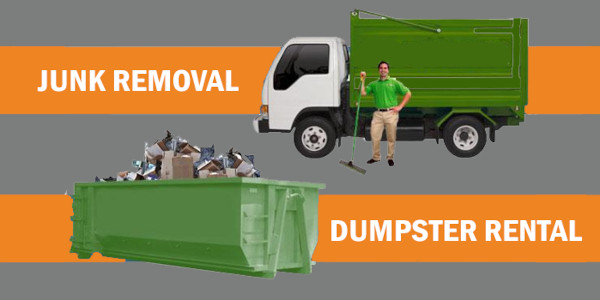 For large homes or those with a significant amount of clutter, we recommend renting a dumpster or hiring a junk removal company to help.
Rent a Dumpster
Dumpster rentals are a convenient and cost-efficient option when you have 7 or more cubic yards of junk to get rid of, especially if your project is ongoing.
For decluttering, a 10 yard or 20 yard dumpster will typically be large enough to accommodate an average home's worth of clutter.
Dumpster rental rates average $250-$450 for containers of these sizes and generally include a 5-7 day rental period.
The price you will pay for your dumpster varies based on a number of different factors, like your location, dumpster size, amount of junk you're throwing out, and other factors.
Continue reading:
Hire Junk Removal
The convenience of having someone else handle the removal and disposal alleviates a significant amount of stress and allows you to focus your attention on other pressing aspects of your move.
In a decluttering situation, you can work alongside the junk removal company to ensure they are removing the correct items that you wish to get rid of or donate if you haven't already separated your belongings into piles to donate, throw out, keep, etc.
Many junk removal companies will donate usable items for you and provide you with a tax-deductible receipt.
Junk removal costs vary quite a bit based on the size and complexity of the work and can vary in price between $400 and $1,000+.
Unless you have a small amount of junk to get rid of, hiring a junk removal company tends to cost more than renting a dumpster because of the added labor costs, but the benefit of professional assistance cannot be understated when you're taking on such a large and time-consuming project.
The main benefits of hiring a junk removal company to help you declutter before moving is convenience and speed.
Hometown is here to help you find reputable, locally-owned dumpster rental and junk removal companies that service your area.
By entering your zip code and answering a few quick questions about your project, you'll be shown licensed and insured companies near you.
From there, you can read verified reviews from real customers to learn more about each service provider as well as request free quotes from as many companies as you'd like.
We recommend getting at least 2-3 different quotes to ensure you get the best price and customer service available.
---
---
Keep reading: