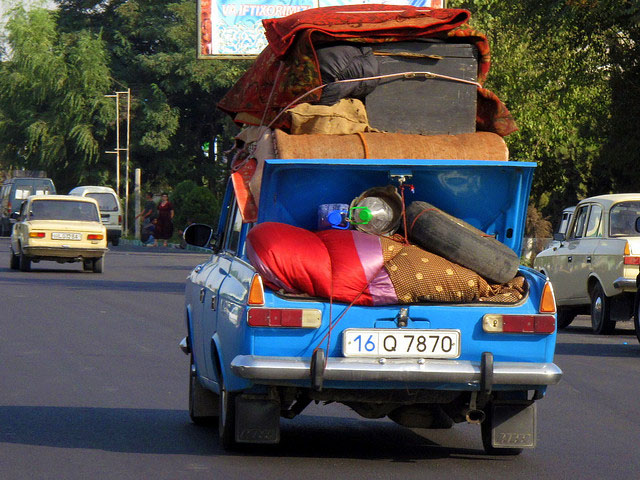 Buying a new home may be an exciting venture, but moving can be quite the opposite. In fact, statistics show moving is the third most stressful event in life behind the death of a loved one and divorce. The right strategy can help minimize the stress associated with moving day and make for a much smoother transition into your new residence.
What Triggers Stress on Moving Day?
First of all, it's important to recognize what actually triggers stress when moving. Scott Sindelar, Ph.D., a psychologist and expert on stress, lists the four primary stress triggers as security, memory, reprogramming blues and leaving current support systems. Your home provides a sense of security and leaving this "security blanket" can certainly stress you out.
The uncertainty of security at the new residence can be stressful. The memory triggers associated with causing stress during a move involve going through all of your old "stuff" that potentially brings up painful moments in your past, such as photos or mementos. Your brain is programmed to know exactly where things go in your old house, and moving to a new location requires your brain to work overtime to reprogram where things will go.
Sindelar points out this "brain reprogramming" causes fatigue and stress. Lastly, a common stressor associated with moving is the idea of moving away from the current support system, such as neighbors, friends, familiar grocery stores, church and other locations. The idea of having to build a new support system can cause significant stress.
Top Tips to Reduce Stress when Moving
Recognize the Fact it WILL be Stressful

Simply preparing yourself for a the stresses of the moving process may help to prepare your body and mind for them. It's a way to psychologically prepare for the process.

Planning

Staying ahead of the game can greatly reduce the amount of stress when moving. This means planning the move weeks, or even months, in advance. Planning ahead and preparing for anything and everything, including potential pitfalls, can help reduce stress during any stressful event in life, including moving.

Consider Hiring a Moving Service

A moving service can take a huge amount of stress off your back by doing all the physical work for you. It's an easy and efficient way to streamline the moving process. The U.S. Department of Transportation suggests visiting ProtectYourMove.gov to make sure the mover has been assigned a USDOT number and is registered with FMCSA. This helps ensure the moving company is a reputable choice.

Multitask by Decluttering

While packing up all your stuff, take advantage of the moment to get rid of anything you don't need or want. Myscha Theriault of WiseBread.com told The Seattle Times, "Clean, cull and downsize before you even start the process [of moving]. It'll be easier to set up afterward." Call and rent a dumpster at least a week in advance of the day or week you plan to declutter the home. Have a look at our Decluttering Infographic for tips on how to declutter your home quickly and efficiently.

Dress Comfortably

The moving process is no doubt a physical process, so dress the part. Wear comfortable clothing and shoes for a more relaxed feeling when doing the actual packing, cleaning, moving and unpacking.

Stay Organized

The moving experts at Mayflower suggest keeping a notepad or organizer on-hand during the moving process. Create an agenda and include important information, such as phone numbers and addresses, to help streamline the process and avoid any potential setbacks. Scheduling your tasks in a step-by-step format helps eliminate some of the stress associated with moving.

Keep Tools Nearby

You'll undoubtedly encounter situations where you need tools to get the job done, such as putting a bed together and assembling tables. Keep a small toolbox in an easy to access place during the move to ensure you're not having to search everywhere to find them when you need them.

Delegate Tasks

It's a good idea to have yourself, or someone else, delegate tasks to others to improve the efficiency of the operation. Viewing the moving process from a micro rather than macro perspective helps reduce the feeling of being overwhelmed. The key is focusing on one task at a time.

Contact USPS and IRS Early

Contact the United States Postal Service (MoversGuide.USPS.com) to notify them of a change of address about six to eight weeks before the move. Also, be sure to let the IRS (IRS.gov) know of your address change. Both tasks can be completed online.

Keep the Kids Occupied

If the kids are old enough, make sure to include them in the packing/unpacking process so they feel like a part of it. This will also keep them busy during all the madness. For younger children, it's a good idea to hire a babysitter to watch over the kids while you focus on the task at hand.