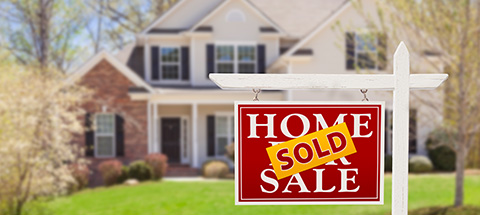 Updated February 22, 2023
Would you purchase a home that looks cluttered, unorganized, and untidy?
In most cases, the answer is "no."
You can't expect to sell your home quickly (at the price you're looking to get) when it's not in tip-top shape.
Decluttering a home has the power to maximize its value and makes your home standout against the competition.
Recognize Clutter In Your Home
It's sometimes easy to overlook the clutter accumulating in your home due to the fact you see it every day and become accustomed to it.
Unfortunately, that's not the case when a potential buyer attends your open house and sees a cluttered kitchen countertop, crowded wall spaces and storage areas busting out at the seams.
Try to view your home from the buyer's perspective.
Would you want to walk in your home and see countertop appliances and stacks of bills/paperwork filling the kitchen countertop? Definitely not!
If you're unclear as to whether an area of your home would be classified as 'cluttered' to potential buyers, the safest bet is to clear it out.
A cleaner look is much more attractive to a potential buyer.
---
---
Keep reading:
Don't Forget Inconspicuous Places Clutter Hides
Places like the garage, closets and tables/shelves are notorious locations for clutter.
However, there are other areas of the home that need tidying as well.
Bob Kelly, a realtor for RE/MAX, suggests making sure all of the cabinets, including kitchen and bathroom, are no more than two-thirds full.
It gives the appearance of having more storage.
A second area to consider when decluttering prior to an open house are the walls.
Remove most, if not all, wall coverings and paintings. Less is more, and this will help the room appear larger to potential buyers.
Also make sure to declutter wall-mounted shelving and bookcases.
Kelly recommends sticking to the "3-5-7" rule, meaning each shelf should contain an odd number of accessories to give a more balanced appearance.
Get Rid of Any and All Unnecessary Clutter
The majority of clutter can pretty much be considered junk, so treat it as so.
Rent a dumpster and throw away anything you don't need or haven't used in over a year.
You'd be surprised how much you can get rid of by simply getting rid of the junk.
If any items still have value, try selling them online or have a garage sale prior to your open house.
If you're not much of a salesperson, simply donate household items to charitable organizations, such as Goodwill or The Salvation Army.
Spending several days decluttering your home using the tips above will help maximize the value of your home, and you'll be getting offers before you know it!
---
---
Learn more: