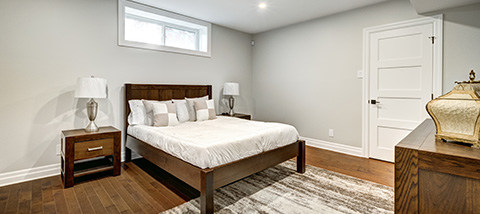 Updated February 23, 2023
If you're preparing to sell your home, you're likely curious about the staging process and how it could benefit you.
According to the Accredited Staging Professionals (ASP) at StagedHomes.com, staging your home makes it sell faster and increases the dollar value offered.
Because of this, you should seriously consider staging your home.
This guide is here to help.
Jump to:
---
---
An Introduction to Staging
Staging your home is simply setting it up to look its best and appeal to as many people as possible.
Staging typically involves:
Decluttering your home of unnecessary or overly personal items.
Deep cleaning your home so it looks (and smells) its best.
Arranging your existing furniture to look as open and inviting as possible.
Adding decor pieces to increase your home's overall appeal.
Preparing your home's exterior to look its best as well (e.g. mowing the lawn, washing the windows, trimming trees/landscaping, etc.)
83% of realtors agree that staging your home makes it easier for potential buyers to visualize themselves living there, so staging your home properly is key.
Tips for Staging Your Home
1. Clean and Declutter
The number one way to improve the chances of your home selling quickly is to thoroughly clean and declutter it from the inside and out.
This will often consume a weekend or longer of your time, but it's well worth it.
According to StagedHomes.com, cleaning and decluttering the house offers an incredible 872% ROI.
Consider a dumpster rental if you have lots of clutter to offload.
If you don't have time to clean out the house yourself, consider hiring a junk removal service to do it for you.
Other decluttering ideas include donating, recycling, giving stuff away, having a garage sale or selling online.
Your home should look pristine during a showing or open house.
Clean the common areas, like countertops and sinks, as well as the more inconspicuous areas, like ceilings, lighting fixtures, trim, and inside cabinets.
When your home is clean and fresh, it immediately makes your home look more expensive.
Learn more:
2. Give Each Room a Purpose
Remember that each room in your home should have a purpose.
Although you may use the dining room as a storage area or office, that arrangement may not appeal to potential buyers.
So, stage each room according to its intended purpose.
A dining room, for example, should contain a kitchen table and chairs, not a desk and computer.
3. Good Lighting Sells
During a showing or open house, turn on all the lights in the home and open all curtains or blinds to allow natural light to flow into the home.
Replace any broken bulbs or lighting fixtures.
According to the aforementioned survey conducted by HomeGain.com, lighting is the second most important home improvement item you can address to add value to the house, offering an ROI of up to 299%.
4. Paint
Applying a fresh coat of paint to the interior and exterior (if applicable) of the house is an excellent way to freshen up its appearance.
Choose neutral colors that would appeal to the majority of buyers (i.e., beige, greens, tans, and grays).
Also, paint the molding and trim in the home to make it look like new again.
By painting adjacent rooms the same color, you can give the appearance of a larger space.
This would be useful, for instance, if you have a living room next to a den or foyer area.
Painting not only gives the home a brand-new appearance, but it also helps to cover up certain odors, like from cigarettes or pets.
5. Accessorize
In many ways, accessories can make or break a sale.
The home experts at HGTV.com suggest accessorizing in odd numbers, such as one, three, five, etc. (less is better).
Instead of littering the walls, tables, and shelves with dozens of items, stick to a few pieces that fit well together.
Vary the sizes of each item to make it more visually appealing.
6. Fix Floors
Potential buyers can spot cracks, splits, or stains in flooring like an eagle spots its prey.
Spending the money to repair flooring is well worth the investment, according to StagedHomes.com, which states repairing damaged floors delivers a 250% ROI.
Always hire a carpet cleaning company to clean your carpets, or rent a commercial-grade carpet cleaner and do it yourself.
Be sure to vacuum the carpets and mop the floors just before an open house or showing.
7. Prep Outside the House
The yard and exterior of the house is obviously the first thing a potential buyer sees when visiting the property, so properly addressing this area is critical.
According to HomeGain.com, improving the look of the home's landscaping can bring on a 215% return, and painting the exterior of the home offers an additional 55% ROI.
The key is making the house look as fresh and new as possible.
---
---
Learn more: