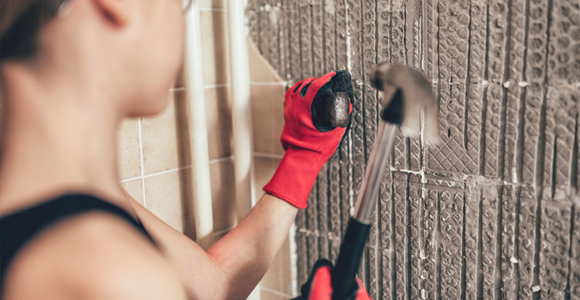 Updated December 6, 2022
Bathroom remodels provide one of the highest returns on investment (ROI) when it comes to home remodeling projects, so it's no wonder an estimated 14 million bathroom remodels happen in the U.S. each year.
Replacing old or broken tile is a great way to give your bathroom an instant facelift, increasing the value of your home and providing you with an aesthetically pleasing area to get ready every day.
An important aspect of getting the highest ROI on your home improvement projects is choosing the disposal method for the debris and old material, like tile, that is the most cost efficient.
Hometown can help you explore the debris disposal options available on the market and how to find the best price in your area.
Jump to:
---
---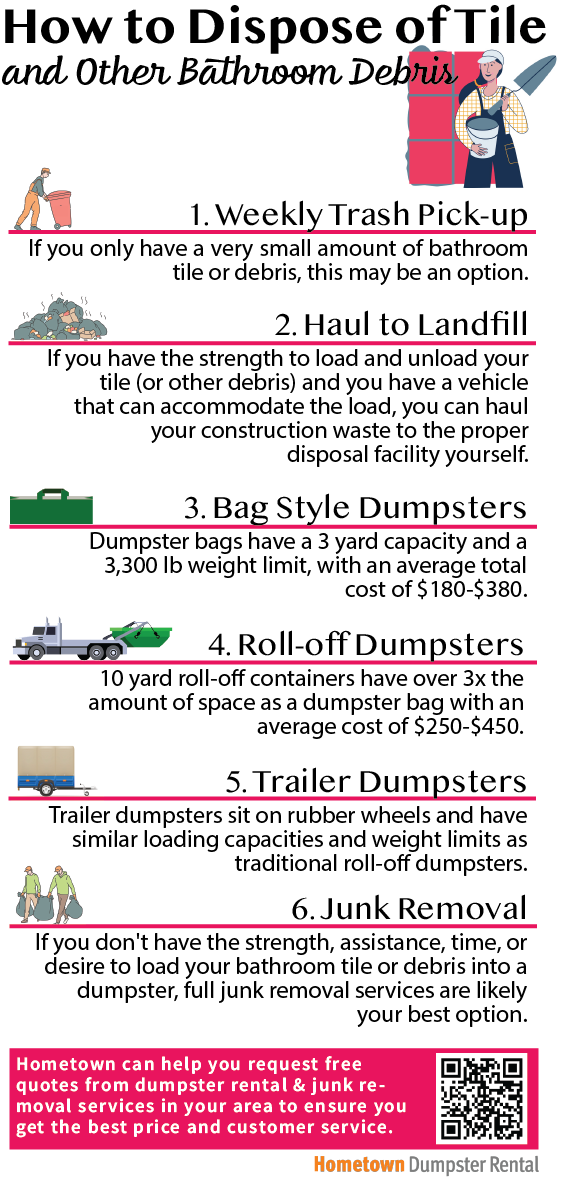 Weekly Trash Pick-Up
If you only have a couple pieces of broken tile, it's likely not a problem to throw them in with your household trash.
If you have more than a handful of tile or other debris to throw away, however, you could get hit with additional fees from your weekly trash service.
Old and broken tile in large amounts is considered construction waste, which is illegal to throw away with household trash in most areas.
Construction waste tends to weigh a lot more than regular trash, and since landfill fees are configured based on waste, you can be sure that your trash service will catch on if a large amount of construction waste has been thrown in with your trash.
If you have more than a couple tiles to throw out, continue reading for other disposal options.
Haul to Local Dump Yourself
Most landfills have an area where you can dump your construction waste and material, including bathroom tiles.
If you have the strength to load and unload your tile (or other debris) and a vehicle that can accommodate the load, you can haul your construction waste to the proper disposal facility yourself.
The fees you will be charged will be based on the weight of your material and where you live. Every landfill is different and sets their own pricing, so call ahead to check on cost and which types of material and debris are accepted at their facility.
Bag Style Dumpsters
Bag style dumpsters have been made popular by Waste Management with their 3 yard "Bagster".
Dumpster bags can be purchased online or at home improvement stores, like Lowes or Home Depot, across the country for a low up-front cost of around $30, but cost an additional $150-$350 to be picked up and hauled away.
Tiles and other bathroom remodeling debris can be put in most dumpster bags, but with a small capacity of only 3 yards and a weight limit of around 3,300 lbs, you'll need to make sure that a bag dumpster is large enough to contain not only the volume of your debris, but the weight as well.
It's also important to make sure that your zip code is serviced by Waste Management, or whoever the bag dumpster service is, prior to buying the bag dumpster. Dumpster bag pickup services aren't available in all cities and are sometimes banned by certain Homeowners Associations.
With an average total cost of $180-$380, it's typically more cost-effective to rent a 10 yard roll-off or trailer dumpster.
For over 3x the capacity and an average cost of $250-$450, standard dumpster rentals are the preferred disposal choice for most homeowners and contractors.
---
---
Roll-Off Dumpsters
Roll-off dumpsters can be placed in your driveway or on a city street with the proper permit and are typically rented for 5-7 days.
10 yard dumpsters are the perfect size to dispose of large construction debris, like tiling, concrete, flooring, and more.
One of the most convenient features of a roll-off dumpster is their swinging side door(s) that allow you to walk in your debris rather than having to toss it over the side walls.
Almost all dumpster rentals have a weight allowance, so be sure to understand the fine print and details of your rental agreement so that you can avoid paying more than your initial dumpster quote.
We recommend getting at least 2-3 different dumpster rental quotes from local providers to ensure you get the best price, customer service, and the availability you require.
Trailer Dumpsters
The primary difference between a traditional roll-off dumpster and a trailer dumpster are its feet.
Roll-off dumpsters have steel feet (and sometimes wheels), while trailer dumpsters sit on top of rubber wheels that make moving and navigating the dumpster much easier.
If you have a vehicle with a hitch and the need to be able to move your dumpster throughout the duration of your rental period, a trailer dumpster is the perfect alternative to a roll-off container that can only be moved with a special commercial vehicle.
Just like roll-off containers, trailer dumpsters come in a variety of sizes, with the most popular being 10 yard, 12 yard, and 15 yard sizes.
These types of containers are ideal for single room remodeling or demolition projects, like bathrooms.
As with traditional roll-off dumpsters, we recommend getting multiple quotes when searching for a trailer dumpster to rent in your area.
Hometown helps make requesting multiple dumpster rental quotes simple and easy.
Search a variety of licensed and insured dumpster rental companies that service your zip code.
Then, read more about each company, read reviews from verified real customers, and request as many quotes as you'd like - all free of charge!
Junk Removal
If you don't have the strength, assistance, time, or desire to load your bathroom tile or debris into a dumpster, junk removal services are likely your best option.
When it comes to getting rid of unwanted junk or debris, getting it done quickly is often the goal, and there's no faster way to get rid of unwanted material than with junk removal pros.
The key to a successful, reputable junk removal company is their ability to complete each job as quickly as possible, and most debris removal jobs can be completed in an hour or less.
Due to their all-inclusive nature, junk removal services tend to cost more than dumpster rental if there are 7 cubic yards or more of debris to get rid of.
That said, the convenience and speed of junk removal services make them a popular preference among those with busy schedules or limited strength.
Just like with dumpster rental, Hometown can help you find locally-owned junk removal companies near you and request free quotes from as many providers as you'd like to price compare.
---
---
Learn more: