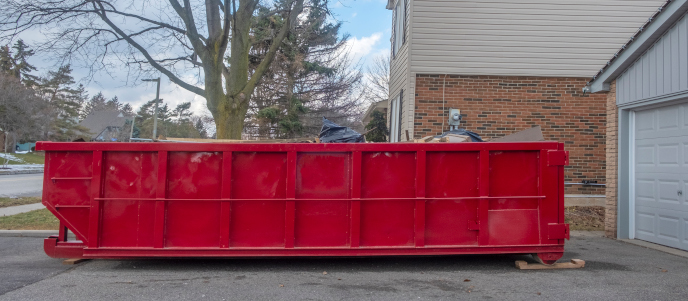 Updated June 30, 2022
It can be intimidating for homeowners, especially first-time renters, to rent a dumpster for a home project. However, the fact is that it's not a complicated process.
One common question asked by homeowners is whether or not a permit is required when the dumpster is placed in the driveway.
First thing's first, it's important to understand that the dumpster rental rules and regulations vary by city or town.
For the most accurate information, check with your local city department to ensure you abide by local laws.
Your local dumpster rental company can also help answer questions related to dumpster permits and other questions you may have.
In most cases, a dumpster permit is not required when the roll-off container or trailer dumpster is placed in the driveway of a private residence.
In this guide, we'll discuss the most common dumpster permit rules, how to get a dumpster permit, and whether or not certain dumpsters
Jump to:
---
---
Dumpster Permit Rules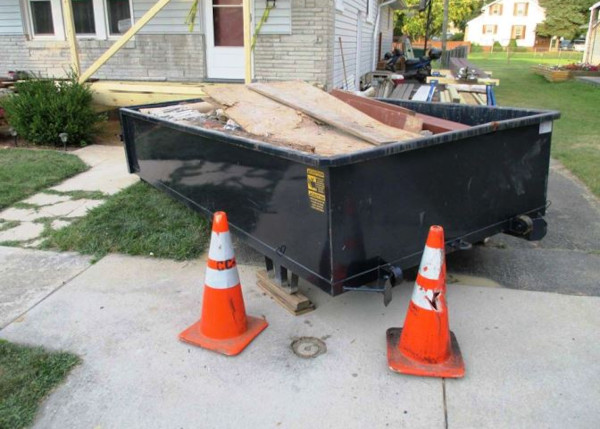 Never place a dumpster in such a way that would block a public sidewalk or street without first inquiring about a dumpster permit.
Even if only part of the dumpster is blocking, impeding, or otherwise placed in the public right of way, a permit is needed per your city's regulations.
The dumpster permit will spell out the exact procedures to follow, as well as the length of time you can have the dumpster placed in the public right of way (e.g., blocking a sidewalk). An example of procedural steps include placing orange cones around the dumpster.
Some cities or counties may require a dumpster permit (a.k.a. encroachment permit) with every dumpster, even if the container will not be placed in the public right of way. Los Angeles County is one example of such a rule.
How to Obtain a Dumpster Permit
The dumpster permit process is typically simple and straightforward. In fact, your dumpster rental provider may be able to secure the permit for your rental.
In cases where you need to obtain a dumpster permit on your own, the quickest route is to navigate your city's government website and do a search for "dumpster permits". You can simply call the city's front desk and request information about obtaining a dumpster permit if you need additional help.
The permit itself is typically a one- or two-page document you fill out and include any pertinent information, such as the duration of the rental, location, dumpster company, and contact information.
You will file the document with the proper department either online or in person at your local government office.
Fees may apply when obtaining a dumpster permit. This varies by location and can range from free to $50 or more depending on factors, such as location, rental period, and other circumstances. If the dumpster rental company is obtaining the permit for your rental, they may role this fee into the total dumpster rental price.
Don't delay in obtaining a dumpster permit. Some dumpster permits may take several days to be approved, depending on the process in your city. This can delay your project if you wait until the last minute.
Is Any Type of Dumpster Exempt from Dumpster Permit Requirements?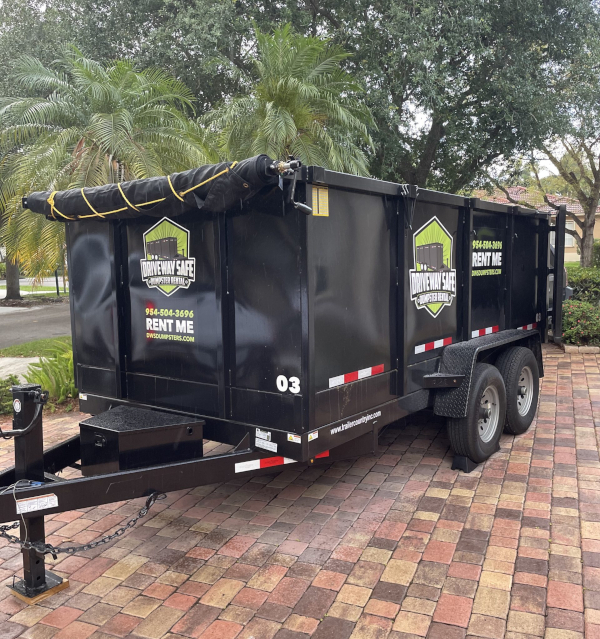 Dumpster permit rules and regulations apply to all bulk waste containers, such as roll-off containers and rubber-wheeled trailer dumpsters.
However, there may be size guidelines that define exactly what is considered a trailer dumpster vs a smaller utility trailer, for example.
Rented dumpsters—whether roll-offs or trailer dumpsters—typically range in capacity between 8 cubic yards and 40 cubic yards.
The exterior dimensions of these dumpsters oftentimes range from 10 ft x 7 ft x 4 ft up to larger 40 yard dumpsters measuring 22 ft x 8 ft x 8 ft. Any rented container or bulk waste disposal solution within these sizes will require a dumpster permit when one is required.
A small utility trailer may not require a dumpster permit, although rules will generally still apply when blocking the public right-of-way, such as the sidewalk. If the trailer is positioned in a private driveway and does not block the sidewalk or encroach on any public property, It's not necessary to obtain a dumpster permit.
Although mentioned throughout this guide, it's important to stress that rules vary by location.
Your best sources of information specifically tailored to your location is your government website or local dumpster rental companies.
A reputable dumpster rental provider will fully understand the local rules and regulations and help you every step of the way to ensure compliance.
When calling dumpster rental companies for information, we suggest contacting a minimum of 2-3 dumpster providers to ensure you get the best price, service, and container availability for your project.
Read on: The Benefits of Renting a Trailer Dumpster
---
---
Find out more