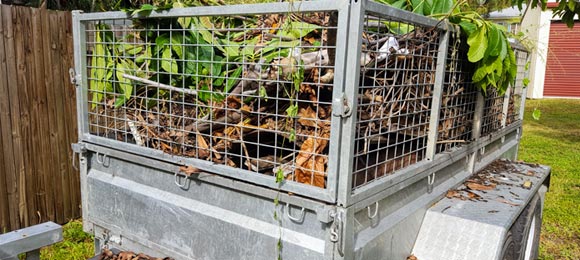 Updated September 10, 2021
When it's time to clean up waste, debris, or junk from your home or business, a trailer dumpster is a useful tool for getting this type of DIY project completed efficiently.
Before getting started, it's important to know the rules and regulations pertaining to dumpster and trailer rental usage in your area.
Is a dumpster permit required for trailer dumpster rental?
The simple yet frustrating answer to this question is, "Maybe."
While trailer dumpster rules compared to traditional roll-off containers can be less restrictive in some cities, a dumpster permit may still be required in your situation.
Jump to:
---
---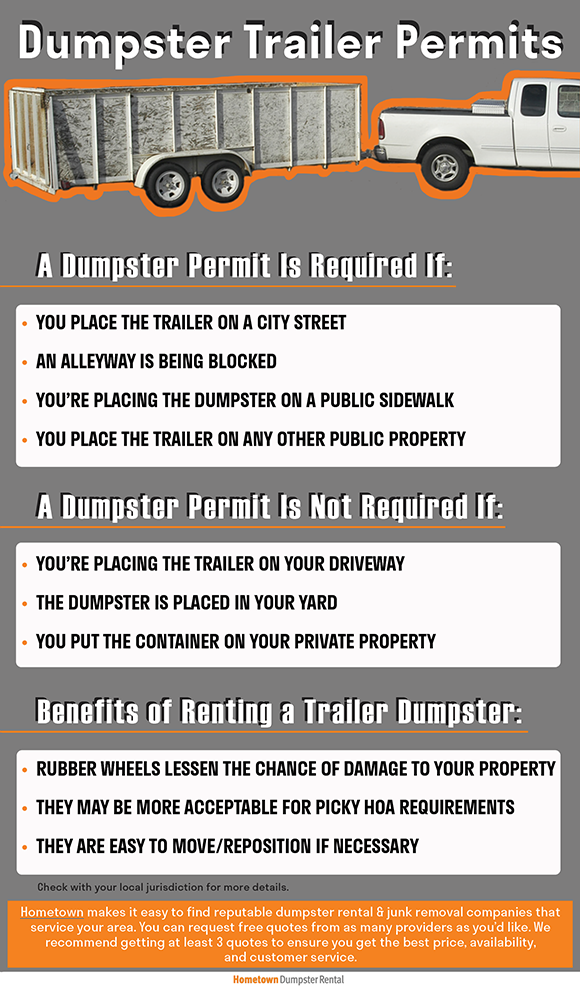 When a Dumpster Permit Is Required
Anytime you obstruct the public right-of-way for an extended period of time with a large object, like a trailer or roll-off dumpster, a permit is almost always required.
Instances when a permit is required for your trailer dumpster rental:
Blocking an alleyway with a dump trailer
Placing the trailer dumpster on the public sidewalk
Setting the trailer on public property
There may be exceptions to this rule based on local laws, so be sure to double-check with your local jurisdiction.
Some exceptions to permit requirements:
Smaller dumpster trailers under a certain size or length
Live-loading situations where the dumpster is loaded and hauled away immediately
Please check with a local dumpster rental company to learn more.
You can also contact your city's Public Works or Transportation Department (whichever department handles permitting) via their website or by giving them a call.
When a Dumpster Permit Is Not Required
Placing the trailer dumpster on your private property generally will not require a dumpster permit from the city.
This would include your driveway, yard, or other private property that would not obstruct the public right-of-way if a dumpster were to be placed there.
It's important to always check with a local dumpster rental provider or with your city regarding whether a dumpster permit is required in your specific situation.
---
---
Benefits to Renting a Trailer Dumpster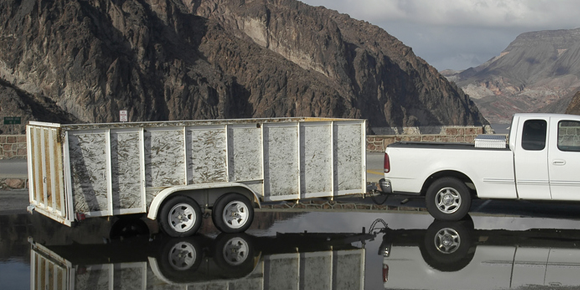 There may be a few benefits to renting a trailer dumpster over a roll-off container, depending on your situation.
Here are a few advantages to each type of dumpster (size, price, etc. being the same):
Trailer Dumpsters
Rubber wheels lessen the chance for damage to driveways, sidewalks, yards, curbs, etc.
They might be more acceptable to use when HOA rules prevent roll-off container usage.
Trailer dumpsters are easier to reposition if necessary.
Roll-Off Dumpsters
Roll-off containers are more readily available and have larger size options.
Container swap-outs are easier with roll-off dumpsters.
They are better for heavy debris, like concrete.
With no black and white answer to the question of whether a dumpster permit is required for trailer dumpster rental, the only surefire way to obtain this information is to search your local government website to determine permitting requirements, and/or contact a local dumpster rental provider to inquire about any requirements in your situation.
Contact your local permitting office or dumpster rental provider well in advance of needing the dumpster onsite - the permitting process can take several days or longer in some cases.
Planning ahead will also ensure that your preferred dumpster size is in stock for the duration of your project, so don't wait until the last minute!
Hometown makes it easy to find dumpster rental providers that service your area.
You can request free quotes from as many companies as you'd like.
We recommend getting at least three different quotes to ensure you get the best price and customer service.
---
---
Continue reading: