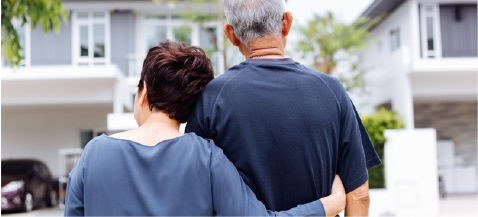 Updated December 7, 2022
After a loved one passes away or going through a divorce, it can be an emotional and stressful time.
If you have been named the executor of a deceased loved one's estate or are otherwise involved in the process of handling a division of assets, you may be wondering where to start.
This guide is designed to simplify the process of what goes into cleaning out and preparing an estate.
Hometown can help you find local junk removal companies that can assist with your estate cleanout. Read customer reviews, reach out to multiple companies for quotes, and make the best choice for your project to avoid overspending for poor customer service.
We'll go over the steps of an estate cleanout:
---
---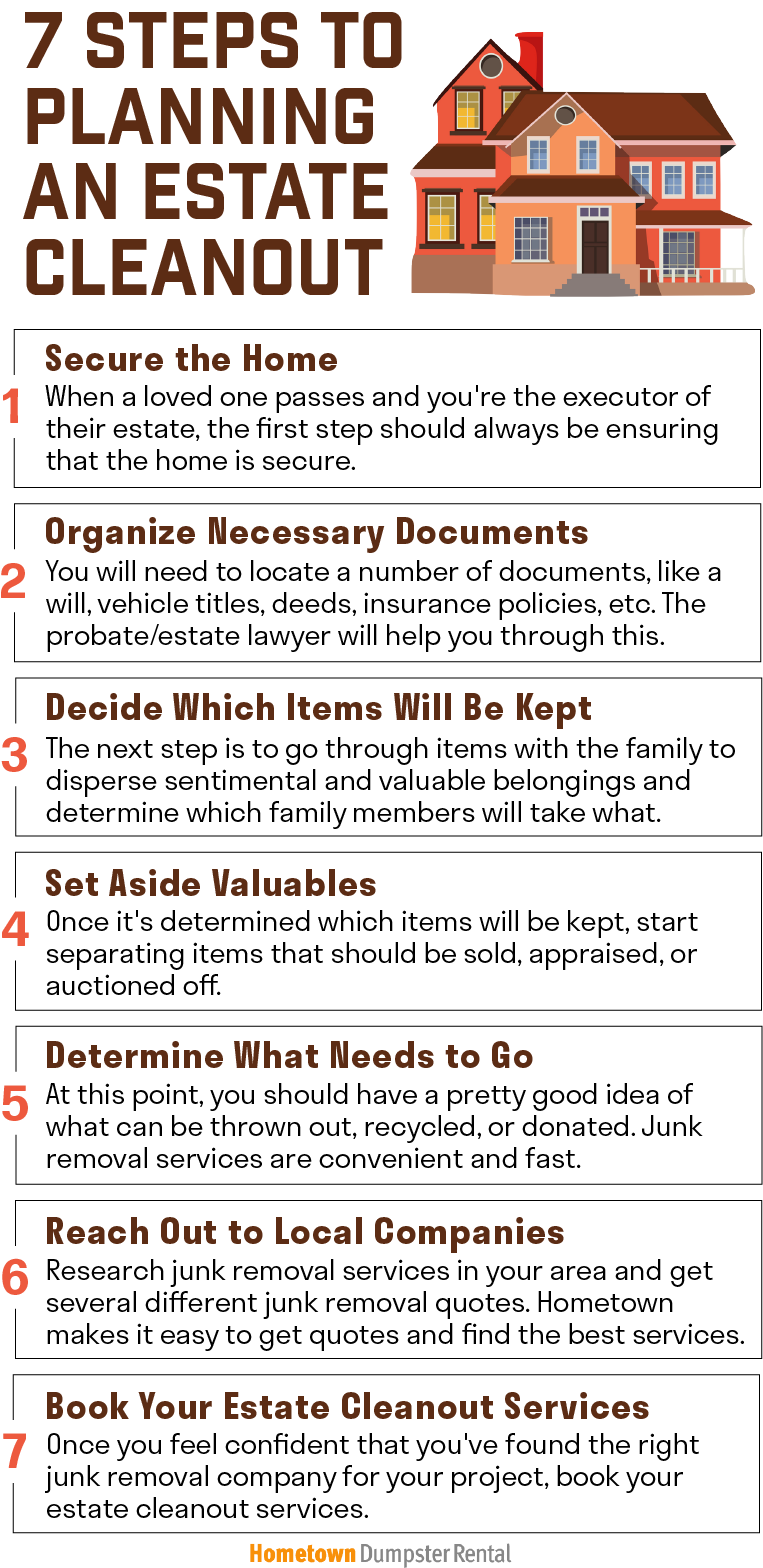 Step 1: Secure the Home
When a loved one passes and you're the executor of their estate, the first step should always be ensuring that the home is secure.
If you are unsure of who has keys to the home, we recommend changing the locks in order to protect the estate and the belongings inside.
If they rented their house, apartment, or condo, reach out to their landlord to find the best solution for securing the property and gaining access as needed.
In the case of a divorce, one or both of you may need to continue living in your home until other living arrangements are found or until the divorce and division of assets are finalized.
It is common for one spouse to move out of the marital home before a divorce is finalized, so whoever stays in the home will be responsible for securing it.
Step 2: Organize Documents
The second thing that you should do is locate and organize all legal documents.
The documents you should locate include:
A will (if present)
Title(s)
Deed(s)
Insurance policies
There are other documents you may need as well.
In the case of a divorce, you will want to gather other paperwork as well:
Proof of income
Itemized list of debts
Real estate information
Valuations
Assets
Bank accounts
Employment information
Custody information
Expense information
Typically, the probate/estate lawyer or divorce lawyer will help you through the process and advise on any documents they need.
Step 3: Decide Which Items Will Be Kept
The next step is to go through items with the family to disperse sentimental and valuable belongings and determine which family members will take what.
This can be a great time to get together with family to celebrate the life of the lost loved one as well as the memories made together in their home, especially if the home will not be staying in the family.
If this is not possible for your family, this part of the process can often be done virtually, over the phone, or via email.
In the case of a divorce, you'll need to divide assets with your spouse if this is not already established by a prenuptial agreement; decide who will get what and what will be sold.
Step 4: Set Aside Valuables
Once it's determined which items will be kept, start separating items that should be sold.
If you're unsure of the value of certain items, make note of those items that need to be appraised or auctioned off.
Step 5: Determine What Needs to Go
At this point, you should have a pretty good idea of what can be thrown out, recycled, or donated.
It's likely that there are plenty of used and unwanted household items that do not have enough of a resale value to sell each and every one, but they're still usable and should be donated or recycled.
Ideally, you'll have separated the items that need to go from the ones that need to stay.
If you like the idea of someone else coming to get your used item(s) and hauling them away to be recycled or donated on your behalf, then junk removal services are the ideal option.
Maybe you have a lot of items, extremely heavy furniture, or an entire house of items to clean out...This is where your local junk removal team comes in.
Step 6: Reach Out to Local Junk Removal Companies
Research junk removal services in your area and get several different junk removal quotes.
This will help you determine who offers the best price, who is knowledgeable and professional within their industry, and who offers great customer service.
Hometown makes it easy to get quotes and find the best local services.
Step 7: Book Your Estate Cleanout Services
Once you feel confident that you've found the right junk removal company for your project, it's time to book your junk removal services.
The professionals will then be in charge of clearing out the home in a careful and thorough manner.
Once the estate is cleaned out of all remaining items, we recommend hiring a house cleaning service to get it cleaned before selling the house, if that's what you plan to do.
---
---
Keep reading: