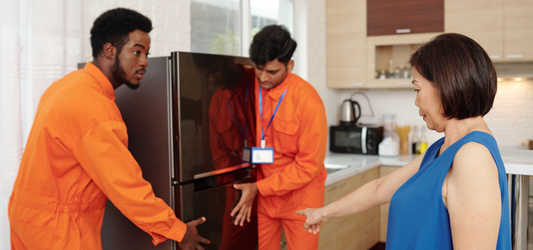 Updated July 1, 2022
It's important to understand all the terms and conditions of your junk removal agreement to ensure that you aren't charged more than the price you were originally quoted.
Not being aware of what you are asking your junk removal company to remove, or how much, can result in additional fees that can quickly add up.
Hometown understands how important it is to keep disposal costs low, so we've put together this quick guide of things to be aware of so that you don't overpay.
Jump to:
---
---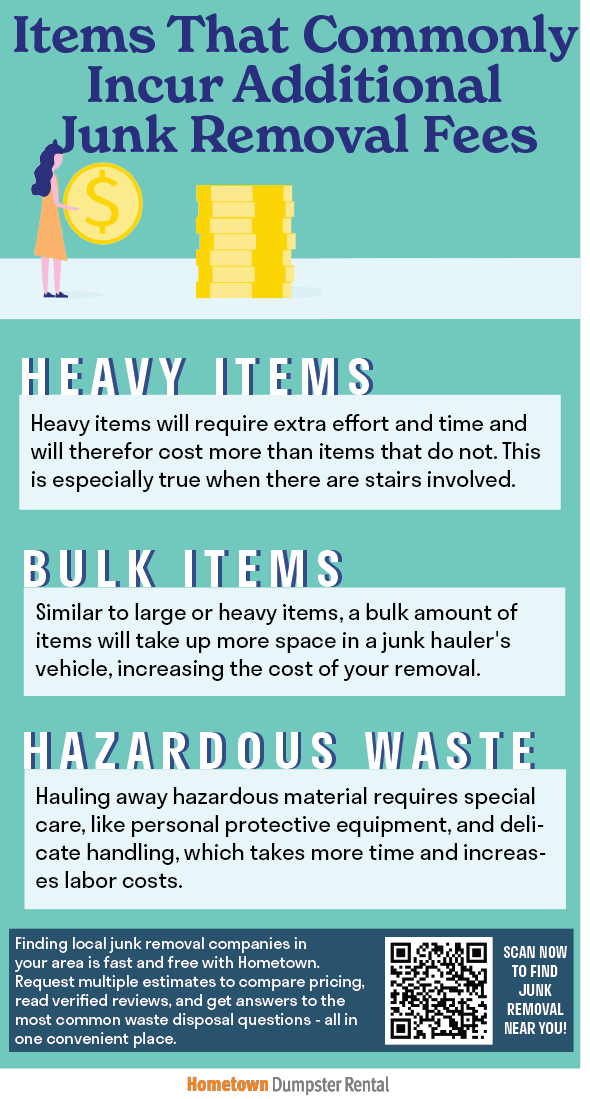 Heavy Items
Hiring a junk removal company to remove heavy, bulky items is fast and convenient way to get rid of items that can't be tossed in with your weekly trash pickup.
That said, items that require extra effort and time will likely cost more than items that do not. This is especially true when there are stairs involved.
Hiring a junk removal to haul away a washer or dryer from your basement will likely cost more than if they were to pick up the same item at the end of your driveway.
Items that require disassembly will take longer and therefor cost more. A good example of this is a hot tub removal.
Hot tubs often need to be disassembled and cut into pieces in order for them to fit into a junk hauler's vehicle.
Both of these examples will require at least two people in addition to special tools, like dollies, and normally won't qualify for a junk removal company's minimum fee; even though they're technically removing only one belonging.
Junk removal prices are normally determined by the amount of space your items take up in their truck, which is another reason why large, heavy items will cost more to haul away.
Learn more:
Bulk Items
Similar to large or heavy items, a bulk amount of items will take up more space in a junk hauler's vehicle, increasing the cost of your removal.
Labor expenses also increases as the amount of items increase.
A whole home's worth of belongings, for example, will require at least 2 workers and will take a significant amount of time.
There are things you can do to help mitigate the price increase caused by a bulk amount of items.
Having all your items in a single place rather than spread out throughout the home will make loading easier for the junk removal crew, allowing them to get the job done faster.
Having all your items on the first floor so that they can avoid going up and down flights of stairs will increase their speed. You can even choose to pile up all your belongings in the driveway to even easier, contactless service.
Hazardous Items
Junk removal companies that dump their containers at local landfills and must comply with their rules and regulations in order to avoid getting fined themselves.
Items that are banned from landfills can create hazardous byproducts that leak into the surrounding soil and find its way into local bodies of water, which is why there are federal, state, and local guidelines to follow when dumping at a landfill.
The most common types of household hazardous wastes that are banned in landfills include:
Automotive fluid
Bleach
Bug and pest spray/killers
Car batteries
Car tires
Freon containing appliances
Kitchen/bathroom cleaners
Lawn fertilizers
Medication
Motor oil
Paint cans
Pool chemicals
Varnish/stain
If they allow it, hiring a junk removal company to haul away items that are prohibited in local landfills will result in additional fees to cover the additional proper disposal costs.
Hauling away hazardous material requires special care, like personal protective equipment, and delicate handling, which takes more time.
The more time a job takes and the more equipment needed to get it done, the more you'll pay for your junk removal service.
A great example of this is in the case of a hoarding cleanup. There are many safety and health risks involved with a hoarding cleanup and this is taken into account when you hire a junk removal company.
Not all junk removal companies are equipped to handle these types of removal projects, so be very clear with your needs before hiring a company for your particular project.
It may require reaching out to several junk removal services in your area to find one that can accommodate your needs.
Hometown makes it fast and easy to contact locally-owned junk removal companies that service your area.
You can request free quotes, read about each company's services, and read others' experience with hiring them - all in one convenient place.
---
---
Continue reading: