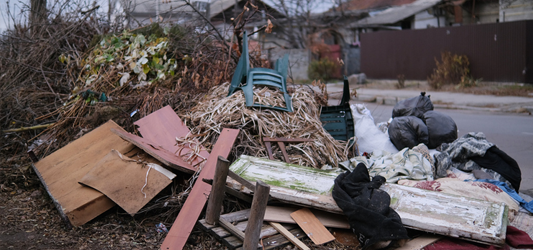 Updated July 1, 2022
Whether you've recently cleaned out the basement, an attic, a whole home, or a rental unit, you likely have a large amount of trash to get rid of.
Rather than bag everything up and slowly get rid of it over time, utilize local dumpster rental or junk removal services to get rid of large amounts of junk and garbage all at once.
In this guide, we'll answer the main questions that will help you decide which bulk waste disposal method is best for your project.
Jump to:
---
---
Which Service Should I Choose?
When deciding between renting a dumpster or hiring a junk removal service, ask yourself the following questions:
How much garbage do I have?
What is my budget?
How long will my project take and how much time do I have to spare?
Am I capable of any heavy lifting or strenuous labor that may be involved?
Do I have any help or is this something I'll be doing alone?
As a general rule, 7 cubic yards or more of junk is more than enough to justify renting a dumpster and will very likely be a cheaper option than hiring a junk removal service.
If you have less than 7 cubic yards of trash, hiring a junk removal service might not only be the cheaper option, but it's more convenient too.
Dumpster rentals are great for DIY cleaning projects, especially those that might take several days or weeks to complete.
Most dumpster rentals last 5-7 days with most companies offering flexibility to accommodate any special circumstances.
Junk removal services are more involved and can usually be completed within an hour or two.
Keep reading:
How Much Does Each Service Cost?
The average cost to rent dumpster can vary greatly based on your location, the type of material being thrown away, the dumpster size you choose, who you hire, and more.
With that said, the average cost to rent a 10-40 yard dumpster in the U.S. is $250-$750.
Estimating the cost of junk removal services is a more involved and complicated process.
In fact, most junk removal companies send a crew to your location when providing a free estimate to ensure the most accurate pricing possible, while dumpster rental quotes are more simple and can be provided over the phone or email.
Every junk removal service has a minimum fee that they charge that is reserved for the smallest of jobs, like only removing a single piece of furniture or a few small boxes, and is $75-$100 on average.
The amount of junk produced from single-room cleanouts, like attic, basement, or garage cleanouts, costs $400-$800 on average, while whole home cleanouts generally produce enough waste that costs $500-$2,000 on average to remove.
Much like dumpster rental, the actual cost of your junk removal service will vary based on many different factors, which is why an on-site junk removal estimate is the best way to figure out what you can expect to pay for your project.
Learn more:
How Do I Get the Best Deal?
The best way to get the best price on junk removal or dumpster rental services is to get multiple quotes from local providers.
Locally-owned and operated waste removal services tend to cost less than large, nationwide waste management chains, which is why Hometown focuses on publishing licensed and insured dumpster rental and junk removal companies all over the U.S.
Getting quotes is always free and you can get as many as you'd like until you feel comfortable moving forward with the right service.
By entering your zip code and answering a few quick questions about your large trash removal project, you'll be able to see companies that service your area, learn more about them, read real reviews, compare pricing, and more - all free of charge.
---
---
Continuing reading: