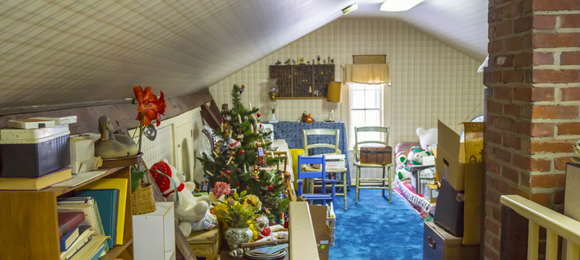 Updated September 13, 2023
For the average homeowner, the attic is the least visited part of their house. It's common for months to go by between visits to the attic, whether to retrieve holiday decorations or swap out your seasonal wardrobes.
The longer an area sits, the more time it has to accumulate dirt and dust, which can cause other problems the longer it is left untreated.
Mold, mildew, pest infestation, and low energy efficiency are common issues that neglecting your attic can lead to.
Cleaning out your attic at least once a year is a preventative measure that should be on every homeowner or tenant's checklist.
Find out the best ways to maintain your attic in order to avoid these future problems and save money in the long run.
Jump to:
---
---
What You'll Need
There are several health risks involved in cleaning out an area that is relatively abandoned, like an attic.
To best protect yourself, you'll need:
Protective Gear
Attics are notorious for having poor ventilation. Pair that with dust mites and you have the perfect storm for severe colds or allergy flare-ups.
Worse yet, if there is an undiagnosed mold or vermin infestation, the air quality dangers are even more serious.
Because of these potential health hazards, it is always best practice to wear a protective mask during your attic cleanout. Masks will protect you from inhaling harmful particles that can affect your ability to breathe properly.
Additionally, protective gloves and safety glasses are also highly recommended to protect you from dust and other irritants.
If your attic is not carpeted like most, bringing knee pads or another piece of soft material to protect your joints from the hard floors will come in handy when you're cleaning and sorting.
Adequate Lighting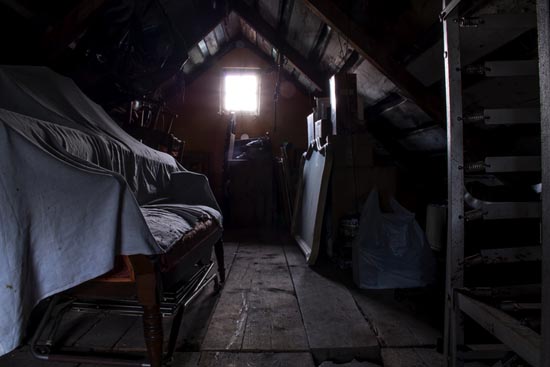 Sometimes an afterthought, proper lighting for your workspace can be the difference between you overlooking evidence of a serious problem or not.
Besides the obvious implications of working in a poorly lit space (falling, injury, etc.), not having a reasonable amount of light can make spotting potentially hazardous problems more difficult.
While you're cleaning out your attic, it's important to keep an eye out for rodent droppings, bug infestations, mold, and other evidence of a contaminated area.
Proper lighting makes this task much easier.
Safe Temperatures
As heat rises, attics can be upwards of 40 degrees warmer than the rest of your home. Tackling an attic cleanout in the summer months can be especially dangerous if the proper precautions aren't taken.
If you live in an area with high temperatures at the time of your project, early mornings or after the sun has set are the safest times to work.
Make sure to drink plenty of fluids, paying close attention to how much physical exertion you're extending and how much you're sweating.
If you're experiencing an unusual amount of sweat, dizziness, nausea, pale/clammy skin, or a headache, you may be experiencing the first symptoms of a heat stroke and need to stop what you're doing, lower your heart rate, and seek the advice of a medical professional.
A Project Partner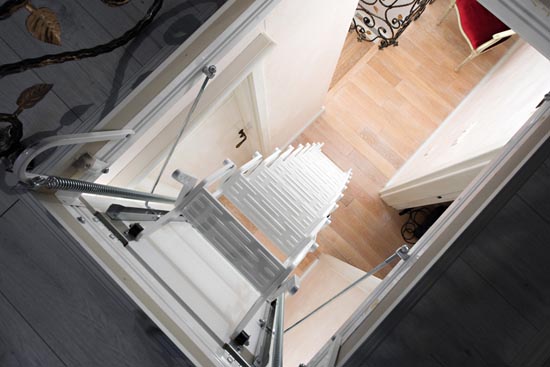 For instances like the one mentioned above, it's important to have a project partner. Because there are so many ways to accidentally injure yourself in a tight space like an attic, you don't want to do it alone.
If you have heavy items that you need to bring down from your attic, you'll need someone to help you navigate the items/and or stairs.
It is very unsafe for one person to navigate the balancing act of using stairs on top of carrying items that require your arm strength.
Cleaning Supplies
Once you feel safe, protected, and ready to get to the nitty-gritty of an attic clean out, you'll want to gather all the necessary items to make your attic feel like the clean, organized space you're envisioning.
You'll need:
Duster
Broom & dustpan
Vacuum
Disinfectant
Cleaning cloth
Garbage bags
Step-by-Step Guide to Maximize Efficiency
Once you have everything you need to complete the job, it's time to get to work.
Step 1: Clear the Area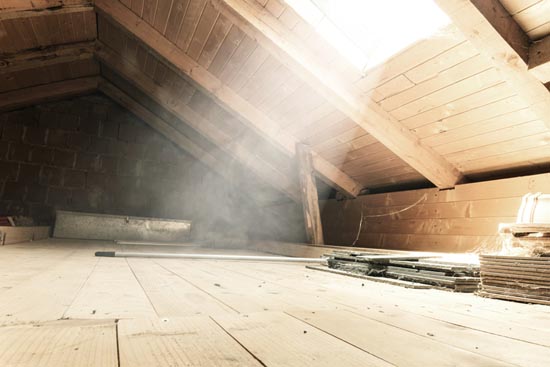 The first thing you'll want to do is clear out the area. Removing everything from the area is the best way to make sure you don't miss a single spot while you're cleaning.
If that is not feasible, piling everything in a small section of the space to give you access to the rest of the attic will work.
Any exposed cloth material, like window curtains or clothing in unsealed boxes, should be put through your washer or taken to a dry cleaner.
Step 2: Start Dusting
If it's been a long time since you've cleaned your attic and there is dust everywhere, it can be overwhelming to know where to even begin.
The old saying 'let the dust settle' is an easy way to remember that the best practice is to start from the top of the area and work your way down.
Use your duster, preferably one with an extendable arm for hard to reach areas, and begin dusting the ceilings, beams, ceiling fixtures (like lights and fans), walls, trim, and window frames.
If you're using a disposable duster, make sure to have plenty on hand.
It's very easy to underestimate just how much dust has settled in an area until the area is disturbed.
Step 3: Sweep and Vacuum
Under normal cleaning circumstances, it's common to sweep before you vacuum. When dealing with large quantities of dust, however, sweeping may push dirt and dust into the air.
The best practice when dealing with large amounts of dirt and dust is to vacuum first, then sweep, then vacuum again as needed.
It may seem redundant, but you'll be glad you took this extra step to avoid kicking up dirt and requiring previously cleaned areas to be cleaned again.
Step 4: Disinfect
Once you've cleared every area of your attic from dust, dirt, and other debris, you can clean any windows or glass mirrors. Waiting to do this until the very end will save you from having to do it multiple times.
If there are screens in your windows, be sure to remove these and hose them down in your yard or bathroom, size permitting.
After that, you can disinfect areas that are touched the most frequently, like light switches, door handles, etc.
What to Do After You Clean Out Your Attic
Organize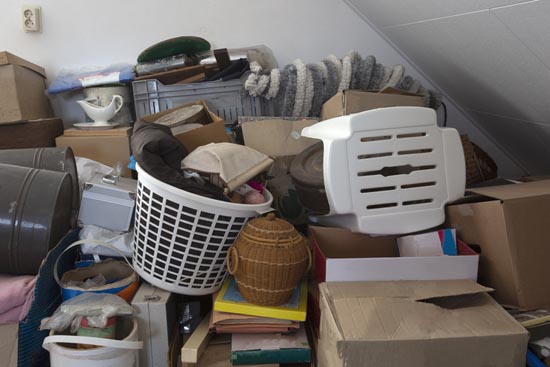 Now that your attic is clean and ready to host your storage space, you'll want to sort through everything you were storing to determine what will stay and what will go. Even if you are sure that you'd like to keep everything you had stored in your attic, it's important to go through and take inventory of your belongings.
Not only is this helpful for future reference when you are looking for something you know you own, but it's also a great way to check for further evidence of any potential attic concerns.
If you have cardboard boxes or electrical wires that have been chewed through, or you notice moisture collected in certain areas, these are a sign of a different problem completely.
Catching infestations and mold/mildew before they worsen is essential in saving you money in repairs long term.
If you are planning on clearing out some old belongings for donation or garbage collection, this is the stage in your attic cleanout to do so.
The easiest way to do this is by creating three separate piles: one for donations, one for garbage collection, and one for the items you plan on keeping.
Learn more:
Finalize Your Storage Plan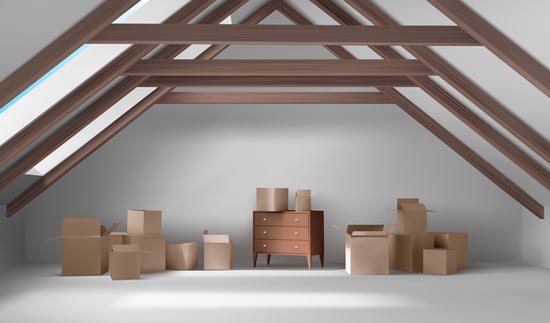 At this point in your project, you can probaby see the light at the end of the tunnel. The only thing left to do is finalize your storage plan.
If you have created piles for donation or garbage collection, remove these items with your project partner. These items can be stored in your garage, basement, spare bedroom, or mudroom if you need a reminder to take these items on your way out the door.
You're then left with a clean attic and a pile of items you'd like to keep in it.
Organize these boxes/items in a way that allows for easy access.
If you know that your most frequent visits to the attic are to swap out your summer clothes for your winter clothes, keep these boxes close to your attic entrance.
Similarly, if you have a box of old trophies from the glory days that you never look at but can't bear to let go of, these items can be strategically placed near the back or bottom of your newly organized storage area.
Donate or Dispose
Once your attic is clean, organized, and finally a project you can check off your to-do list, the only thing left to do is take your donatable items to a local charity, recyclables to a recycling center, and trash to the dump.
For old mattresses, furniture, appliances, and electronics, the easiest and most efficient way to get rid of these bulky items is to contact a local junk removal company.
They take care of all the heavy lifting and loading so that you don't have to worry about when and where you will take these items.
Alternative Options
If you began this article enthused and ready to tackle your attic clean out but grew progressively unconvinced it's a project you're prepared to take on, there are affordable alternative solutions in your area.
Attic cleanouts are a common service offered by junk removal companies and with Hometown, finding reputable providers near you is easy.
Alternatively, renting a dumpster is a convenient and affordable way to handle the disposal aspect of a DIY attic cleanout project.
If you're unsure whether or not junk removal or dumpster rental services are right for your particular project, Hometown makes it easy to find locally-owned and operated services in your area and request free quotes to compare pricing, customer service, and availability.
Our single quote request form allows you to provide your project details in one place so that you aren't answering the same questions over and over again. You simply enter your zip code, answer a few short questions about your attic cleanout needs, and select up to 3 different providers for each service type in your area to request a quote from.
We'll even match you up with the right local services if you don't feel like looking through their profiles yourself.
Hometown knows the type of quality service you deserve and we offer the quickest and easiest way to compare all your options in one easy-to-use site.
---
---
Read more: