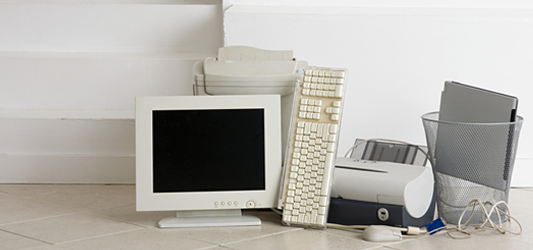 Making sure to properly dispose of electronic waste is important to avoid contaminating local landfills with heavy metal and other potential hazards.
Items like computers, tablets, TVs, smartphones, DVD players, VCRs, etc. can be hosts for toxic materials like lead, mercury, and cadmium.
There are many places that offer electronic recycling programs available to the public for drop-off, but if you don't have the time to do the heavy lifting and hauling yourself, junk removal services are a great option.
Jump to:
---
---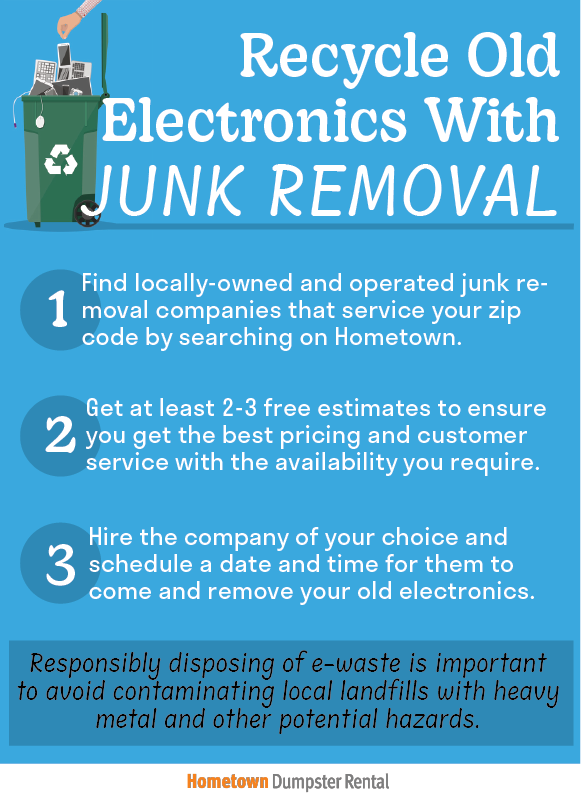 Recycling Old Electronics With Junk Removal Services
Dumpster rental is typically not an option when disposing of electronics due to city and state restrictions surrounding e-waste recycling.
Whether you have a whole office worth of old computers and printers or just small pile of household electronics, junk removal services are a quick and easy way to get rid of heavy or multiple electronics at once.
A junk removal service can come to the property to assess the extent of the work, provide a free estimate, and get to work right away if you agree to their price.
Although most junk removal estimates are quoted in-person, it does not make you obligated to hire without seeking a second, third, or even a fourth opinion.
In fact, it's recommended to get at least 2-3 different quotes to ensure you're not only paying a competitive price, but that you're getting quality customer service and the availability you require.
Small removal projects can often be quoted over the phone or email if photos and/or video is provided to the junk hauler, so ask if this is an option for a quicker turnaround time.
Learn more:
How to Get the Best Junk Removal Price
More often than not, the best junk removal pricing and customer service is typically provided by locally-owned and operated companies.
Hometown makes it easy to find locally-owned junk removal and dumpster rental companies that service your area.
By searching your zip code and answering a few quick questions about your waste hauling needs, you'll be shown a list of licensed and insured junk haulers near you.
Not only are all companies on our website verified, but we also verify every review that is published so you don't have to worry about being influenced by insincere reviews, positive or negative.
It's easy to request free junk removal quotes and you're able to request as many as you'd like to ensure you get the best service for the best price.
---
---
Continue reading: