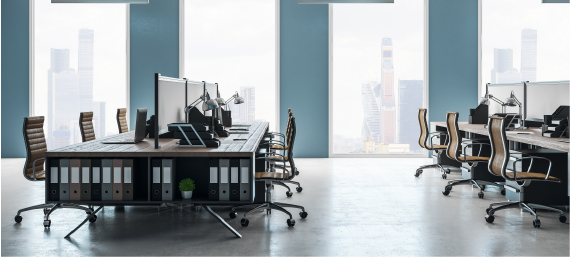 Updated February 22, 2022
Maintaining an organized company office is crucial for the productivity and morale of a company's employees.
Failing to keep an office space organized can negatively impact your company's profits in a number of ways.
When it's time for you to clean out your office space, whether to prepare for an expansion, a downsize, a relocation, or simply to get back on track, our guide will help you get it done efficiently.
Steps to Cleaning Out an Office:
---
---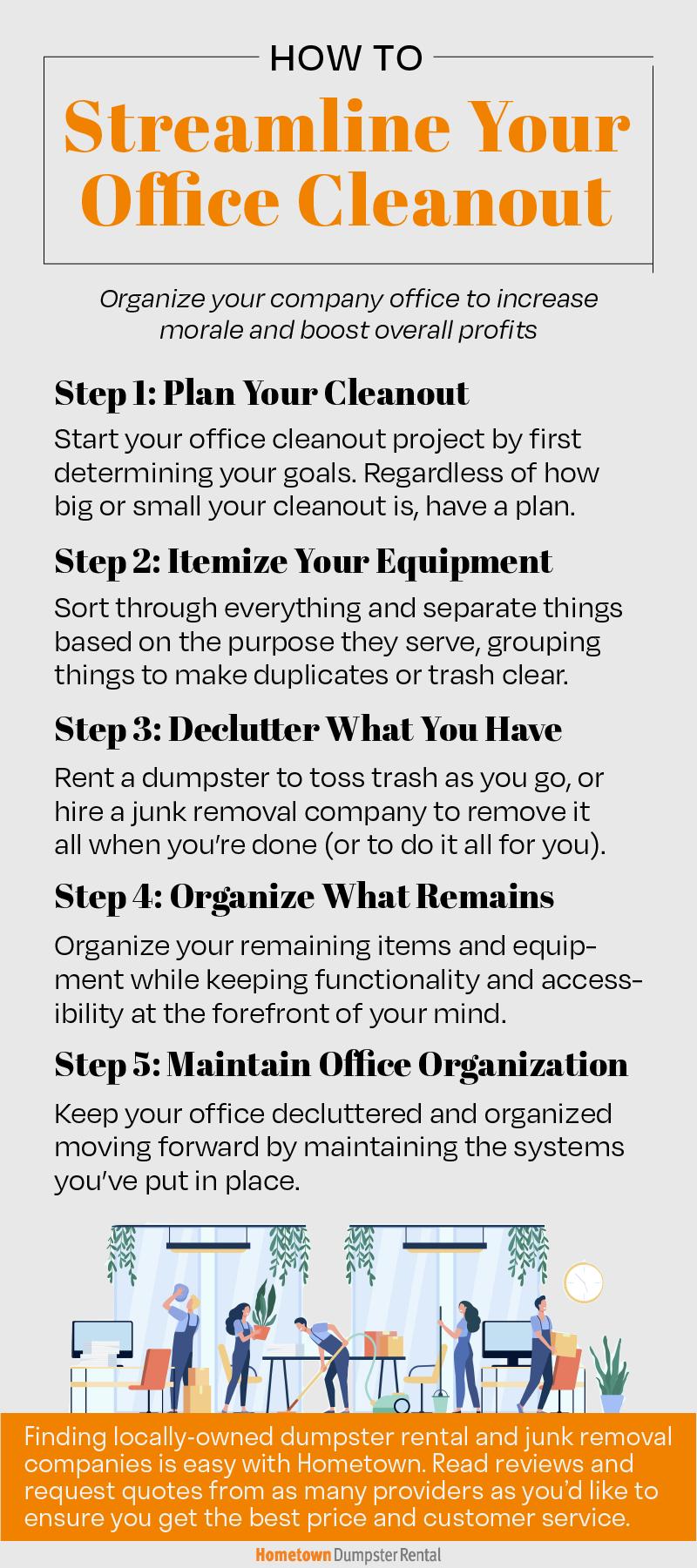 Step 1: Plan
The first step of an office cleanout is determining your goals.
What do you want to accomplish with this cleanout?
Are you looking to completely gut out the office and start from scratch with a redesign and new storage systems?
Maybe you're just looking to remove excess junk and organize the stuff you already have.
Spring cleaning a year's worth of junk?
No matter the scale of the cleanout, planning it out should be step one.
Step 2: Itemize
The next step in cleaning out your company's workspace is to go through all your items, materials, and equipment to determine what you have.
By separating items according to purpose, it will be easier to determine what you want to keep, what you want to donate or recycle, what is trash, and the best organization system for your remaining items.
Sort through everything and separate things based on the purpose they serve, grouping things to make duplicates clear.
Step 3: Declutter
When you come across trash or broken equipment that is not reusable, we recommend renting a dumpster to enable streamlined disposal.
If you anticipate having less than 5 yards of debris, a junk removal company may be the better, less expensive option.
However, if you have more than 5-7 yards of junk or equipment to trash, then a dumpster rental is the best way to go.
You can rent a roll-off dumpster and have it on location so that you can toss junk as you go, making the office cleanout go as efficiently as possible.
If you need help with the office cleanout, hiring a junk removal company is a great solution.
Dumpster rental companies can provide quotes for their dumpster via phone or text, but most junk removal companies will come on location to assess the project and provide you with a quote for junk removal services in-person.
Hiring professional junk removal services can help speed up your office transformation.
Finding locally-owned dumpster rental and junk removal companies is easy with Hometown. Read customer reviews and request quotes from as many providers as you'd like to ensure you get the best price, availability, and customer service.
Learn more:
Step 4: Organize
Next, it's time to organize your remaining items and equipment.
Keep functionality and accessibility in mind when organizing your office.
Make it easy to access the items your employees use frequently.
You can optimize the accessibility of items in your office by strategically installing hooks, hangers, cabinets, overhead storage, and shelving.
Choosing efficient storage solutions can help create additional floor space and make your office appear larger and brighter.
Utilize vertical space and smart storage systems to maximize the square footage and storage capacity in your office.
Keep reading: 5 Advantages to Keeping an Organized Company Office
Step 5: Maintain
Now that your office is decluttered and organized, make sure the systems you've put into place are easy to maintain.
Only bring in new items, equipment, or materials when absolutely necessary, and be sure employees don't allow junk to pile up anywhere within the office.
Keeping your office in good shape can increase morale and boost profits.
---
---
Find out more: