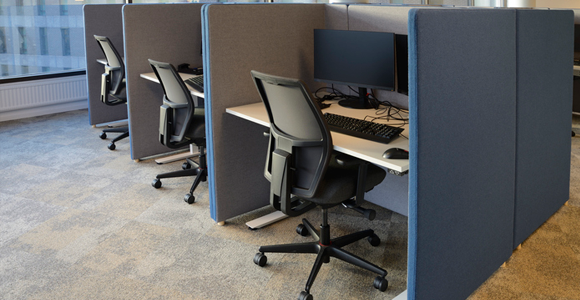 Updated August 31, 2023
When it comes to shared office spaces, it's important to make sure it's a space that everyone feels comfortable and productive in.
Maintaining an organized office is crucial for the productivity and morale of any company's employees, and failing to do so could have negative effects on the company and its profits.
We've put together a list of the biggest advantages that organized companies have over unorganized companies, and how junk removal services can help your company stay organized.
Jump to:
---
---

Increased Productivity
When it comes to productivity in the workplace, one of the most simple and effective ways to maintain healthy productivity is to make sure all working areas are clean and organized.
People who work at a clean desk are able to work 7.5 minutes longer without losing focus than those working in an unorganized space. Fewer distractions mean fewer breaks, which can increase productivity tremendously.
It might also shock you to know that the average person spends 4.3 hours per week looking for paperwork.
Making sure that all office space is tidy and every piece of important paperwork is filed in an organized manner frees up hundreds of hours per year per employee that could be spending their time completing more important tasks.
Reduced Stress Levels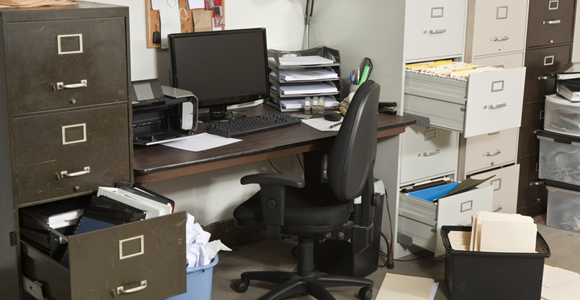 For whatever reason, our brains crave and desire order so that we can function to the best of our ability.
Scientists at the Princeton University Neuroscience Institute have done research that has found that continuous visual reminders of disorganization can drain our cognitive resources and reduce our ability to focus, resulting in stress.
On top of that, having to spend extra time locating important documents, tools, or inventory can be a huge cause of stress, especially if it happens often.
Keep reading: How to Streamline Your Office Cleanout
Better Impressions on Clients
In the event that you need to host an on-site client meeting, having an organized workspace sends the message that you take your business, and theirs, seriously.
A lack of organization and cleanliness will make most clients second-guess your company's ability to work efficiently and might make them take their business elsewhere altogether.
Accurate Inventory
Having an accurate inventory of office supplies is important so that you don't overspend.
When things are piled up or shoved into storage areas, it's easy to miss them when you try locating them.
Having supplies organized in a central location for easy access to everyone in the office will not only eliminate the need to scramble at the last minute to replace important office supplies, but it also helps prevent your office from unnecessarily overspending on supplies that you already have.
Learn more:
---
---
Higher Profits
When your company is operating to its full potential and with maximum efficiency, it's reasonable to assume that your profits will be higher.
Eliminating unnecessary spending to replace supplies you already have can add up over time, too.
Any way you look at it, your company has nothing to lose and everything to gain from taking the time to organize your workplace.
You'll be getting more value from the salaries you pay your employees who will take more pride in their work.
If you've been convinced to finally tackle the project of reorganizing your company's office and need to know where to start, keep reading.
Best Ways to Organize Your Office Space
The first step in transforming your company's workspace is to get rid of all unnecessary clutter.
For large office spaces that have a lot of items to be tossed in the trash, renting a dumpster is a great way to get rid of large amounts of junk at once.
You can rent a roll-off container and have it on location so that you can toss junk as you go, making the office cleanout as efficiently as possible.
If you don't have the help or prefer to hire a team of professionals to handle the office cleanout for you so that you don't have to burden your employees with the task, hiring a junk removal company is a great solution.
Junk removal companies will come on location to assess the project and provide you with a quote. If you agree to their pricing, they oftentimes will begin working right then and there.
Hiring professional junk removal services can have your office space transformed quickly, producing an overnight transformation that will boost company morale and inspire everyone in the office to maintain your new, functional organization.
Finding locally-owned dumpster rental and junk removal companies is easy with Hometown.
Our site makes it easy to find and request quotes from providers in your area, free of charge.
You can request quotes from as many providers as you'd like to ensure you get the best price, availability, and customer service.
---
---
Continue reading: