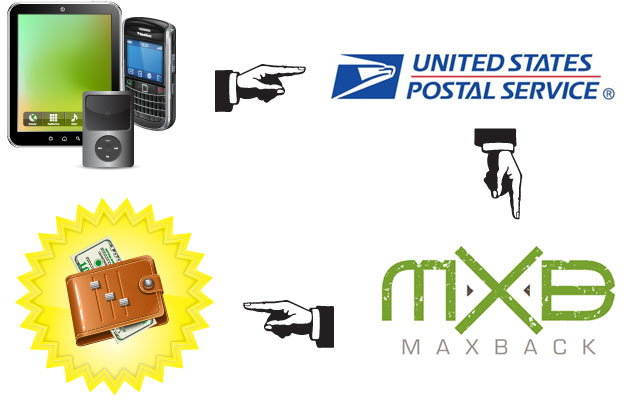 Updated September 13, 2023
The United States Postal Service (USPS) just announced a new partnership with MaxBack that will make it easier than ever for consumers to get rid of old electronic devices in an eco-friendly way. Not only is the USPS offering to ship the e-waste free of charge, but MaxBack will pay you for sending them your working or non-working electronic devices.
The USPS is expanding upon a recycling program currently in place at 3,100 retailers across the country that will now allow consumers to make money for offloading old electronics.
The USPS is working with MaxBack, an electronics recycling company focused on reducing e-waste in landfills.
Gary Reblin, VP of Domestic Products for the USPS, said in a press release, "The U.S. Postal Service is making recycling your old cell phone quicker and easier than ever before. We've expanded this recycling program to offer more consumers the opportunity to protect the environment...and with USPS, the shipping is free."
Eligible types of e-waste include cellphones, tablets, empty ink cartridges, mp3 players, digital cameras, and other small electronic devices.
It's a quick and easy process to find out if your electronic devices are accepted. Simply go to the USPS website. If you decide to send the device to USPS, you can stop by your local Post Office to get free Priority shipping.
This isn't the only cash-for-electronics recycling program available to consumers. We did a story back in July highlighting five of the biggest online companies offering cash for old electronic devices.
E-waste takes up a substantial amount of space in U.S. landfills, and many electronic devices contain potentially toxic elements harmful to the environment. In 2009 alone, 129 million mobile devices were disposed of in the U.S. and just eight percent of these were recycled, according to the EPA.
The number of mobile devices and other electronics in circulation is growing exponentially due to increased demand and decreasing price tags. Luckily, industry leaders like the USPS have made it easier to dispose of e-waste properly and conveniently.