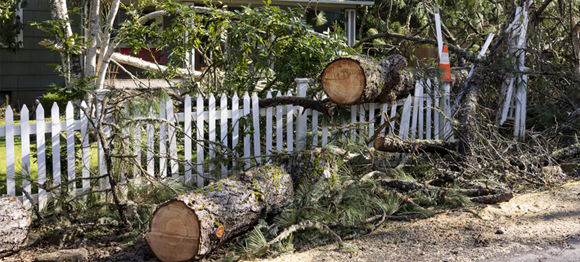 Updated September 2, 2022
Storm cleanup services are useful for a broad range of property cleanup projects, like after a hurricane, windstorm, flood, fire, tornado, winter storm, or any other kind of natural disaster.
Whatever the case is, professional cleanup services make putting your home and life back together fast and easy.
Professional storm damage cleanup and junk removal services can save you time, stress, and risk.
In this guide, we'll discuss:
---
---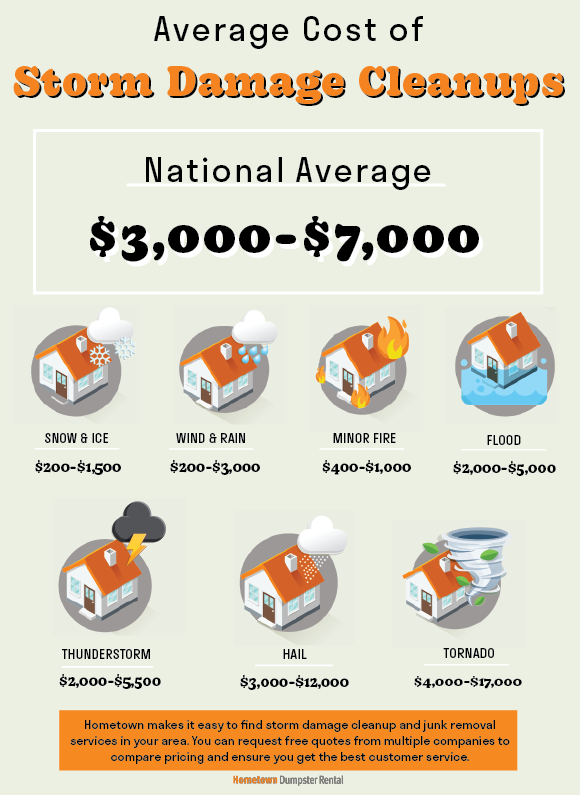 Benefits of Professional Storm Damage Cleanup
There are countless benefits to hiring professional help when your yard, home, or business is in disarray from a storm of any kind.
Professional removal companies know what to look for post-storm to ensure that no additional damage is done to the property while also making sure that their workers are outfitted in personal protective equipment (PPE) for safety.
Experienced storm damage cleanup crews are aware of the potential dangers of storm damage and cleanup, and they are trained, licensed, and insured for the safety of all involved.
Some areas will offer city-wide help for areas that have been affected by large natural disasters, but in circumstances where you're left to take care of your property on your own, Hometown can help.
We make it easy to find verified, reliable junk removal and storm cleanup companies so that you can remain safely indoors while professionals use their skill and fleet of equipment to dispose of your damaged items and yard waste quickly and efficiently.
Keep reading:
Average Cost of Storm Damage Cleanup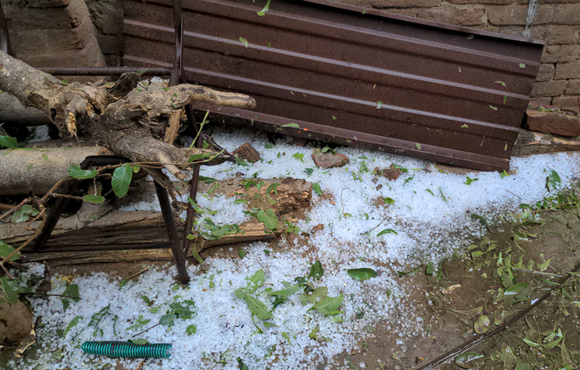 Storm damage cleanup services cover a wide range of jobs, but looking at average pricing, storm damage cleanups typically cost somewhere between $3,000-$7,000, with most homeowners paying around $5,000.
Storm cleanup costs can vary quite a bit based on a number of different variables, like:
Type of storm damage
Amount of damage
Time it takes
Safety risk involved
Where you live
Who you hire
Depending on your home insurance coverage, you may not have to pay out of pocket to get your property back to its previous state.
Contact your insurance company to find out what is covered and what you'll have to take care of on your own.
The following chart breaks down nationwide average costs for storm cleanup services based on the type of damage done.
| | |
| --- | --- |
| Type of Storm Damage | Average Cost |
| Snow and Ice | $200-$1,500 |
| Windstorm | $200-$3,000 |
| Minor Fire | $400-$1,000 |
| Flood | $2,000-$5,000 |
| Thunderstorm | $2,000-$5,500 |
| Hail | $3,000-$12,000 |
| Tornado | $4,000-$17,000 |
Learn more:
Find Qualified Storm Damage Cleanup Services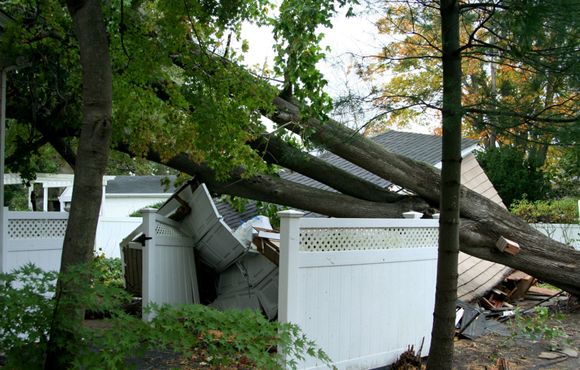 When your property has lost its functionality, it's important to get it taken care of as quickly as possible.
Hometown can help you find qualified junk removal and storm damage cleanup pros in your area, read real reviews, and request as many free quotes as you'd like.
Give as much detail about your project as possible to each company you speak with in order to get the most accurate junk removal quote, and get multiple quotes to get the most competitive price.
These companies may request photos or will send someone to your property to assess the work and provide a quote.
If you'd rather clean up the mess yourself, dumpster rental is an ideal option, and Hometown can help with that, too! Just like with junk removal, Hometown can help you find dumpster rental companies in your area. We even make it easy to request multiple dumpster quotes and read verified reviews.
Note: If your property has extreme damage, you will likely need to reach out to a restoration company.
---
---
Continue reading: