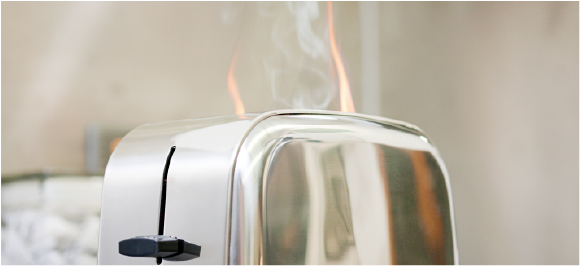 Updated December 6, 2022
Smoke damage, ash, burnt items, and potential water damage or foam from extinguishing a fire...these are all things you might face after minor fire damage.
To clean up your home after a fire, whether from a small kitchen or electrical fire or a wildfire, professional cleanup services can help get it done fast.
Professional fire damage cleanup and junk removal services can save you time, stress, and risk.
In this guide, we'll discuss:
---
---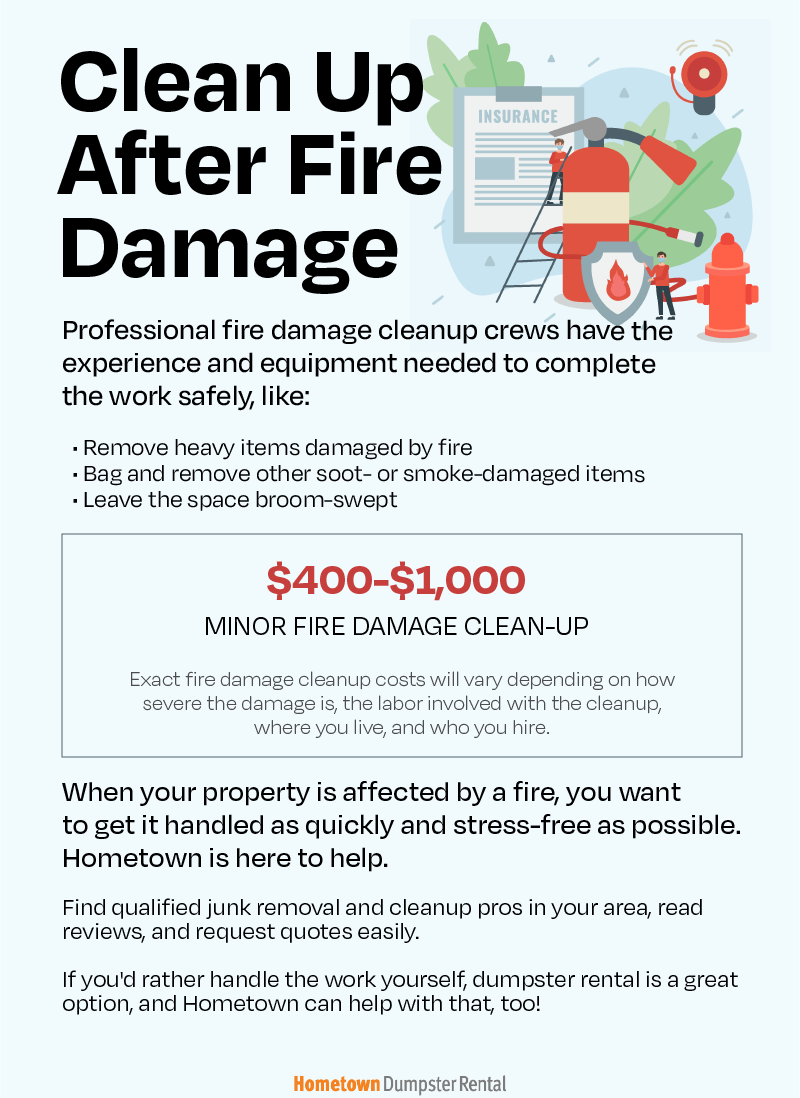 Why Hire Pros to Help with Fire Damage Cleanup
Wildfires and house fires, even if not extreme, can cause a decent amount of damage.
Once you're sure the fire is extinguished and your home is safe, we recommend starting to find cleanup assistance ASAP.
Professional fire damage cleanup crews have the experience and equipment necessary to safely clean up ash and soot, haul away heavy items and debris, and clear the property of any additional damaged items.
Fire damage cleanup crews bag and box up whatever you need removed, and then they haul it away to be disposed of responsibly.
How Much It Costs for Fire Damage Cleanup
Fire damage cleanup costs can vary a great deal depending on how severe the damage is, the labor involved with the cleanup, where you live, and who you hire.
For minor fire damage cleanup, you can expect to pay anywhere from $400-$1,000.
More extreme fire damage cleanup will be double or triple these costs, if not more, and we often recommend remediation companies for major fire damage cases.
For many fire damage cases, your homeowner's insurance may help pay for the cleanup and repairs, so reach out to them immediately.
Note: If you live in an area prone to wildfires, it may be difficult to get home insurance that covers wildfire damage due to the risk involved with insuring homes in these areas. However, if you are able to get coverage, it would mitigate or eliminate the cost of paying the pros to clean up and dispose of debris from a covered wildfire loss, leaving you with less stress in the long run.
How to Find the Best Fire Damage Cleanup Company
When your property is affected by a fire, you want to get it handled as quickly as possible, and Hometown gets that.
Hometown can help you find qualified junk removal and fire damage cleanup pros in your area, read reviews, and request quotes easily and free of charge.
Give as much detail about your project as you can to each company you speak to in order to get the most accurate junk removal quote. Oftentimes, cleanup and hauling companies will need to come out to your property to assess the work and provide a quote.
Whenever possible, we recommend getting more than one estimate for your junk removal project to ensure you get the best service for the best price.
If you'd rather clean up the mess yourself, dumpster rental is an ideal option, and Hometown can help with that, too! Just like with junk removal, Hometown can help you find dumpster rental companies in your area. We even make it easy to request multiple dumpster quotes and read reviews.
Note: If your property has extreme damage, you will likely need to reach out to a restoration company.
---
---
Read more: