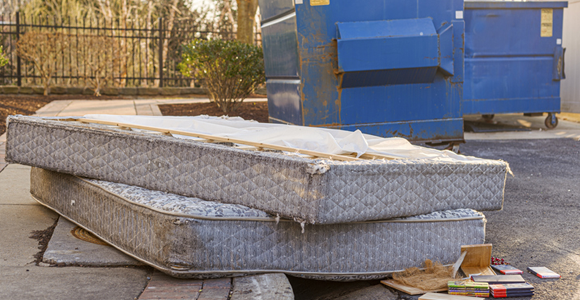 Updated February 23, 2023
Throwing your unwanted mattress into an apartment dumpster or leaving it at the road without first doing your research could result in fines and fees depending on where you're located.
If you need to get rid of a mattress, Hometown can help you make sure you do so legally and properly.
Ways to dispose of a mattress:
---
---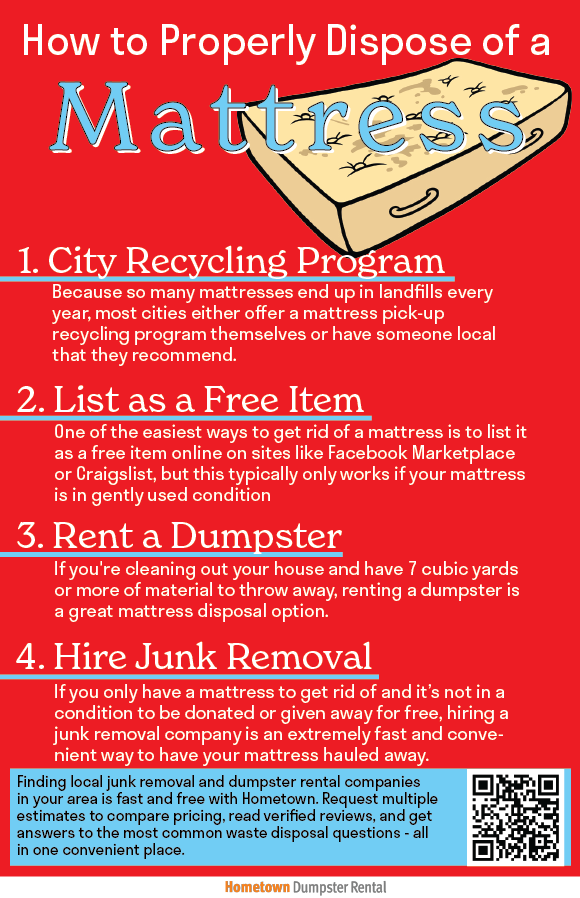 City Recycling Program
Many cities or municipal trash services offer bulk item pick-ups for mattress, bed frames, box springs, other furniture, and more.
Because so many mattresses end up in landfills every year, most cities either offer a mattress pick-up recycling program themselves or have someone local that they recommend.
Not all cities allow curbside mattress pick-up, so make sure to research in your specific area before just setting your mattress at the end of your driveway.
Some areas will require that you haul the mattress to the recycling facility yourself, while others will come to your location to pick up your unwanted mattress for a small fee.
Some programs only offer these types of pick-ups on certain days each month, while others will come as needed as long as you make the proper arrangements, pay ahead of time, and display the proper "tag" on your bulk item that needs to be picked up.
List as a Free Item
One of the easiest ways to get rid of a mattress is to list it as a free item online on sites like Facebook Marketplace or Craigslist.
Not only is this method free, but it also gives you the option of having someone else come haul away your mattress without you having to load it and haul it yourself.
Make sure to post several photos as well as a detailed description when creating your online listing to give yourself the highest chance of finding the right "buyer" for your unwanted mattress.
This typically only works if your mattress is in gently used condition. If your mattress is old and not in condition to be donated or used by someone else, this likely won't be a solution for your mattress.
Read on: Who Will Pick Up Used Appliances or Furniture for Free?
Rent a Dumpster
Renting a dumpster to dispose of a mattress is usually only cost-effective if you have many other things to dispose of as well.
If you're cleaning out your house and have 7 cubic yards or more of material to throw away, renting a dumpster is a great mattress disposal option.
Before renting a dumpster, it's important to confirm whether or not mattresses are accepted by the company you intent on renting from so that you aren't hit with any additional fines or fees once you receive your final bill.
Dumpster rentals come in a variety of sizes to accommodate cleanup projects of all sizes, with the most popular sizes ranging from 10 yard-40 yard containers.
Most dumpster rentals last 5-7 days, making it especially convenient for projects that are ongoing or require a flexible schedule.
If you're interested in the convenience of having a dumpster on your property to accommodate your disposal needs but are worried about not having enough to throw away to make it cost-effective, speak with your neighbors and see if any of them would be interested in going in on a dumpster rental with you.
You'd be surprised how quickly a dumpster can be filled once you start cleaning out your home, garage, and basement.
When it comes to renting a dumpster, we recommend renting from a locally-owned dumpster company, as their pricing tends to be cheaper than their larger competitors and their customer service tends to be better as well.
Hometown makes it easy to find and request free quotes different local dumpster companies that service your area.
We recommend getting at least 2-3 different dumpster rental quotes so that you can find the best service for the best price.
Keep reading:
Hire a Junk Removal Service
If you only have a mattress to get rid of and it's not in condition to be donated to given away for free, hiring a junk removal company is an extremely fast and convenient way to have your mattress hauled away.
Junk removal crews work quickly to load their truck or trailer with your unwanted belongings and will haul them away to a local recycling facility or landfill.
Prices will vary from one junk removal company to the next, but many will charge their minimum fee (or close to it) for mattress pick-ups.
Most junk removal minimum fees range anywhere from $50-$150 or more, depending on the cost of living in your area.
Similarly to dumpster rental, Hometown can help you find junk removal companies that service your area.
We also recommend getting at least 2-3 different mattress pick-up quotes from different companies near you to ensure you get the best price and customer service.
Getting junk removal estimates and dumpster rental quotes is always free on Hometown's website.
You can also read more about each company and read real reviews from others who have hired their services to help you make the most informed decision when deciding who to hire for your mattress removal.
---
---
Learn more: