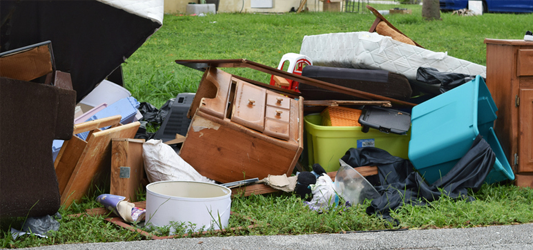 Updated August 1, 2022
When you have a large amount of junk or trash to get rid of, there are several different options available depending on where you live.
We'll discuss these options and how to get the lowest price for your bulk waste pick-up.
Jump to:
---
---
Different Bulk Waste Pick-Up Services
Depending on where you live, your city or township may offer bulk waste pick-up services.
Most areas require you to schedule your pick-up and pay for it ahead of time, while some may have designated dates and times for bulk waste pick-ups.
Your weekly trash pick-up service likely offers this service as well, but when the service is available and what items are allowed will vary from one location to the next.
If you aren't on a time schedule and these services are available in your area, these curb pick-up services may be the most affordable option.
When these services aren't available or you need to get rid of a large amount of junk and trash as quickly as possible, renting a dumpster or hiring a junk removal service is the best route.
If your municipal trash service is Waste Management, you may qualify for the Bagster service.
Waste Management offers the Bagster, which is a 3 yard "bag dumpster" made of soft, sturdy material that can be purchased online or at home goods stores for around $30.
However, they can range anywhere from $120-$300 to pick up.
Many people assume that Bagsters are less complicated and cheaper than renting a real dumpster because they are much smaller, but oftentimes, that couldn't be further from the truth.
Roll-off dumpsters and trailer dumpsters are the most common styles of temporary dumpster rentals that come in a range of sizes.
10-40 yard dumpsters are the most popular sizes offered and are perfect for getting rid of bulk amounts of junk at once.
Both roll-off and trailer dumpsters feature an open top to make loading fast and convenient, while their sturdy side walls hold at least 3x the amount of items that a Bagster can for around the same price.
Temporary dumpster rentals are perfect for projects that produce large amounts of garbage, like hoarding cleanups, tenant cleanups, estate cleanouts, and more.
Another option for getting rid of bulk waste is to hire a junk removal company to come and take care of everything.
Rather than taking the time to load a temporary dumpster yourself, a junk removal crew will load and haul your bulk waste so that you can focus your attention on more important matters.
While junk removal is typically a more expensive option than renting a dumpster, the cost of convenience is priceless for many.
Learn more:
How to Get the Lowest Price
City collection programs and municipal trash pick-up services don't typically negotiate their pricing and are set based on the cost of living, fuel prices, and landfill fees in your area.
Unlike nationwide chains, like Waste Management or Republic Services, locally-owned and operated dumpster rental and junk removal services offer the most competitive pricing and have more control and flexibility when it comes to their services.
The number one way to ensure you get the best price for dumpster rental or the cheapest junk removal service in your area is by contacting multiple companies for free quotes.
Not only does price shopping allow you to compare costs, but it's the best way to ensure you get the best customer service in your area with the availability you require.
Hometown can help you do your research—find local companies near you, read more about the work they do, read real customer reviews, and request quotes from as many companies as you'd like.
We recommend getting a minimum of 2-3 different estimates for the best results.
By simply entering your zip code and answering a few quick questions about your bulk waste pick-up, you'll be shown licensed and insured companies that service your area.
Some Ways to Get a Lower Price on These Services Includes
---
---
Keep reading: