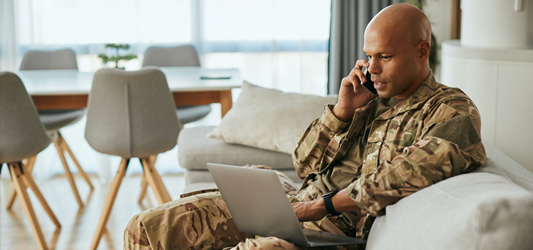 Updated June 17, 2022
There are several different factors that affect the cost of junk removal services, with the most impactful being the cost of living in your area, what type of items you need removed, how much space your items take up in the company's truck or trailer, as well as any other special circumstances that would require extra care and time to complete the job.
Junk removal services are incredibly helpful when you're in the middle of a stressful move, trying to get a rental unit ready for the next tenant, or have a loved one's estate to clear out.
At Hometown, we understand how important it is to get these services at a price that is competitive and affordable, so we've compiled some tips to help you negotiate the best junk removal price.
Jump to:
---
---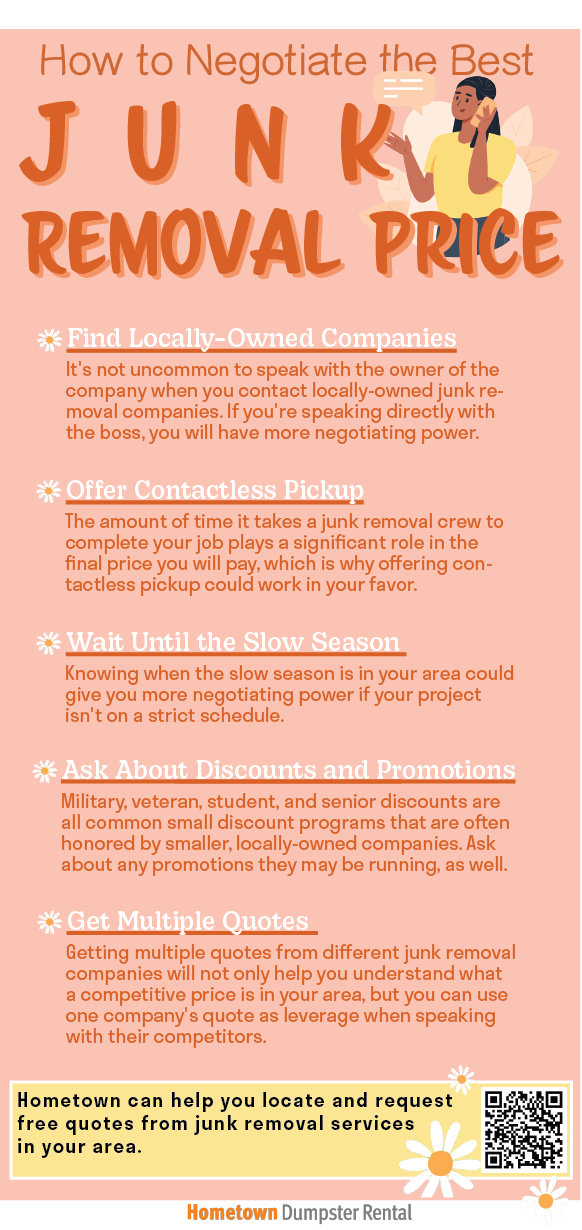 Find Locally-Owned Companies
Junk removal companies that only serve one general area tend to have more availability and less wait times than their larger competitors that service the entire state or region.
Local services also tend to give all of their customers equal priority while larger chains tend to cater to large contractors who are their bread and butter.
It's not uncommon to speak with the owner of the company when you contact locally-owned junk removal companies, and if you're speaking directly with the boss, you will likely have more negotiating power versus speaking with one of many employees at a call center.
Offer Contactless Pickup
Like we mentioned, the cost of junk removal services are based on many different factors that vary from one job to the next.
The amount of time it takes a junk removal crew to complete your job plays a significant role in the final price you will pay, which is why offering contactless pickup could work in your favor.
Setting your items set at the end of your driveway or on your porch creates a faster, easier removal process compared to having the junk removal crew come in and out of your house, up and down flights of stairs, while removing different items from different areas of the property.
Not all junk removal companies will give you a discount for doing this, but offering to do this in exchange for a small discount isn't unheard of and can be appreciated by busy companies.
Learn more:
Wait Until the Slow Season
While there is always a need for junk removal services year round, some months/season tend to be busier than others.
If you live in climate with all four seasons, waiting until the colder months when there are less home projects and yard work could make your waste hauling services cheaper.
Warmer climates tend to have their slow season throughout the summer months during their peak temperatures.
Knowing when the slow season is in your are could give you more negotiating power if your project isn't on a strict schedule.
Ask About Discounts and Promotions
If applicable, military, veteran, student, and senior discounts are all common small discount programs that are often honored by smaller, locally-owned companies.
It's also not unusual for companies to run promotions across different platforms online, so doing a quick Google search for promo codes or simply asking the junk removal company you speak with if they have any current promotions is never a bad idea.
As the saying goes, "You'll never know unless you ask."
Keep reading:
Get Multiple Quotes
Getting multiple quotes from different junk removal companies will not only help you understand what a competitive price is in your area, but you can use one company's quote as leverage when speaking with their competitors.
Some companies may price-match, while others may explain why their price is a more legitimate price for the market.
Getting a good price is important, but making sure that you only hire licensed and insured junk removal companies is worth a little more up front in order to protect yourself from any legal headaches down the road.
When you're ready to find local junk removal companies in your area, Hometown can help.
By providing your zip code and answer a few short questions about your project, you'll be shown a list of qualified junk removal companies in your area.
We make it fast and simple to request free quotes from multiple junk removal or dumpster rental companies at once, all at no cost to you.
We only publish verified reviews from legitimate customers to help you make the most informed decision, so you never have to worry about inaccurate reviews being left by competitors or the companies themselves.
---
---
Keep reading: