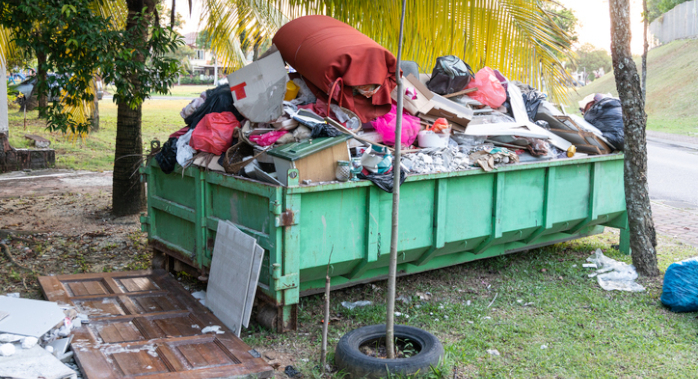 It's something we at Hometown Dumpster Rental mention all the time: If you're in doubt when deciding on a dumpster size, we recommend choosing the larger one.
Even with this rule of thumb in mind, situations can arise where the dumpster you rented isn't big enough to accommodate all of your debris.
Choosing the wrong dumpster size can be an expensive issue, not just an inconvenience, and the leftover junk, waste, and debris needs to be disposed of in a timely manner to avoid issues like city fines, rodents, etc.
There are several removal methods for excess waste. We'll briefly discuss your options and provide the costs associated with each.
Jump to:
---
---

Rent Another Dumpster
Cost: $250-$300 for 10 yard dumpster
If you have 5+ yards of debris left over, renting an additional dumpster is the most efficient strategy.
The rental process is quick, and a dumpster can accommodate a large capacity of waste or debris.
Ideally, you'd want to plan ahead and rent a dumpster that's big enough to handle all your debris in one trip, but estimating the amount of debris from a project is not an exact science, so a a second dumpster makes sense in cases where you've greatly underestimated it.
---
---
DIY Haul
Cost: $40-$60 per ton (landfill dump fees)
If a trailer or truck is available, hauling the excess to the local landfill yourself is a valid option.
This does require some extra effort and a lot more time, but it can be a very cost-effective disposal method.
This strategy is best for small amounts of waste or debris, as multiple trips to the landfill can eat up quite a bit of time, additional fees, and legwork.
Landfill dump fees vary by location and type of debris. Some cities have recycling rules for certain types of debris, such as concrete or roofing shingles.
Check with your city to ensure you follow all laws.
Related reading: Cost of Hauling Waste Yourself vs Renting a Dumpster
Hire a Junk Hauler
Cost: Varies (generally starts at $75 - $125)
This is the easiest and potentially the quickest way to get rid of your leftover debris, junk, or yard waste.
When you hire a junk removal provider, they come to your job site, load up the waste(s), and haul it to the nearest landfill or recycling facility. All you have to do is book their services online or give them a call.
Learn more:
---
---
Curbside Pickup
Cost: $40+ per yard
Your weekly trash hauling company may offer a "special wastes" or "bulky item pickup" option for some types of waste or debris.
There is generally a fee for this type of pick-up.
Find out more:Dumpster Rental Resource Guide
Donate
Cost: FREE
This is a viable option for gently used goods. Obviously, this wouldn't work for general wastes, damaged items, or most types of construction wastes.
Donating your materials or giving them away for free is a great option for undamaged furniture, reusable lumber, kid's toys, home decor, and more.
Read on: The Importance of Diverting Waste from Landfills
Dumpster Share
Cost: Negotiable
This option may not be available very often, but it's worth a try if one of your neighbor's is in the middle of a project or about to start one.
Sharing a dumpster can cut your costs in half, or more.
---
---
Keep reading: