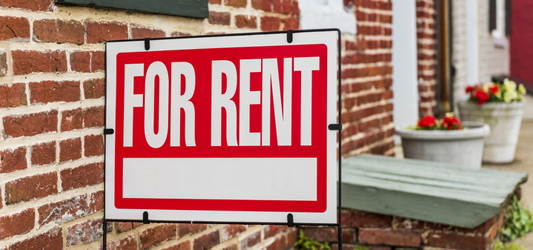 Updated June 13, 2022
When you need to clean out a rental unit on a budget, the cheapest way to do so is usually to rent a dumpster from a local provider.
There are different dumpster styles available on the market and we'll go over each of them to help you determine which style is best for your rental unit cleanup, as well as alternative options for those who need faster results.
We'll go over:
---
---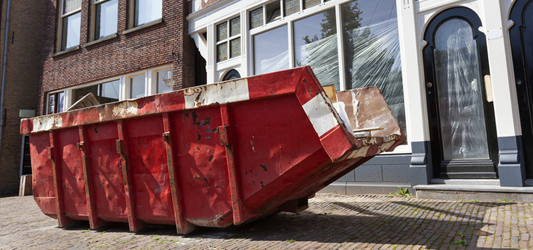 Common Dumpster Styles
The most popular dumpster styles available on the market today include:
Bag-style dumpsters are able to contain 3 cubic yards of material (1 cubic yard of heavy debris) and are made of soft material.
These bags can be purchased online or at local home improvement stores for around $30, and then you make arrangements with a waste management company to pick up your bag dumpster and haul it to a landfill.
Bag-style dumpster services are not offered everywhere, but the cost of bag dumpster pick up ranges from $120-$350 on average.
When you compare this to the average cost to rent roll-off and trailer dumpsters that can contain 3x the amount of material or more, it's easy to see why bag-style dumpsters are the least popular and least cost-efficient choice.
When it comes to roll-off containers and trailer dumpsters, there is little to no price difference but there are different benefits to each.
Roll-off dumpsters are perfect for heavy or bulky items. Their swinging side doors make walking or rolling these items in much easier than having to load them in from the top of the dumpster.
Trailer dumpsters are a great solution when you have a tighter parking space to work with. Trailer dumpsters have 4 rubber wheels which not only make them the safest option for driveways, but they make maneuvering and moving a much simpler process than a steel roll-off container.
Learn more:
Average Costs of Dumpster Rentals
The most common size roll-off dumpsters are 10 yard, 20 yard, 30 yard, and 40 yard containers. Trailer dumpsters most often come in 10 yard, 15 yard, and 20 yard sizes.
Some dumpster companies offer trailer dumpster in larger sizes, but they're harder to find.
10 yard dumpsters are perfect for small rental unit cleanouts. 20 yard containers are the best choice for average size home cleanouts that involve several rooms.
30 yard and 40 yard containers are for extreme situations, like a rental with multiple family units, or a home that is in hoarding condition.
The national average cost to rent a dumpster is:
These prices are based on national averages and will vary based on a number of different factors, like where you live, the type of material being thrown on the dumpster, the amount of material thrown in the dumpster, who you hire, and more.
The cheapest way to clean out a rental unit is to rent a dumpster and do the cleanout yourself, and the best way to get the cheapest dumpster is to rent from a locally-owned and operated dumpster service.
Hometown makes it easy to find local dumpster providers in your area and request multiple dumpster rental quotes to compare pricing, customer service, and availability.
---
---
Keep reading:
Get Faster Results with Junk Removal Services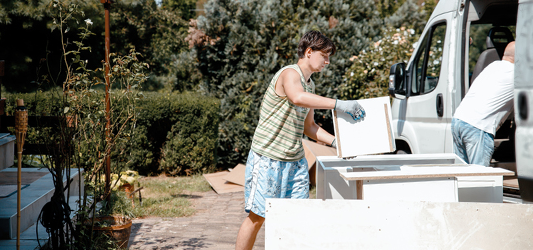 If you don't have the time, desire, strength, or assistance to perform the rental unit cleanout yourself, you should consider full-service junk removal.
Junk removal companies will come to your rental unit to assess the job and provide you with a free, accurate, on-site junk removal estimate.
We recommend getting 2 or more junk removal quotes to make sure you're getting the best customer service at a competitive rate for your area.
If you agree to a junk removal's in-person quote, they will oftentimes either perform the work right then and there, or they will arrange a mutually beneficially time to come back and complete the project.
The average cost of rental unit cleanout can range from $800-$2,000+ and will vary based on the location, duration, and labor needed for the job.
While not the cheapest way to clean out a rental unit, the convenience and all-inclusive nature of junk removal services makes the added expense invaluable to many landlords, tenants, and property management companies who need a unit cleaned out thoroughly and quickly.
Junk removal professionals are known for their speed and efficiency and are trained to perform the most thorough job in the shortest amount of time, making them a perfect solution for those that need to get a rental unit ready for its next tenant.
In addition to dumpster rentals, Hometown can also help find locally-owned and operated junk removal companies that service your area.
By searching your zip code and answering a few quick questions about your project, you'll be shown licensed and insured junk removal companies that are eager to help give your property a fresh start.
You can read about each company, read customer reviews, and request free estimates to ensure you're getting the best service for the best price—all in one convenient place!
---
---
Continue reading: