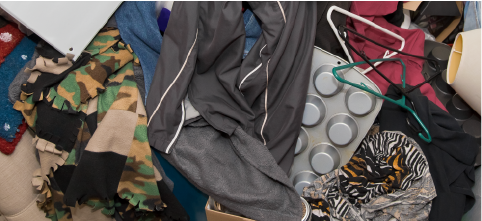 Updated February 22, 2023
Cleaning out a hoarding situation can be overwhelming, stressful, and potentially dangerous.
Without the right equipment and experience, cleaning up a hoarder's home can be downright unsafe.
Hiring a junk removal company to help clean out a hoarder home is a great option for a number of reasons.
In this guide, we'll discuss the main benefits to hiring hoarding cleanup services.
Jump to:
---
---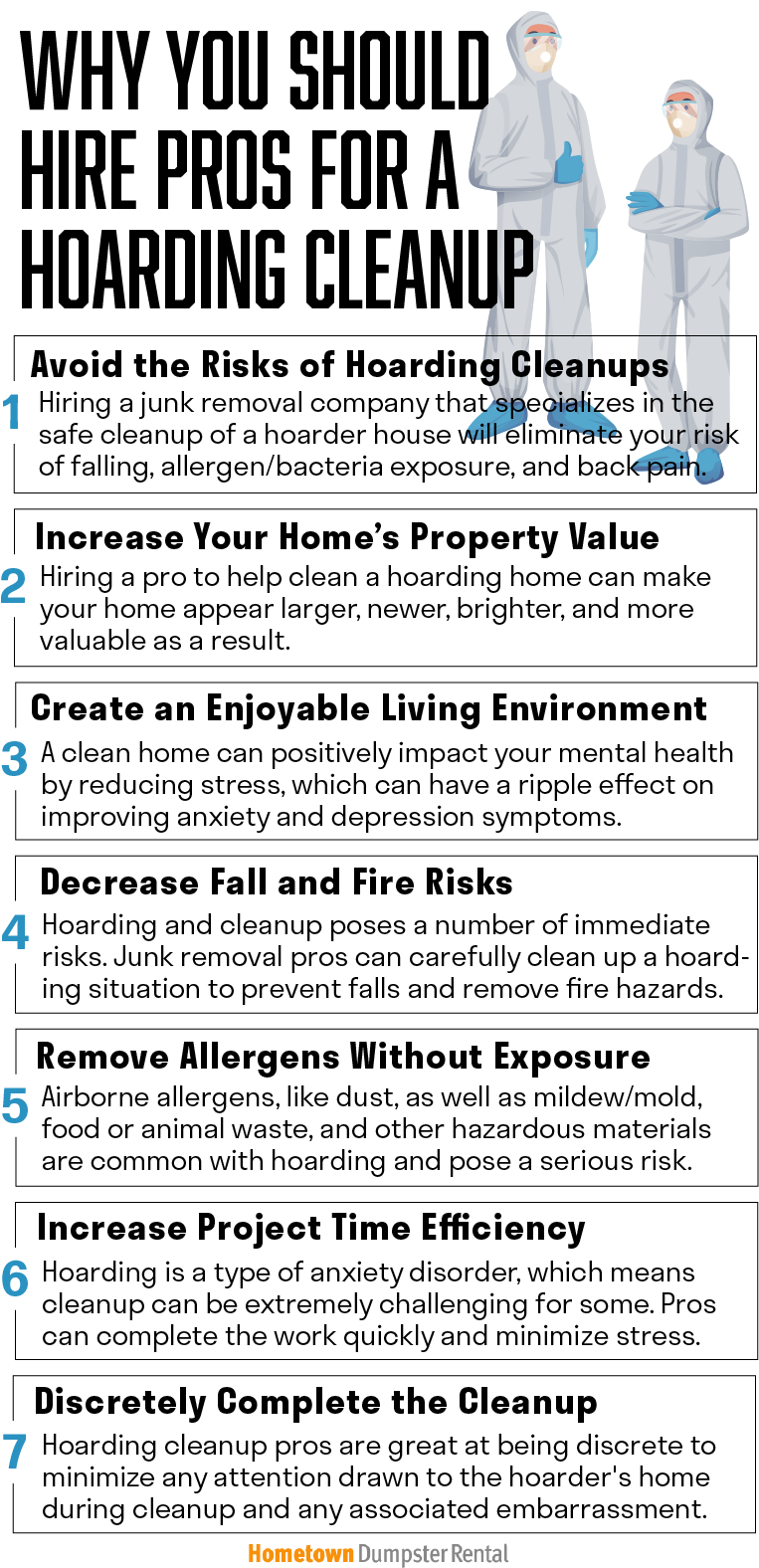 Avoid the Risks of Hoarding Cleanups
Many people may not realize that hoarding cleanups come with a myriad of risks.
Cleaning up a hoarding situation is more than just cleaning up some clutter, it's often extreme and often houses hidden risks.
Trip and fall hazards are the most obvious risk associated with both living in and cleaning up a hoarding situation, as well as the injuries associated with heavy, repetitive lifting.
On top of that, the unclean environment can be a breeding ground for bacteria and other biohazards.
Rodents, ants, and other infestations are not uncommon in hoarders' homes, as well as sharp edges, rusty metal, and more.
Hiring a junk removal company who specializes in the safe, cautious cleanup of a hoarder house will eliminate your risks.
These companies not only have the experience and knowledge necessary to get the job done, but they also have the necessary personal protective equipment needed to do it safely.
Increase Your Property Value
It's no surprise that a clean, organized, and uncluttered home just looks better than one that's cluttered, dirty, and unorganized.
Cleaning and decluttering a home can make your home appear brighter, larger, and newer, which means its value goes up.
Cleaning up a hoarding situation can have a huge impact, as oftentimes, the entire home is camouflaged by old equipment, boxes, documents, unused items, and general clutter and junk.
Remember that, after your hoarding cleanup project, home maintenance, decluttering, and general cleanliness should become a regular priority.
If you don't keep up on regular cleaning and repairs, you can expect to spend more money and time when it comes to prepping your home for sale in the future.
Read on:
Create an Enjoyable Living Environment
Cleaning out a hoarder's house doesn't just improve the safety of your home environment; a clean, organized house can also relieve day-to-day stresses and improve the overall sense of well-being in your home.
A clean home can reduce stress, which can have a ripple effect on improving anxiety and depression symptoms.
Going from living in a cluttered and dirty home to living in a clean, organized home can positively impact your mental health in more ways than one.
Decrease the Risk of Fire, Falls, and Disease
Hoarding often poses a number of immediate risks, including the risk of falling and fires.
Moving around in a hoarding situation is challenging for even the most balanced person, but for many people, safely maneuvering through and existing in a hoarding home is almost impossible.
The act of physically cleaning up the space is no different, and a person may have a difficult time moving around due to the extreme amount of clutter.
Junk removal pros are skilled at carefully cleaning up a hoarding situation to prevent falls and to remove fire hazards.
Safely Remove Harmful Allergens Without Exposure
One of the most important things to keep in mind when cleaning up a hoarder's home (whether it's your home or not) is that there can be a number of different safety hazards hidden among the boxes and clutter.
Airborne allergens, including dust, particle matter, sand, and insulation are common in hoarding homes.
In addition, mold, mildew, bacteria, asbestos, insects, critters or animals, animal/human feces, and decomposing animals or food waste are also common and pose a serious health risk.
Professional hoarding cleanup services are poised to safely contain and dispose of any of these hazards.
The personal protective equipment needed to do so can be extensive and adds up quickly in costs.
A professional service company will have the equipment and experience needed to do the work in a timely manner.
These companies are also insured to perform the work should any accidents occur.
Learn more:
---
---
Increase Time Efficiency
Hoarding is a type of anxiety disorder, which means it can be extremely challenging for those suffering with hoarding to get rid of various items they've accrued over the years.
When a hoarder agrees to get help, being time-efficient is crucial.
If items are moved out slowly over time, a hoarder has more time to contemplate each item and change their mind if they're experiencing emotional distress.
This is why the best method for a hoarding cleanup is typically to have all the tools, equipment, and manpower needed to complete the task prepared and ready to be utilized immediately.
If a hoarding cleanup takes place over several days, the emotional disruption this often causes may lead the homeowner to change their mind and shut down the entire operation.
This is why it's so important to get a much done as possible in the least amount of time possible, and hoarding cleanup specialists are aware of this.
Professionals are able to complete the work as quickly as possible, minimizing stress for everyone involved.
Discretely Complete Your Hoarding Cleanup
Feelings of embarrassment, guilt, and shame are common for those living in a hoarding home, so being discrete and respectful is not only important to the hoarder, but it should be a strategy of a qualified hoarding cleanup service.
Having professionals that are trained to delicately handle these types of large clean outs is critical in minimizing the amount of emotional distress that is caused.
Hoarding cleanup pros are great at being discrete to minimize any attention drawn to the hoarder's residence during their cleanup and can remove large quantities of unwanted items in a way that looks like an average home clean out.
---
---
Keep reading: