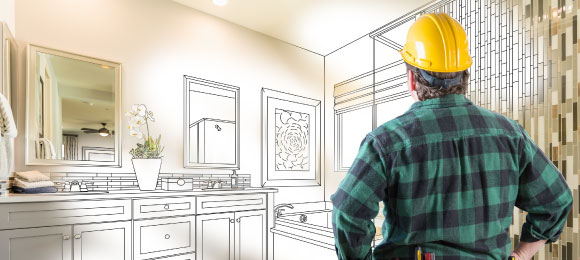 Updated March 15, 2022
When it comes to return on investment (ROI) for home improvement projects, bathroom remodels are near the top of the list.
According to Zillow, a mid-range bathroom remodel averages a 70.1% ROI nationwide.
This means that spending $10,000 on a new toilet, shower, floors, and fixtures can return $7,100 in value.
In this guide, we'll discuss the key aspects of the bathroom remodeling process with a focus on debris disposal solutions.
Get the Best Bang for Your Buck
While a complete bathroom demolition and renovation is the way to go if you want to start with a clean slate, it also costs the most upfront.
Small, relatively inexpensive updates can provide maximum ROI.
Inexpensive Bathroom Remodel Projects:
Install new tall, elongated toilet.
Upgrade lighting fixtures and bulbs.
Repair or replace bathroom fan as needed.
Caulk and seal around sinks, countertop, and shower.
Update the cabinet hardware, showerhead, and handles.
Apply fresh paint to the walls and/or the cabinets.
Spending a few more bucks to replace the flooring, upgrade the shower, or install a new vanity can also pay off in terms of ROI.
Major upgrades have a lower ROI, though you will still likely get your money back.
Major updates would include tearing down wall(s) to expand the bathroom, rerouting the plumbing, and complete demolition/remodel.
A bathroom renovation is a phenomenal way to boost the value of your home and make it more functional and comfortable for you.
You really can't go wrong when updating your bathroom.
Whether spending a few hundred dollars or several thousand, you're likely to get all that money—and then some—back in terms of value.
Keep reading:
---
---
Choose the Right Dumpster Size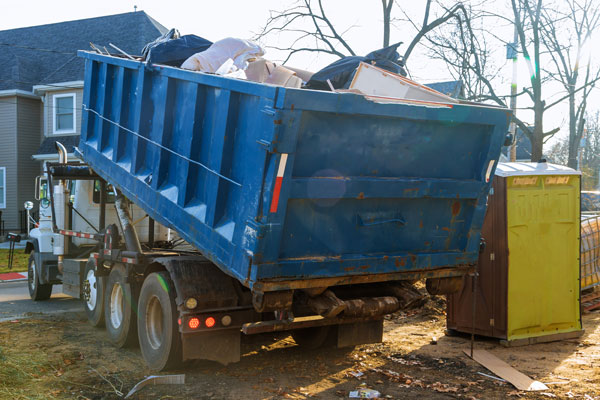 To contain the resulting debris of a bathroom remodel project, we recommend utilizing a dumpster.
Dumpsters are relatively inexpensive and allow you to keep your site clean as you go.
Choosing the right size dumpster for a bathroom renovation project comes down to two main factors:
Materials being disposed
Size of bathroom
For an average-size bathroom remodel, a 10 or 20 yard dumpster makes the most sense.
A 10 yard dumpster will likely be adequate for small projects that involve toilet removal, vanity removal, flooring demo, and fixture removal.
A 20 yard dumpster may be necessary for larger bathroom demolitions that include wall removal, disposal of large shower units, or removal of large two-sink vanities.
Be sure to measure shower units and vanities to ensure they will fit (length and width) inside your chosen dumpster size.
We recommend getting at least 2-3 quotes from different dumpster rental providers in your area to ensure you get the best price and that the company can provide the dumpster size you need when you need it.
Learn more:
---
---
Consider the Convenience of Junk Removal
Let's face it: Time is money, and the best way to save time during a bathroom renovation is to hire a junk removal company to remove the fixtures or clean up the debris for you.
Junk removal services almost always cost more due to labor costs, but many would argue that the convenience is well worth it.
For reference, a 20 yard dumpster costs $350 on average for a 7-day rental, while a junk removal clean-up of the same size costs $500 on average.
Common Factors That Affect the Cost of Junk Removal:
Volume of junk or debris
How easy it is to access the site/debris
Whether or not demolition/disassembly is required
Overall complexity of the job
Many junk removal companies offer prices starting at $75 to $125 and go up from there based on the factors above.
How to Save on Junk Removal Costs:
Place the demolition debris in the driveway or at the curb for pick-up to make their job as easy and fast as possible.
Get estimates from at least 2-3 junk removal providers in your area to ensure you don't overpay.
Find out more:
---