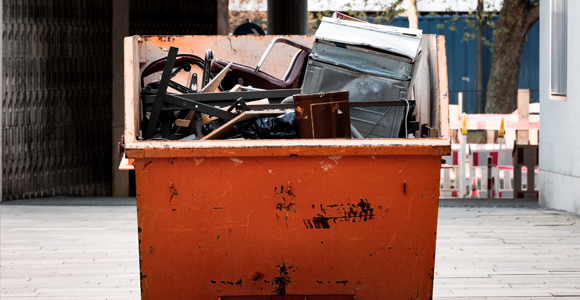 Updated January 19, 2023
When you invest in real estate that has been foreclosed on, you'll have to make sure it's completely empty of the previous owner's belongings before you can make any upgrades or renovations.
Renting a dumpster is a great way to dispose of large amounts of household junk and can be a useful tool in making a house cleanout go as quickly as possible.
Dumpsters are also useful if you're handling any renovations on the property yourself.
We'll go over:
---
---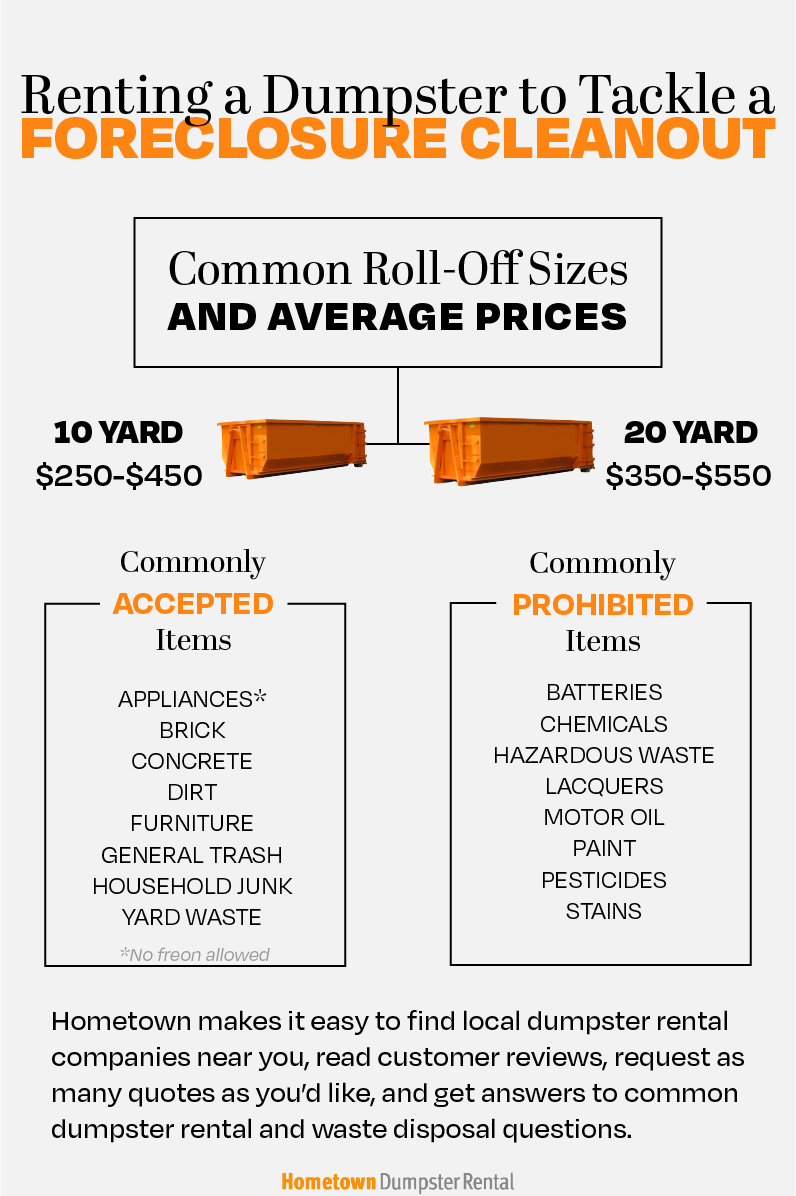 What Size Dumpster Should I Rent?
The most popular container sizes for rent are 10 yard dumpsters and 20 yard dumpsters.
The roll-off container size that will work best for you will of course depend on the size of your project, but speaking with your dumpster rental provider with as much detail and information as possible will help lead you in the right direction.
If you're having a hard time deciding on a size, always err on the side of caution and go with the larger dumpster size.
One of the most expensive mistakes you can make when renting a dumpster is underestimating the amount of trash you have, resulting in having to rent a second dumpster.
Paying a little bit more upfront for the right size dumpster can end up saving you hundreds in the long run by avoiding avoiding overage fees or needing additional containers.
Read more:
How Much Will a Dumpster Rental Cost?
The average price to rent a 10 yard dumpster in the U.S. is $250-$450, while the average price to rent a 20 yard dumpster is $350-$550.
That being said, you could end up paying more or less depending on several factors, like:
Landfill tipping fees in your area
Permit fees (if applicable)
Overage fees if you go over your weight limit
Fines if you dispose of unauthorized material
Length of your rental
---
---
What Types of Items Are Accepted?
There is a wide range of items that are accepted in dumpster rentals, but some of these materials cannot be mixed.
For example, construction and demolition debris is often allowed in dumpsters but only if they are not mixed in with regular household trash.
When you rent a dumpster to clean out a residential property, certain items that are commonly found in garages or storage areas cannot be put in the dumpster.
Some of these items include (but are not limited to):
Tires
Car batteries
Motor oil
Paint, stains, and lacquers
Pesticides
This list is not all-inclusive and will depend entirely on your local jurisdiction and the rental company's policies.
Be sure to be as specific as possible about the material you plan on putting in your dumpster when speaking with companies (before the dumpster is dropped off) to avoid any penalty fees or fines.
How Long Does a Dumpster Rental Last?
Most dumpster rental quotes are for a week-long rental, but shorter and longer rental terms can usually be accommodated to your preference depending on dumpster availability.
Some dumpster rental services will charge you less if you plan on only using the dumpster for one day.
If you end up keeping your dumpster longer than you originally intended, you'll likely be charged a fee of $10-$25 per day (or more).
Learn more:
How Do I Find the Best Dumpster Rental Price?
The best deals for dumpster rentals are almost always found with locally-owned dumpster service providers.
Local waste haulers beat out big chain competitors when it comes to both pricing and customer service.
On top of that, it's also beneficial to your local community and economy to support local business.
Hometown is the easiest place to find providers in your area that are licensed, insured, and reputable.
You'll be able to find local providers, read customer reviews, and request free dumpster rental quotes from as many providers as you'd like.
We recommend getting multiple dumpster quotes from providers in your area to make sure you get the best price and customer service.
---
---
Continue reading: