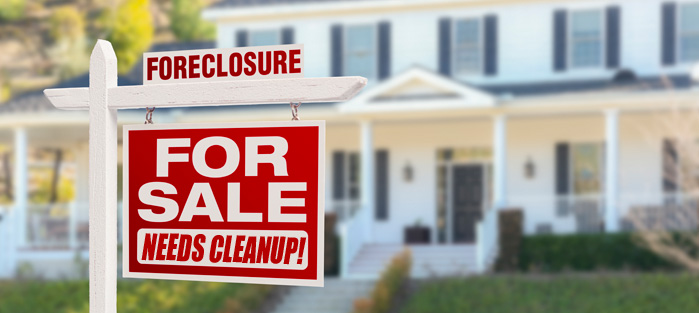 Updated February 23, 2023
Cleaning up after a foreclosure or an eviction can be a lot of work in some cases.
Every situation is different, but when residents leave behind junk, trash, or damage, a cleanup plan of attack is the key to success.
Real estate owned (REO) properties, banks, realtors, and homeowners oftentimes need a quick turnaround time to get a property back to sellable or rentable condition.
We'll discuss the most efficient ways to get a property back in tip-top shape.
Factors to Consider
Not all cleanups are cut and dry.
There are safety hazards to be aware of when tackling a large-scale residential or commercial building foreclosure cleanup.
Hazardous materials may be involved, and that's the first thing to factor in when tackling a cleanup.
Common Hazardous Materials
Asbestos – Common in building materials used in homes pre-1980s
Lead Paint – Houses built before 1978 likely contain some level of lead paint
Chemicals / Gases – This includes antifreeze, batteries, chlorine, auto fluids, insecticides, propane, solvents, etc.
Animal Droppings – Direct and indirect contact with rodents and feces can lead to several health problems, including respiratory diseases, according to the CDC
Time and Budget
This is another major factor to consider.
How fast do you need the job done, and how much do you have to spend?
If the job needs to be done ASAP, hiring a junk removal company to handle the cleanup for you may be the best option.
If your budget is tight, it may be more cost-effective to rent a dumpster and do the job yourself; it just depends on your needs.
Putting Together a Plan
The key to completing any major project on time, on budget, and with the least amount of stress possible is to create a plan.
1. Estimate the Size of Your House or Building
Make sure you know the square footage of the property.
Also, how accessible is your home or business? Can a dumpster be positioned in a convenient location for efficient loading?
Likewise, can a junk removal truck access the site and complete the work efficiently within the allotted time scheduled for your cleanup?
2. Understand the Types of Junk or Debris You Have
Are you disposing of small household junk, bulky furniture and appliances, hazardous materials, demolition debris, or other wastes?
Have a good idea of the type of junk you'll be disposing.
3. Calculate the Scale of the Cleanup
Approximately how many yards of debris or junk do you have?
Most dumpsters are measured in cubic yards (3 ft x 3 ft x 3 ft).
Having a rough estimate of the amount of junk or debris you need to dispose of will help you find the most cost-efficient cleanup solution for the job.
4. Determine the Best Solution for Your Project
Next, determine your desired method of completing the job.
The most efficient methods for cleaning up a mess after a foreclosure situation include:
Hiring a junk removal service to handle the work for you
Rent a dumpster and handle the cleanup yourself
Haul away the junk yourself using a truck or trailer
5. Get Several Quotes
Your next step is to book the dumpster, hire the junk removal company, or get to work loading up the junk in your truck or trailer.
We recommend calling several days ahead of time if you need to hire a junk removal company or rent a dumpster to ensure availability on the day(s) the foreclosure needs to get done.
Many waste removal companies offer "same-day" service, but that's never a guarantee during the busiest times of the year (spring and summer).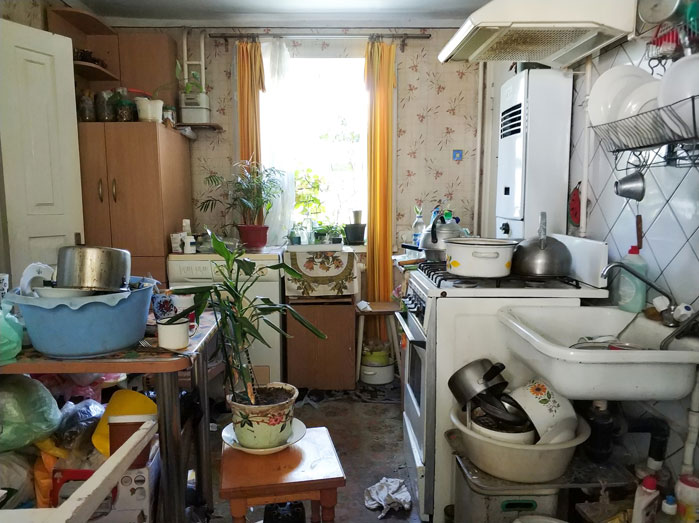 Disposal Options
As stated above, there are three popular foreclosure cleanout solutions.
Rent a Dumpster
This may be the most cost-effective method for medium to large-size home or commercial building cleanouts.
However, this DIY option requires a lot of manual labor on your part. If this is an issue for you, you will want to consider another option.
Dumpster rental costs are highly variable, but the nationwide average is $300 for a 10 yard dumpster and up to $500 for a 40 yard container.
Most dumpster rental companies offer 3-day or 7-day container rentals, though many offer longer rental periods if needed.
Learn more about dumpster costs
Hire a Junk Removal Service
This is easily the most convenient and fastest disposal option.
When you hire a junk removal company, they handle all the lifting and loading of the debris for you, as well as the disposal.
A whole-home foreclosure cleanout can easily cost $1,000 or more, sometimes several thousand dollars, when hiring a junk removal company.
If there are salvageable items or metal scraps, that can lower the price a bit.
If you want the job done quickly and without having to lift a finger, this is the option for you.
Learn more about junk removal costs
Haul It Away Yourself
This is a great option if the following are true:
You can complete the job in one trip
There are no hazardous materials
It's also important to note that if there is not a landfill or transfer station nearby, costs can start to rise.
Don't forget to factor in the time required to drive the junk to and from the dump station, as well as the wear and tear on your vehicle.
---
Get Started Today
Find local REO trash-out or foreclosure cleanout service providers near you
To rent a dumpster, find a rental provider in your hometown.
Keep reading: