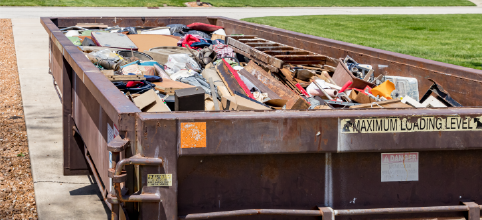 Updated June 6, 2022
One of the best ways to ensure your dumpster rental process goes smoothly from start to finish is to ensure you are prepared and ready for drop-off.
It's easy to prepare for a dumpster rental drop-off, and it begins when first booking the dumpster over the phone or online.
These dumpster delivery tips and guidelines are easy to follow and can save you time and stress during your dumpster rental.
In this guide, we'll discuss:
---
---
How Dumpster Rental Works
The dumpster rental process is simple and relatively similar from company to company.
The first step is contacting local dumpster rental providers and getting free quotes from them to compare dumpster pricing and weight allowances for each dumpster size.
The next step is booking the dumpster with your preferred dumpster rental company and scheduling your delivery date. This is typically done over the phone using a credit or debit card.
When scheduling your dumpster, make sure you confirm where you would like the dumpster placed. If the dumpster will be placed on your driveway, ask if they will protect it from dumpster damage with wood planks or another method.
Payment is accepted over the phone or online when booking your dumpster.
Remember: If you go over your dumpster's weight allowance or place a prohibited item in the dumpster, those overage fees will not be charged until after the dumpster is weighed and emptied at the landfill.
Once your dumpster is booked and scheduled, it's time to prepare your drop-off site for the dumpster. (We'll go into more detail about this later.)
Next, the dumpster is delivered on your scheduled date.
Follow the rules of your dumpster agreement. Only load accepted items into the dumpster, avoid overfilling the dumpster, and ensure it is ready for pick-up when your rental period is over.
Your dumpster agreement may state that your dumpster will be picked up on a scheduled date within a designated time range (unless you contact them to request an extension), or it may state that you have to call to have the dumpster picked up when you're done.
Follow the pick-up procedure and then say goodbye to your junk and unwanted items or debris.
Learn more:
---
---
Tips for Dumpster Drop-Off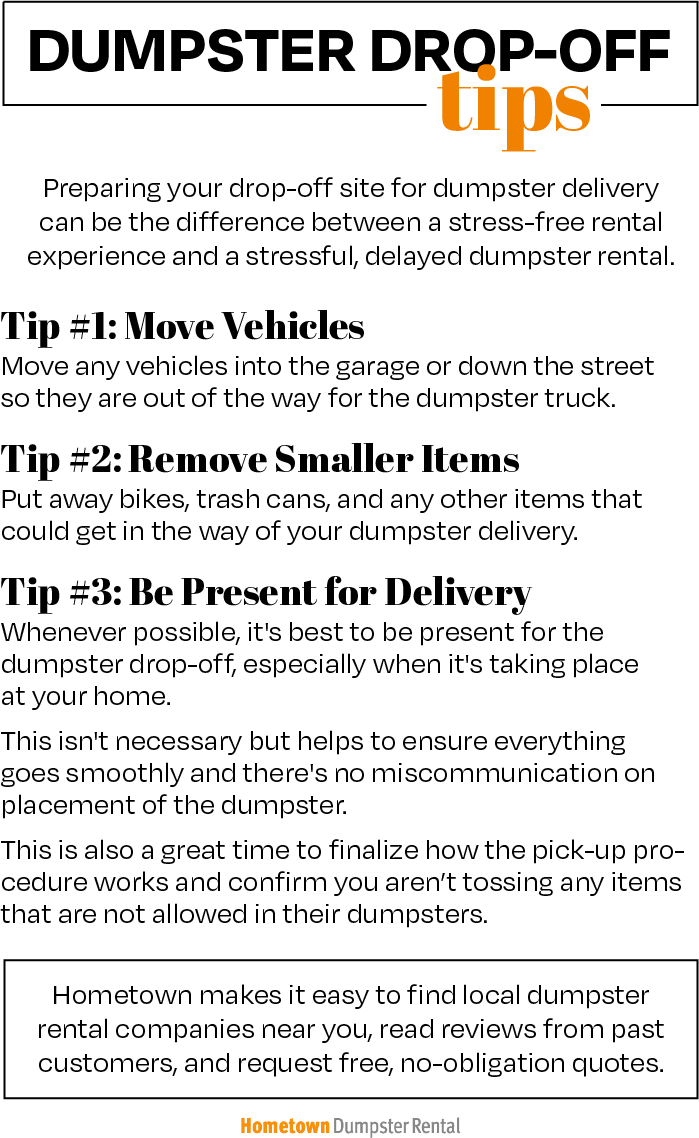 Preparing your drop-off site for dumpster delivery can be the difference between a stress-free rental experience and a high-stress, delayed dumpster rental.
The ideal dumpster drop-off site is hard and flat, like a driveway, and is clear of anything that might obstruct the dumpster delivery (or pick-up) process.
Tip #1: Move Vehicles
Move any vehicles into the garage or down the street a little bit where they are out of the way for the dumpster truck.
Tip #2: Remove Smaller Items
Similarly, put away any bikes, trash cans, and any other items that could get in the way of your dumpster delivery.
Tip #3: Be Present for Delivery
Whenever possible, it's best to be present for the dumpster drop-off, especially when it's taking place at your home.
This certainly isn't necessary, but it is just another way to help ensure the drop-off goes smoothly and there's no miscommunication on placement of the dumpster.
This is also a great time to finalize the pick-up procedure. Should you call them when you're done or will they show up on an agreed upon date and time?
Similarly, if you are unsure if one or more of your items is allowed in the dumpster, confirm this before loading it into the dumpster.
---
---
Read on: