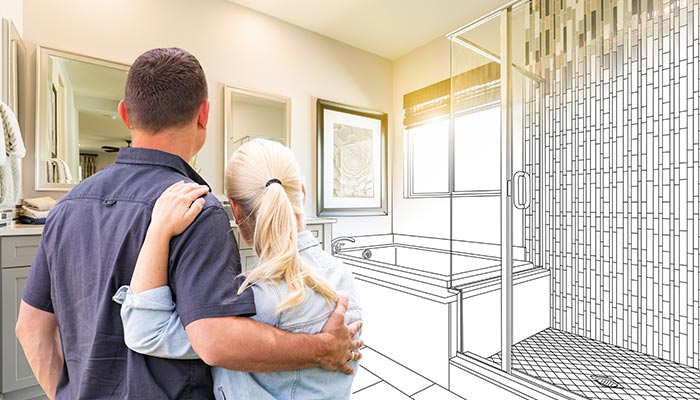 Updated May 12, 2023
When it comes to boosting the value of your home, a bathroom remodel is one of the top ways to get the best bang for your buck. In most cases, a medium-sized bathroom remodel yields a full return on investment (ROI).
When done correctly, remodeling the bathroom is a great way to boost the value of your home.
We'll go over some useful tips to help ensure your bathroom renovation is done correctly and affordably.
Jump to:
---
---

1. Get a Good Plan in Order
It's important to properly plan out a bathroom renovation, including everything from design to gathering materials to creating a timeline. A properly planned out bathroom remodel helps keep you organized and within budget, so take plenty of time getting organized before you dive in.
Here are some of the main steps to planning a bathroom remodel:
Determine a budget
Take measurements of the bathroom
Sketch out designs to visualize them
Select and gather materials
Hire a contractor if necessary
Secure necessary permits
Rent a dumpster for debris disposal
Determining a maximum budget and sticking to it is the first question you should ask yourself before beginning the bathroom remodeling process. You'll want to research the cost of materials and labor in your area to get a realistic idea of what to expect and what you can realistically afford.
A complete bathroom remodel can costs between $3,000 and $12,000 on overage, but can be more or less depending on what exactly you plan on having done. So many unexpected and expensive discoveries can be made when removing flooring, cabinetry, and plumbing appliances, so we recommend setting aside 20% of your total project costs as a safety net for those unpredictable circumstances.
Taking measurements of your bathroom and considering how your ideal bathroom will be designed for maximum functionality will help you determine which upgrades will be most valuable and how they will fit in your space. You can use these measurements to create a sketch of how your bathroom looks in its current state and which changes you could like to accomplish for your remodel.
One way to save money on a bathroom remodel is to select and purchase the materials yourself, especially big-ticket items like vanities, bathtubs/showers, toilets, and flooring. Having all your remodeling items purchased and ready to be installed will save your contractor time and you money.
If you don't have the time or desire to design and purchase your bathroom remodeling materials on your own, the contractor you hire will be happy to tackle this task for you. Hire a contractor who is happy to communicate with you closely throughout the design process to ensure you're both on the same page and that the project stays within budget. Many contractors will secure necessary permits when required, but depending on the laws in your particular area, you may be required to apply for these yourself.
In circumstances where you plan on handling the majority of your bathroom remodel yourself, you'll have to create a plan for debris disposal if you're tearing out old flooring, vanities, plumbing, etc. Renting a temporary dumpster to dispose of the debris from your bathroom renovation is an efficient and affordable way to avoid the inconvenience of hauling your material to a landfill yourself. 10 yard trailer or roll-off dumpsters average $250-$450 for a week long rental and can help you keep your workspace clean and safe throughout the duration of your project.
When you need to find an affordable dumpster rental in your area, get multiple quotes on Hometown. We publish locally-owned dumpster companies that are licensed, insured, and reputable. You can enter your zip code, answer a few short questions about your disposal needs, and easily request free quotes from service providers near you to compare pricing, availability, and customer service.
---
---
2. Understand Costs and Stick to Your Budget
The cost of a bathroom remodel can vary significantly depending on where you live and the extent of the renovation.
The table below outlines average costs associated with different demolition aspects of a small 100 sq ft bathroom, including professional labor and debris disposal.
| | |
| --- | --- |
| Type of Demolition | Average Cost |
| Vanity Removal | $100-$400 |
| Shower/Tub Removal | $200-$400 |
| Toilet Removal | $100-$200 |
| Sink Removal | $50-$150 |
| Flooring Removal | $100-$200 |
| Drywall Removal | $90-$210 |
The actual cost of your particular bathroom remodel will depend on the size of your bathroom, the type of materials being removed and replaced, and the extent of the demolition work you want done. If you'd like the entire interior of your bathroom demolished, you can expect to pay between $500-$2,000 or more in some cases.
Get the best price and service for your bathroom demolition by getting multiple quotes on Hometown Demolition. Our single quote request form allows you to send your project details to different contractors in your area to quickly and easily compare quotes and choose the best demolition contractor for your project.
After you've calculated roughly how much you intend on spending on the demolition aspect of your bathroom remodel, you can then look into the cost of materials to replace any flooring, plumbing appliances, or vanities that you've removed.
The following table breaks down average costs to install new fixtures and materials in a bathroom.
| | |
| --- | --- |
| Type of Installation | Average Cost |
| Vanity Installation | $130-$250 |
| Shower Installation | $400-$9,000 |
| Tub Installation | $1,000-$5,000 |
| Toilet Installation | $100-$300 |
| Sink Removal | $200-$300 |
| Flooring Installation | $13-$19 (per sq ft) |
| Drywall Installation | $60-$90 (per panel) |
A surface-level remodel, like new paint, a refinished tub, and new fixtures, for example, can be done for a couple thousand dollars in most cases, while a mid-level bathroom remodel, like replacing the toilet, sink, vanity, tub, and fixtures, is a bit more expensive, typically costing $10,000+. A full bathroom remodel involving layout changes can cost you $25,000 or more.
Read more:
3. Know When to DIY and Save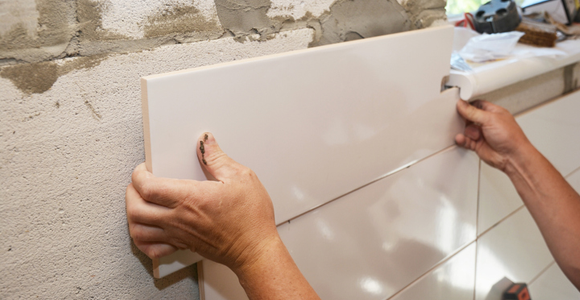 Once you have a firm budget in place, you can start reaching out to contractors if needed. Some remodels may not require help from a contractor and doing the project yourself could save you quite a bit of money. However, if your bathroom remodel is more involved or requires skills outside your wheelhouse, then we recommend hiring a pro to help.
For example, replacing cabinets, hardware, flooring, doors, light fixtures, or painting your bathroom walls are common DIY projects that can be safely done with the proper preparation.
It's important to keep in mind, however, that just because you can DIY doesn't always mean that you should. Consider the value of your time, your strength, and the level of your DIY skills when deciding whether or not you want to tackle your bathroom remodel on your own.
There are certain aspects of bathroom renovations that should be left to professionals, including anything involving the replacement of plumbing or electrical wires.
While many types of flooring are DIY friendly, like vinyl planks, retiling a bathroom can go very wrong if the person installing the tile isn't doing it correctly, costing you nothing but time and money.
When it comes to DIY projects, always consider your strengths and weaknesses honestly, employ a "team" of helpers, and consult with professionals for anything involving heavy lifting or the presence of plumbing or electric.
Continue reading:
4. Beware of Moisture Damage
It's no secret that moisture is a constant issue in bathrooms. If you're tearing up floors, removing walls, or any other type of demolition, be sure to inspect underneath for signs of water damage or mold.
Discoloration on walls, ceilings, underneath flooring, or underneath sinks is a common sign of water damage. If these areas are soft or spongy, this is a clear indication of severe water damage.
Another sign of moisture damage is foul odors or the obvious presence of mold. Mold thrives in moist conditions, and if your bathroom has water damage and/or isn't properly ventilated, smelly or unscented mold can grow and put everyone around at risk.
The first think you should do if you notice major water damage is to contact your home insurance provider. They'll be able to guide you through making a claim and how to best remedy the situation.
If the moisture damage is mild, make sure you (or your contractor) wears the appropriate PPE to remove any areas with the moisture damage, properly dispose of the material, and replace whatever was removed. Be sure to use a high-quality caulk/sealant around the tub, shower, sink, toilet, and other areas prone to collect moisture to prevent further damage from occurring.
---