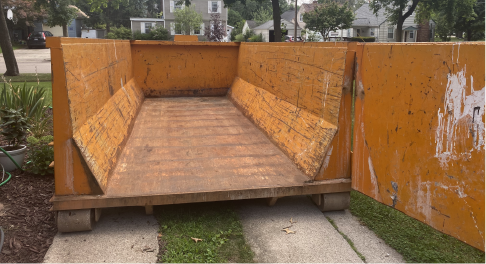 Updated March 2, 2023
Choosing the right size dumpster for your project is arguably one of the most important steps to making sure you have a great dumpster experience.
Renting a dumpster that's too small could mean additional costs in the long run and paying more overall.
Renting a dumpster that's too large means you're paying for more disposal power than your project calls for, and you could have sized down to save money.
We'll break down the steps to determining which size dumpster is best for you.
Jump to:
---
---

Know Your Project Needs
The first step to choosing the right size dumpster is determining the type(s) of debris/junk you'll be removing. This is an important part of choosing the right size dumpster for your project.
For example, if you have large, relatively lightweight debris, like furniture and other household junk, you may need to size up slightly to accommodate your oddly-shaped items.
If you have a relatively small volume of heavy debris, like concrete, you may also have to size up slightly to ensure you choose a dumpster that can accommodate the weight of your debris, not just the volume.
Dumpster rental companies are experts at helping you choose the right size dumpster for your project, so give them as many details as you can about your debris/junk removal project.
Understand Your Size Options
The next step is understanding the most common dumpster sizes companies offer, as well as their dimensions and average weight limits for each dumpster size.
Roll-off dumpster sizes are measured in cubic yards, with the most common sizes being:
10 yard
15 yard
20 yard
30 yard
40 yard
Some dumpster rental companies offer mini dumpsters ranging from 2-8 yards.
In big cities, like New York City, where dumpsters need to fit into very tight spaces, companies might offer commercial style dumpsters for rent, which are typically:
2 yard
4 yard
6 yard
8 yard
Not all companies will have all of these sizes available, which is why we recommend reaching out to multiple companies.
Get Multiple Dumpster Rental Quotes
We always recommend getting at least 2-3 quotes from local waste haulers, as prices can vary.
Getting multiple quotes also allows you to compare the different container sizes each company has available, their delivery and pick-up schedule, and whether or not they're a good fit for your project.
There's more to choosing a dumpster rental provider than simply choosing the one with the lowest prices, like availability and customer service.
However, getting quotes from multiple companies can save you as much as 10% or more in some cases.
Easily browse local companies and request multiple dumpster rental quotes with Hometown by clicking the link below.
---
---
Read on: How to Determine Which Dumpster Rental Quote Is Best