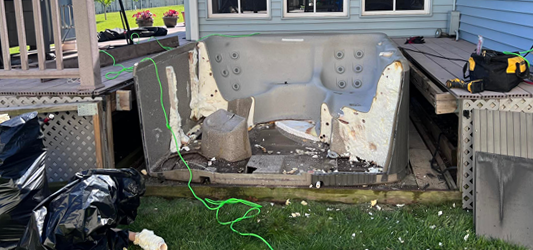 Updated June 2, 2023
If you rarely use your hot tub and the cost of maintaining it has become a burden, it may be time to consider getting rid of it altogether.
There are a few different ways to get rid of a hot tub. We'll go over the different hot rub removal options available on the market today.
Jump to:
---
---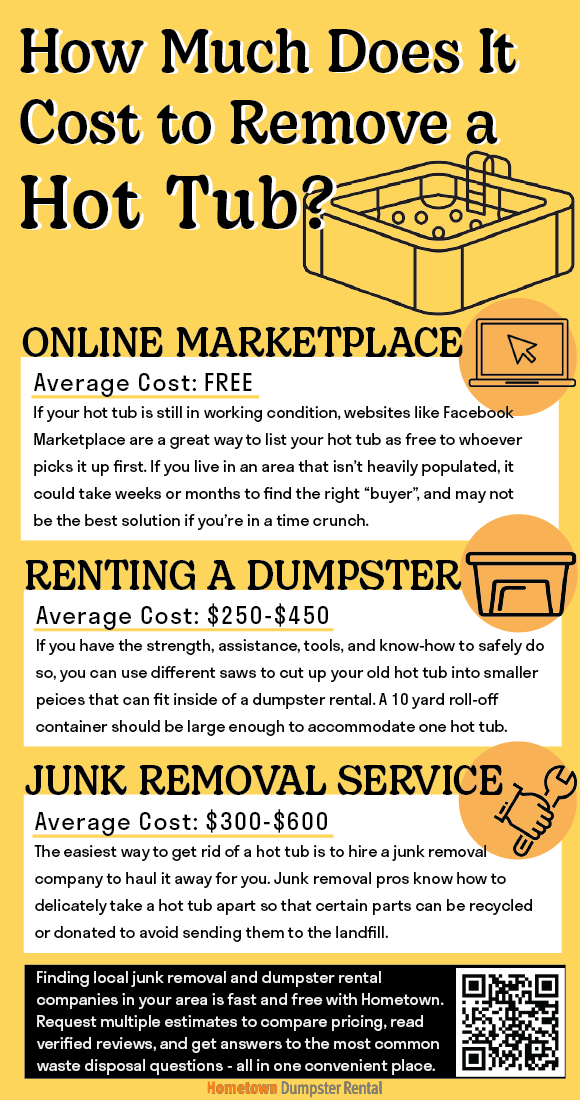 Ways to Get Rid of a Hot Tub
There are several different ways to have a hot tub removed from your property. Which method will work best for your situation will depend on where you're located, the condition of your hot tub, how quickly you need it done, and several other factors.
The first option is to list it as a free item online. Facebook Marketplace is a popular choice for listing free items that you'd like taken off your hands.
This option is usually only an option if the hot tub is still in working condition.
If you don't live in a heavily populated area, it may take several weeks or more to find someone willing and able to haul it off your property.
It is, at minimum, a two person job because of the weight and size of most hot tubs. It also requires a vehicle large enough to load and haul such a large item.
If you're in a time crunch and need a hot tub removed from your property ASAP, this might not be the right solution for you.
Another option is to rent a dumpster. This option isn't right for everyone and should only be attempted by those that have the strength, equipment, and know-how to safely do so.
By using different saws to break down the hot tub into smaller pieces, you can then load the debris into a temporary dumpster rental.
Before attempting to do this type of removal yourself, make sure that you read plenty of articles and watch videos on the safety precautions to take when breaking down a hot tub with the intention of throwing it into a dumpster.
Failing to have the right protective gear or safety precautions could result in serious bodily harm, which is why this DIY option isn't the best hot tub removal solution for everybody.
The fastest and easiest way to have an old hot tub removed from your property is to hire a junk removal company to do it for you.
Junk removal companies are known for their speed and efficiency and are trained to perform the most thorough job in the shortest amount of time, all while being respectful of you, your property, and your neighbors.
Most junk removal companies will be experienced in this specific type of removal and will know how to delicately take a hot tub apart so that certain parts can be recycled or donated to avoid sending them to the landfill.
When looking for junk removal services or dumpster rentals, we recommend hiring a locally-owned and operated company.
Not only do local companies tend to offer the most competitive pricing in their area compared to their larger competitors, but they also tend to offer the highest quality customer service.
You can find local dumpster rental and junk removal companies near you by doing a quick search on Hometown.
By entering your zip and answering a few quick questions about your waste disposal needs, you'll be shown licensed and insured companies that service your area.
From there, you can read more about each company's services, read reviews from real customers, and request as many free quotes as you'd like to compare pricing and availability.
Keep reading:
Cost to Get Rid of a Hot Tub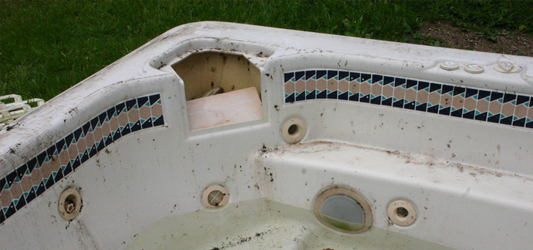 Average cost of different hot tub removal methods:
Create a listing online stating that the hot tub is free to whoever picks it up: Free
Rent a dumpster to dispose of a hot tub that's been broken down into smaller pieces: $250-$450
Hire a junk removal company to haul away a hot tub: $300-$600
Creating a free listing for your hot tub online is a free way to get rid of your hot tub if you can find someone in your area willing to come to your home and haul away your hot tub.
If you have to haul the hot tub to someone's home or donation center, you'll just have to pay for fuel costs.
If you rent a dumpster to dispose of a hot tub, a 10 yard dumpster should be sufficient. The national average cost of renting a 10 yard dumpster is $250-$450.
Junk removal services vary quite a bit from one area to another, but on average, a hot rub removal will cost somewhere in the ballpark of $300-$600.
When debating between dumpster rental and junk removal services, consider the following:
Do I have the strength to load a dumpster myself?
Do I have the correct tools and knowledge to break down a hot tub safely in order to load it into a dumpster?
Does my busy schedule allow me to take on a DIY project of this size alone?
Am I on a strict time schedule, or is this project's timeline flexible?
Do I have other junk to get rid of in addition to a hot tub?
Knowing your answers to these questions will help you determine which service is best for your particular hot tub removal project.
Learn more by speaking with local dumpster rental and local junk removal companies in your area.
---
---
Learn more: