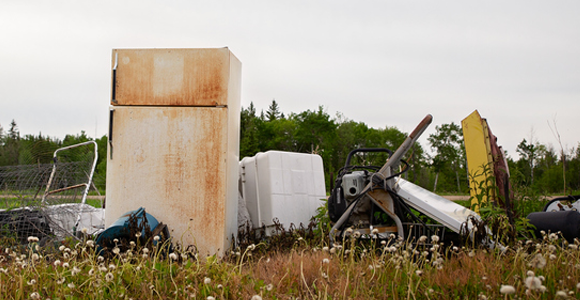 Updated March 2, 2023
As the most-used appliance in your kitchen, there will eventually come a time when you need to replace your refrigerator—approximately every 12 years, in fact.
Appliances need to be properly disposed of, preferably recycled.
Refrigerators require special care prior to disposal due to the presence of freon, which is a greenhouse gas that can pollute the environment and result in hefty fines if not handled properly.
In this guide, we've gathered everything you need to know if you have an old refrigerator that you need to get rid of.
Jump to:
---
---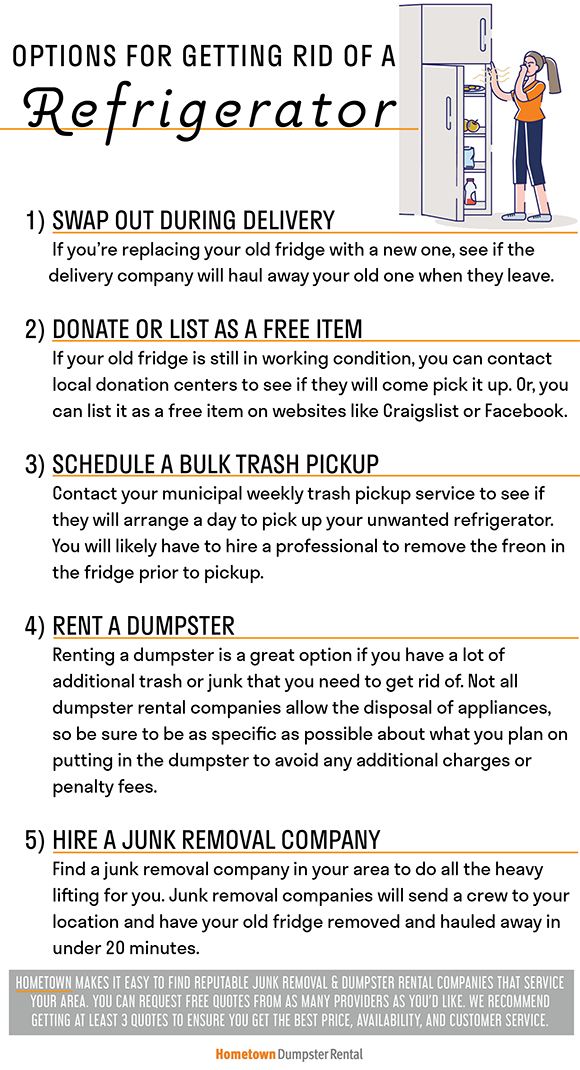 Swap Out With New Oven Delivery
If you are replacing your old refrigerator with a new one and are having it delivered and installed, ask the company if they will remove your unwanted oven while they are there.
Many will only do so if the old fridge is still in working condition.
This isn't always the case, but in the event that it is, you'll have to find another solution.
Donate
If you aren't having a new oven delivered, a way to get rid of your old oven is to donate it or list it as a free item on Craigslist or Facebook Marketplace.
Like the option above, this usually only works if your old oven is still in working condition, unless you can find someone that wants to pick it up for scrap metal.
Schedule Bulk Trash Pickup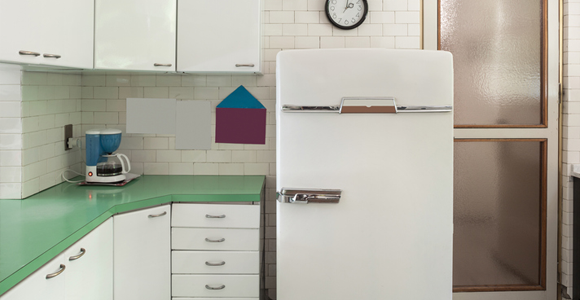 Some municipal weekly trash pickup services offer bulk trash pickup if it is scheduled ahead of time, while others only offer it a few days out of the year.
Not every company does, and even fewer offer this for appliances, but double-checking with your residential trash service is worth the call.
If you're able to arrange this in a timeframe that accommodates your schedule, you'll need to make sure you have help moving your fridge out to the side of the road.
Refrigerators are very heavy appliances, and not having the proper tools or manpower to do this type of heavy lifting can result in serious injuries.
If you aren't 100% confident in your ability to transfer your fridge to the end of the driveway, hiring a junk removal company might be the best option.
You'll also have to make sure that a professional removes all freon from the fridge before it is picked up.
Freon is a greenhouse gas used to keep your fridge cold. It's very important to have a professional evacuate all freon from your fridge before it can be thrown away or recycled.
Attempting to remove the freon yourself could result in a fine of upwards of $25,000.
It's also important to note that getting rid of your refrigerator with a bulk trash pickup service likely means it will end up in your local landfill.
If you're environmentally conscious, renting a dumpster or hiring a junk removal service that will recycle your old appliances is the best solution.
---
---
Rent a Dumpster
If you're doing a large renovation or home cleanout project and have a lot of other items to get rid of in addition to your old refrigerator, renting a temporary dumpster is a great option.
Roll-off dumpsters feature a swinging back door so that you can easily walk in bulky and heavy items, including appliances.
Not all disposal companies will accept appliances like refrigerators in their containers, and failing to follow their guidelines could result in additional fees and fines.
Be sure to speak with several different companies to ensure you find one that accepts your intended items and to compare pricing.
You can locate and request free quotes from providers in your area by searching Hometown for dumpster rentals.
You can also read verified reviews from real customers to help you find a reputable and reliable company near you.
Learn more:
Hire a Junk Removal Company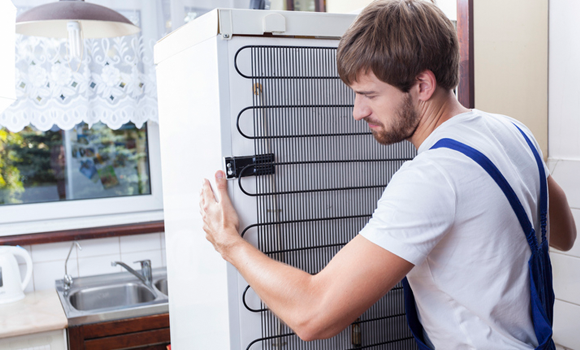 The easiest way to get rid of an old, broken-down fridge is to hire a junk removal service.
Not all junk removal companies will remove and recycle appliances, but the ones that do can be in and out of your house in under 20 minutes.
Hiring a junk removal company to get rid of your oven is affordable, fast, and requires zero labor on your end.
Hometown makes it easy to find reputable, locally-owned junk removal companies in your area.
You can request free quotes from as many providers as you'd like to ensure you get the best price and customer service.
---
---
Continue reading: