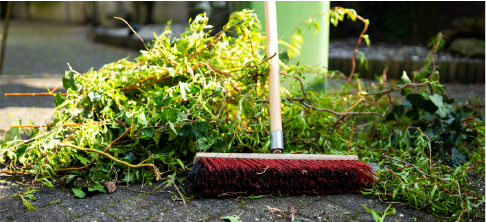 Updated January 19, 2023
It doesn't take long for homeowners to realize that yard waste and landscaping debris adds up quickly, especially if you live in an area with all four seasons.
If you're trying to determine the best solution for managing your landscaping debris, look no further.
This guide will discuss:
---
---

Composting Landscaping Debris
Unless you've been living under a rock, you've likely heard of compost and the many benefits that it offers.
Composting yard debris is far and away the most eco-friendly way to manage it.
Composting is pretty simple, and the results can be invaluable to your garden, lawn, and potted plants.
In a nutshell, compost is combining layers of brown materials and green materials—or carbon and nitrogen—and allowing it to heat up and break down into nutrient-rich soil.
All yard debris is beneficial to a successful compost.
Fall leaves, pine needles, small twigs, straw, hay, sawdust, and corn stalks are all examples of brown matter (carbon) that you can compost.
Grass clippings, weeds, and trimmings from plants that haven't set seed yet are all examples of green matter (nitrogen) that you can compost.
Typically, you want to aim for somewhere between a 2:1 and a 4:1 ratio of brown matter to green matter.
So, if you have a large amount of brown matter in your yard, or if you go through a lot of corrugated cardboard or paper, then you're a perfect candidate for composting.
Yard Waste You Can Compost:
Fall leaves
Pine needles
Twigs
Tree branches/bark
Straw
Hay
Sawdust
Corn stalks
Grass clippings (that haven't set seed)
Trimmings from plants (that haven't set seed)
Weeds (that haven't set seed)
Manures from plant-eating animals (cow, horse, sheep, chicken, rabbit, deer)
For those who love the idea of getting rid of their yard waste for free but don't love the idea of making compost themselves, composting is still an option in most cities.
Most major cities and surrounding suburbs offer a yard waste drop-off service to taxpaying residents with a driver's license.
These locations compost the yard waste and often break it down into mulch and sometimes firewood, all of which is typically free for use (up to a certain quantity) to taxpaying residents.
Simply bag up your yard waste—leaves, grass, brush, small twigs, and plant trimmings—using a reusable yard waste bag or a disposable brown paper bag commonly found in home improvement stores, grocery stores, etc.
Once you've chosen the bags you'll use for managing your yard waste, fill them up with the yard waste you have, load the bags into your car, truck, or trailer, and drive them to your local green waste collection center.
Oftentimes, if you're a resident of the city providing the service, all you have to do is show them your I.D. or proof of address in order to dump your yard waste free of charge and load up any compost, mulch, or firewood you need on the way out.
City Curbside Pick-Up Service
For a more all-inclusive service, opting for curbside yard waste pick-up is another great option that's available in most cities.
This typically includes one or more of the following options:
Reusable bin for yard waste
City-sponsored brown paper bags
Bulk waste tags
Typically, city-sponsored brown paper bags and bulk waste tags are available for purchase at your city hall and most grocery store customer service desks or local hardware stores.
These curbside pick-up services are the most convenient option, as they pick up and haul your yard waste to the drop-off location for you on a weekly or bi-weekly basis.
However, because of the convenience, these services are more expensive, and the relatively low cost of each cart pick-up ($5-$10 in most cities) or bag/tag ($3-$5 in most cities) can add up fast if you produce a lot of yard waste.
Professional Yard Waste Cleanup Services
If convenience is important to you and you don't have the time, energy, or desire to pick up all your yard waste yourself, professional yard waste cleanup services is your best option.
If you have fallen trees, tree removal companies are typically your best option because they have the equipment and experience to make quick (and safe) work of a big job.
But if you have lots of general lightweight yard debris, like leaves, branches and twigs, overgrown or dead plants, then a junk removal company is likely your best choice for getting rid of all of it it quickly.
General yard waste cleanup costs $400-$800 on average, but there are a number of factors that will affect how much the yard cleanup costs:
How much debris you have: Obviously, the more yard waste you have, the more work it will take and the more it will cost to clean it up.
Type of debris you have: Heavy debris, like stumps, will cost more to cleanup than lightweight debris, like leaves.
Complexity of the cleanup: If your cleanup requires additional effort or caution to clean it up safely, costs will go up.
---
---
Yard Waste Dumpster Rental
Big cleanups require big disposal solutions, making dumpster rental great options for the biggest yard waste cleanups.
A 10 yard dumpster or 20 yard dumpster is typically large enough to accommodate residential or light commercial yard waste disposal projects, like disposing of downed trees, built-up garden wastes, or large amounts of brush and leaves.
However, you also will need to ensure that the dumpster can accommodate the weight of your debris.
The right size dumpster will accommodate the weight of your debris, not just the volume.
The cost of renting a dumpster 10 or 20 yard dumpster is $250-$550 on average, but this cost varies by dumpster size, location, availability, and local landfill fees.
You may be able to get a discount for your dumpster by "clean loading" it with just yard waste that can be broken down, composted, or repurposed.
At Hometown, we make it easy to request quotes from multiple dumpster rental or junk removal companies, read customer reviews, and more.
We recommend checking with at least two or three different companies before hiring someone. This helps to ensure you pay a fair price for your particular yard waste cleanup by comparing quotes.
---
---
Find out more: