Updated January 19, 2023
Cleaning out a garage, shed or small outbuilding is generally a quick job for an experienced junk removal company.
Garage cleanouts can take less than half a workday to complete depending on the size of the garage and the amount of debris inside.
Garage cleanout costs vary based on a number of factors, and we'll discuss those factors and average project costs below.
Jump to:
---
---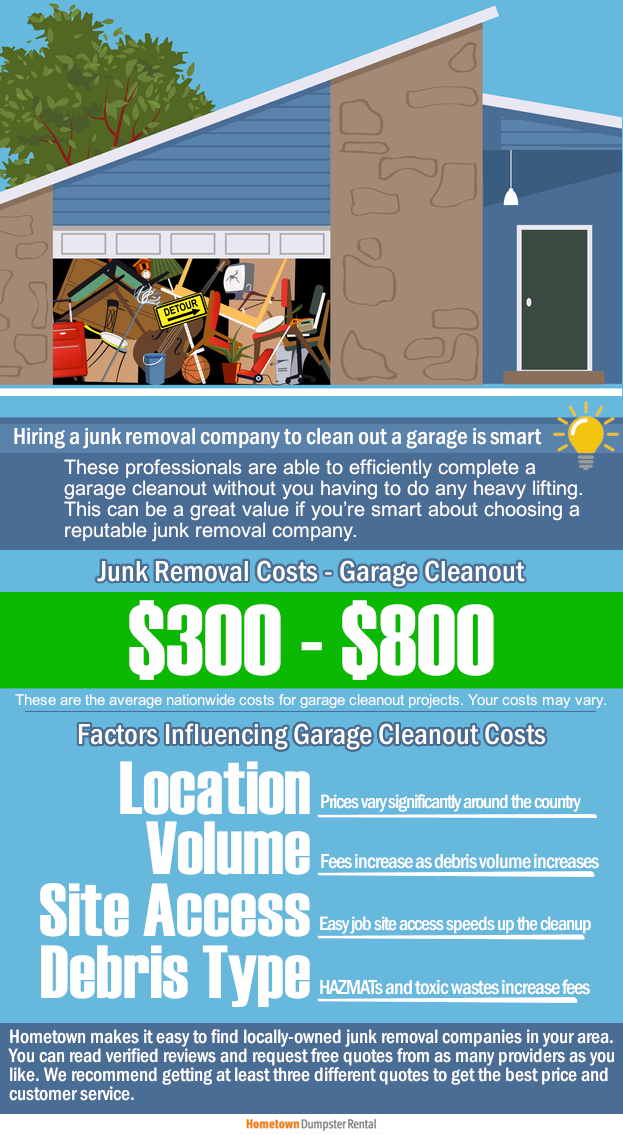 Benefits of Professional Garage Cleanout Services
Hiring a junk removal company to clean out a garage can be a fast and cost-efficient solution.
If speed is of the utmost importance to you, hiring pros to clean out your garage is the ideal choice.
If keeping costs as low as possible is more of a concern for you, you may want to consider renting a dumpster instead and do the work yourself, at your own pace, to save a little money.
When considering the costs of garage cleanout assistance vs. a DIY cleanout with a dumpster rental, be sure you also factor in the time it will take you to complete your project.
Because garage cleanouts are typically a relatively big project, it could take multiple people a weekend or longer to complete, depending on the size of the garage.
DIY garage cleanouts will also likely require multiple trips to local facilities to drop off items, like donation centers, the landfill, your local recycling center, or even a hazardous waste drop-off facility.
A junk removal company can likely complete your garage cleanout in less than a day, if not a matter of hours, and you don't have to lift a finger or worry about a thing.
Sure, you pay for convenience when working with a junk removal service provider, but they also save you a great deal of time and stress.
Average Cost to Clean Out a Garage
The average cost to clean out a garage is $300-$800, though your exact project cost may vary.
When given an estimate for junk removal services, like a garage cleanout, it is generally all-inclusive and includes the cost for picking up the materials, loading it onto the truck, and disposing of it properly.
Additional fees can apply in some cases, for example:
Handling/Disposal of hazardous materials
Volume of waste exceeds the originally stated amount
Handling/Disposal of very heavy item(s)
In-person quotes are the most accurate, and the preferred way for most junk removal companies, because it allows them to see the job in person and have a thorough understanding of the work required.
When getting prices from junk removal companies, be sure to ask what is included in the cost. Knowing this information upfront can save you a headache later.
Read on:
What Affects Garage Cleanout Costs

Garage cleanout costs are highly variable depending on multiple factors.
The most common factors that influence what you'll pay for junk removal services include...
Geographic Location
Where you live plays a role in junk removal project costs, both in terms of the cost of living and how far you live from the junk removal company.
Volume of Junk
Many junk haulers charge based on how much space the items take up in the truck or dumpster.
As a hypothetical example, a company may charge $200 for utilizing 1/4 of the truck's load capacity, $300 for 1/2 the truck, $400 for 3/4 of the truck, and so on.
Debris Type
​​​​​​Hazardous materials and toxic waste will require special handling which will increase the cost, if they're accepted at all.
For example, tires or mattresses may require special handling and disposal.
Some junk removal companies will not accept HAZMATs, while others may charge additional fees for removal.
Common hazardous materials found in a garage:
Paint (dry paint is usually OK)
Fuel and Oil
Aerosols
Stains and Varnishes
Tires
Liquids
Flammables and Explosives
Construction Debris Containing Mold or Asbestos
Be sure to check with your junk removal provider to understand their policies on toxic or hazardous material removal.
Learn More: What Junk Removal Companies Will and Won't Take
Job Site Access
If it's difficult for the junk removal company to gain access to the garage, like if they cannot park the truck close by, then more labor may be required to complete the job.
More labor hours lead to higher costs for the customer.
How to Save on Garage Cleanout Costs
There are a few easy things you can do to ensure you're getting the best value for your garage cleanout.
Obtain quotes from multiple junk removal companies to be sure the price is at or below market value.
If you have the time and ability to sell, donate, or recycle some of the items yourself, reducing the total volume of the load will save you some money.
Make pick-up as easy as possible for the junk removal workers, whether by setting aside a pile or making a clear path for the crew.
Reducing the workload for the junk removal company can mean time savings which are then passed onto you.
If many of the items have value, you may be able to negotiate a better rate using the value of the items to offset some of the junk removal cost.
---
---
Learn more: