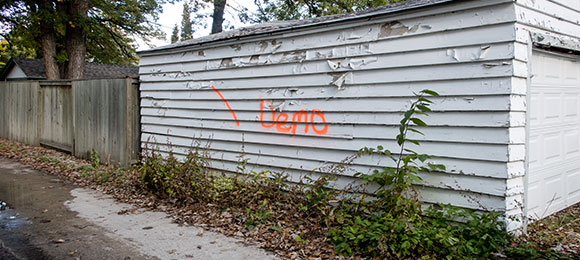 Updated August 31, 2022
A rented dumpster offers the most cost-efficient and convenient disposal method for garage demolition.
We'll discuss below why it's a better option compared to other demolition debris disposal methods.
There are several factors to consider before proceeding with a garage demolition project.
We'll touch on the key aspects of demolishing a garage so you have a basic understanding of how to take on such a project.
Jump to:
---
---
Planning Your Garage Demolition
Don't jump into any demolition project without first creating a game plan.
Know How Garage Demolition Is Done
Understanding the basics of the garage demolition process is key to determining whether or not you can handle the work yourself.
Step 1: The necessary permits are obtained.
Step 2: Any utilities in the garage are turned off and disconnected properly. (This requires professional assistance.)
Step 3: The roof is typically the first part of the garage to be removed.
Step 4: Walls, windows, and any remaining parts of the structure are then torn down.
Step 5: The foundation is then removed if desired.
Step 6: Debris is hauled away, and site is then prepped for what's next.
Contractors who specialize in garage demolition have the heavy equipment needed to bring down the garage quickly and safely.
If your garage contains valuable hardwood that is salvageable, deconstructing it may be a better option.
Decide Who Will Do the Work
The very first step is to determine if your garage demolition project is a DIY job or a project best left for a licensed demolition contractor.
A small, detached garage can be a DIY project with the proper tools and some knowledge of demolition procedures, but there's a lot to keep in mind.
Make sure you understand and follow all local safety requirements, like:
Local building and safety codes
Proper shut-down of electricity, plumbing, and/or other utilities
Who is allowed to perform this type of demolition work
Proper debris disposal
Once all safety precautions and regulations are cleared, the demolition plan can proceed.
If you are considering DIY, we recommend checking with your local building/permitting office to ensure you follow all proper safety guidelines and permitting requirements.
Requirements will vary by city and state.
For example, some municipalities may not have stringent rules on detached garage demolition (and who can perform them), but situations involving garages attached to the home or another structure will likely require permitting and approval from the proper local authority.
If you are allowed to perform the garage demolition yourself, take the necessary precautions. This includes using protective clothing, gloves, eye protection, and ASTM safety boots.
We recommend hiring a professional to handle any type of demolition work, just to be safe.

Not only will they ensure the work is done properly and safely, but they'll likely handle the entire permitting process and debris disposal for you, which is also a great deal of work for the average homeowner.
Keep reading:
---
---
Average Garage Demolition Costs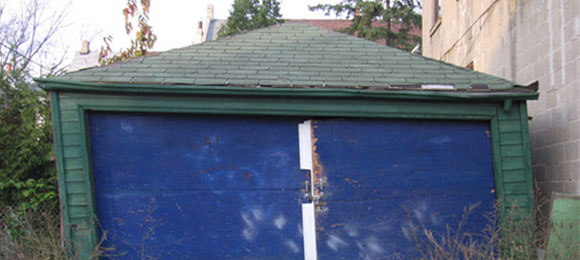 DIY Costs
Costs associated with a DIY garage demolition include, but are not limited to:
Tool rental (if needed)
Dumpster rental
Demolition and dumpster permits (if applicable)
Utilities decommission (if applicable)
All these costs can add up quickly, making DIY more expensive than you might think.
Renting a dumpster is a cost-effective option for managing demolition debris.
For a garage demolition project, a 20 yard or 30 yard dumpster is typically the best container size.
In the chart below, you can compare the average costs of dumpster rentals and common dumpster rental weight limits associated with the most popular dumpster sizes.
National Average Dumpster Costs

| Dumpster Size | Average Cost | Average Weight Limit |
| --- | --- | --- |
| 10 yard | $250-$450 | 2-3 tons (4,000-6,000 lbs) |
| 20 yard | $350-$550 | 3-4 tons (6,000-8,000 lbs) |
| 30 yard | $450-$650 | 4-5 tons (8,000-10,000 lbs) |
| 40 yard | $550-$750 | 5-8 tons (10,000-16,000 lbs) |
Dumpster costs and weight limits vary from one contractor to the next, so getting multiple dumpster rental quotes is highly recommended.
We recommend reaching out to multiple dumpster rental providers in your area so you can be sure you have a good dumpster rental experience.
Find out more:
---
---
Costs to Hire a Pro
Hiring a demolition contractor is a much safer and more efficient option than doing the work yourself.
The average cost to hire a professional to demolish a garage is $2,000-$3,000.
However, the cost of your garage demolition depends on:
Size of the garage
Accessibility of the garage
Complexity of the work (attached or unattached)
Local disposal fees and cost of living
Who you hire
Your garage demolition could cost more or less than this average depending on these various factors.
The best way to find out how much your specific garage demolition will cost is to reach out to multiple contractors in your area to compare quotes.
---
---
Learn more: