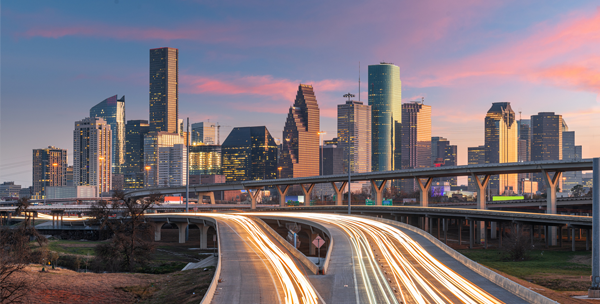 Updated August 1, 2022
Renting a dumpster in the greater Houston, TX area is a fairly straightforward and simple process, but gathering all the necessary information prior to signing a rental agreement is crucial to avoiding unnecessary spending.
We're here to answer all your questions about requirements, permits, and competitive pricing when it comes to dumpster rentals in Houston.
Jump to:
---
---

How to Find Dumpster Rentals in Houston
Finding dumpster rental services is easy with an internet search, but finding reliable, quality, licensed dumpster services is guaranteed when you search on Hometown.
Hometown vets each company that is published on our site to make sure that you're only shown providers that you can trust.
Not only are all companies properly licensed and insured, but they're locally-owned as well.
Renting a dumpster from a locally-owned company is typically the best way to get the best savings and customer service, but make sure to get multiple quotes from providers in your area to ensure you're paying a competitive price.
Using Hometown's website, you can request free quotes from as many providers as you'd like.
We recommend you get quotes from at least three different companies to ensure you get the best price, availability, and customer service.
It's important to be as detailed as possible when discussing your disposal needs to ensure you get the most accurate quote possible, and make sure to ask the right questions to avoid any surprise overage fees at the end of your rental period.
Learn more:
Dumpster Rental Permits in Houston
More often than not, a dumpster permit is not required if you're having it placed on your personal residential property.
Throughout residential areas in Houston, dumpsters can usually be placed on the street as long as it doesn't go against any HOA bylaws, obstruct traffic, or interfere with your neighbors' properties.
Your HOA may not require a permit but may require written permission and ample notice if you plan on having a dumpster rental placed on your personal property.
There are some areas of Houston that do require a permit that blocks part or all of public right-of-ways, like sidewalks, streets, parking lots, etc.
If you are renting a dumpster for your business or commercial property and plan on having the dumpster on-site for longer than 60 days, you must apply for a dumpster permit regardless of the container size.
Dumpsters rented for commercial jobs will also require a permit if they are to be placed on a street and they cannot obstruct sidewalks or building exits.
The best way to know for sure is to speak with your local municipality to be completely certain of all requirements for your specific situation.
If you find yourself needing to apply for a dumpster rental permit in Houston, you'll need to fill out an application as well as an affidavit that needs to be notarized.
Visit the Houston Solid Waste Management website for more information.
Keep reading:
Common Dumpster Types Available for Rent
Temporary residential dumpster rentals typically come in two forms:
Roll-Off Dumpsters
The most commonly available dumpsters are roll-off containers and the most common sizes offered are 10 yard, 20 yard, 30 yard, and 40 yard capacities.
Roll-off dumpsters have an open top and a swinging side door(s) that allow you to walk bulky and heavy items into the container.
Roll-off dumpsters are great for large renovation or demolition projects, home cleanouts, hoarding cleanups, yard waste cleanups, and more.
Trailer Dumpsters
Like roll-off containers, trailer dumpsters feature an open top that makes throwing in trash and debris a simple and straightforward process.
The major difference between trailer dumpsters and roll-off containers is the presence of rubber wheels.
Trailer dumpsters have rubber wheels that greatly minimize the potential for driveway damage while also providing easier, more precise navigation and maneuvering when being placed on your property.
The most common sizes for trailer dumpsters are 10 yard, 15 yard, and 20 yard sizes - all great loading capacities for a number of residential projects.
Read on:
---
---
Items Not Allowed to Be Dumped in Houston
In compliance with federal law, dumpster rental companies in the city of Houston do not allow the disposal of hazardous material in their containers.
This includes, but is not limited to: tires, car batteries and liquids, paints and lacquers, pesticides, and other combustible materials.
Beyond that universal rule, no two dumpster rental companies are the same.
Each company has their own rules regarding what is accepted in their dumpsters and what isn't, which is why you should be as specific as possible when describing your disposal needs to a potential rental company.
Some companies allow all types of material, like household junk, construction and demolition debris, yard waste, recyclables, and more.
It is not uncommon for dumpster companies to require that certain materials are clean loaded.
"Clean loading" a dumpster involves loading only one type of debris into a dumpster so that it can be reused or recycled.
Common materials that can be clean loaded include concrete, brick, roofing shingles, cardboard, aluminum, wood, yard waste, and more.
Continue reading:
Average Duration of a Dumpster Rental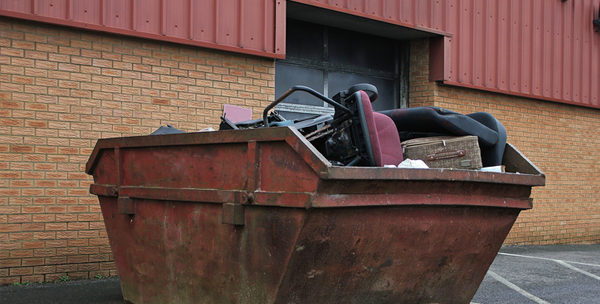 The standard length of a dumpster rental is one week but most companies offer flexible scheduling to accommodate each individual's needs.
Projects that require longer rental lengths can oftentimes be rented out for weeks or months at a time, all dependant on a company's available stock and policies.
It's also common practice for dumpster companies to offer 3-day rentals, but you'll usually still be charged the same amount as you would for a standard 7-day rental.
That's largely due to the fact that the biggest factor that determines dumpster rental pricing is the weight of the material, so don't expect to pay significantly less just because you only need the dumpster for a day or two.
That being said, it never hurts to ask! Some companies may consider giving you a small discount if you have a quick turnaround time during their busy season.
Ultimately, you'll get the most accurate answer regarding dumpster rental lengths by asking each provider you speak with what their policy is.
Keep reading:
Average Cost to Rent a Dumpster in Houston, TX
The price of dumpster rentals varies based on a number of factors, including:
Total weight of the material
Materials being disposed of
Size of the container
Length of the rental period
Time of year
Who you rent from
With all that in mind, the average price to rent a dumpster in Houston is between $400-$750.
---
---
Learn more about popular dumpster sizes: