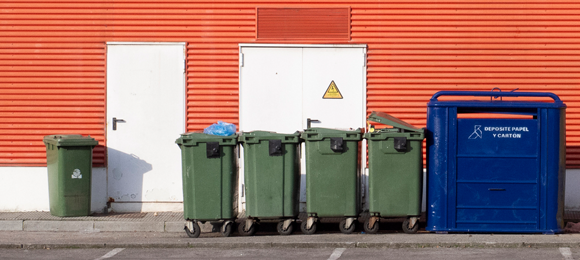 Updated January 19, 2023
Two yard dumpsters are a great small-capacity option for small businesses, retail stores, and restaurants.
Generally, this is the smallest front-load dumpster commercial trash collection companies offer.
We'll go over everything you need to know about two yard dumpsters, including average dimensions, costs, and other considerations.
Jump to:
---
---

2 Yard Dumpster Dimensions
Coming in at only 6 feet long by 3 feet wide by 3 feet high, two yard dumpsters are ideal for small brick-and-mortar businesses, like gas stations and restaurants, that see less than 100 customers per day.
There are some exceptions to this rule, like retail stores with heavy cardboard disposal requirements, but this is a good starting point for choosing a commercial dumpster to suit your business.
2 Yard Dumpster Costs
Two yard dumpsters are generally the smallest and least expensive option offered by waste hauling companies, but there are several factors that affect the cost of commercial trash collection.
Expect to pay $90 to $125 per month for two yard dumpster service
Pricing generally includes weekly emptying of the container.
Factors that can play a role in determining the price of commercial trash collection:
Location
The further the trash collection company has to drive to get to the business, the more it will cost for service.
The time and fuel costs associated with this service are major factors.
Choose a commercial waste company that is located close to your business to keep costs low.
Pick-up Schedule
Most commercial haulers offer weekly pick-up at the base rate.
For more frequent pick-ups, the cost goes up from there.
Weight and Amount of Debris
Commercial dumpsters generally have a weight limit.
Exceeding this weight limit can lead to additional fees.
Learn more:
---
---
Dumpster Laws Vary by City
Commercial dumpster rules and regulations pertaining to placement and enclosure requirements vary from city to city.
Some municipalities are stricter than others.
Let's look at one city's requirements to get a better idea:
Hollywood, Florida requires that all commercial dumpsters...
Are enclosed by a fence (that is 12 in taller than the dumpster) if the dumpster is in public view.
Are placed in a location that would not cause the garbage truck to block an intersection during pick-up.
Check your local government's website to confirm commercial dumpster requirements.
When a 2 Yard Dumpster Is the Right Choice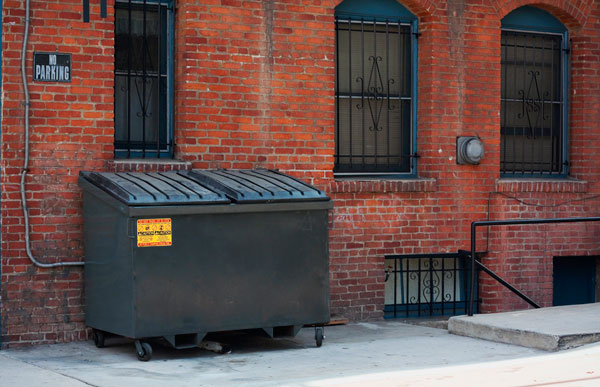 Compact two-yard dumpsters work well for gas stations, small retail shops, small schools, and other lightly-trafficked businesses.
The best way to know if a two yard front-load dumpster is a good fit for your business needs is to call and discuss your situation with local commercial waste haulers.
Check with multiple haulers to ensure you're getting the best service and price.
When calling around to different dumpster rental providers, have the following information on hand:
Types of debris or trash your business generates (e.g., recyclables, food waste, etc.)
Typical bags of trash generated each day and/or foot traffic
Location and desired dumpster placement on the property. Are there any accessibility challenges large, commercial, front-load garbage trucks would face?
Is this a shared dumpster with other businesses?
Desired pick-up frequency
Any other details you feel would be pertinent to your specific situation
Start your research today by searching for commercial waste management companies using Hometown Dumpster Rental.
Use the search bar to find local commercial waste companies in your area and request free quotes from as many providers as you'd like.
We recommend contacting several companies to compare pricing and availability.
---
---
Keep reading: