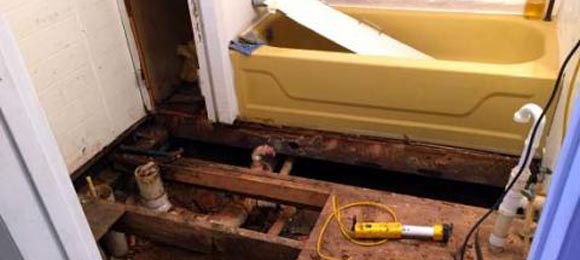 Part of tackling an interior demolition or renovation project is planning for the debris removal.
There are several options to dispose of interior demolition debris:
Each option has its pros and cons.
The disposal method that is right for you depends on your budget and access to each respective service.
Look closely at each disposal method to determine the best option for your project.
Rent a Roll-Off Dumpster
Dumpsters are particularly convenient and cost-effective for interior demolition projects.
A 10 yard dumpster can accommodate an average size demolition project, including:
Bathroom renovation
Kitchen renovation
Flooring removal
Whole house baseboard/trim removal
Removal of walls
Larger interior demolition projects may require the use of a 20, 30, or 40 yard dumpster—or a combination of dumpsters—to complete the cleanup.
Some dumpster rental companies offer trailer dumpsters, which are driveway-safe alternatives to traditional roll-off containers. This may be a good option for residential use.
---
---
Use a Bag-Style Dumpster
Bag-style dumpsters, such as Waste Management's "Bagster", have become increasingly popular in recent years.
These bag dumpsters come in various sizes but most are in the 3 cubic yard or less range.
For a full bathroom, kitchen, or other big interior demolition project, a bag dumpster is likely not going to accommodate the amount of debris generated.
For small demolition projects, such as flooring removal in one large room or two small rooms, a bag-style dumpster may work.
The cost of Bagster and similar bag dumpsters can be deceiving.
While the purchase of the bag dumpster seems affordable in the $50 range, that doesn't include pick-up!
These additional charges vary by location but will generally add another $100 to $200 to your bottom line.
Instead of investing $150+ for a 3 cubic yard bag dumpster, spend another $100 or so to rent a 10 yard dumpster—you get more loading capacity and less restrictions compared to bag dumpsters.
Renting a roll-off container from the start will save you some headaches.
Haul the Debris to the Landfill
This could be a viable option if you have access to a truck and/or trailer that can accommodate the volume of debris, and a construction & demolition (C&D) landfill is relatively close to your location.
Hauling the debris to the landfill yourself may seem like the most cost-efficient option initially, but that's not always the case.
It's important to factor in time spent driving, cost of gas, wear and tear on the vehicle and/or trailer, landfill hours of operation, dump fees, restricted items, and number of trips it will take to dispose of all the debris.
Keep reading: Cost of Hauling Waste Yourself vs. Renting a Dumpster
Hire a Junk Removal Company
One of the most convenient and quick ways to dispose of interior demolition debris is to hire a junk removal company to come clean it up for you.
This can save quite a bit of cleanup time depending on the project.
Junk removal fees generally start at around $100 for small junk pickups and go up from there.
For an interior bathroom demolition, for example, the cost to hire a junk removal company to clean up the debris will likely be $300 - $500+; it really just depends on your location and how much debris you have, as well as the type of debris.
The advantage of this option is the time-saving aspect.
Instead of spending hours cleaning up post-demo, you can work on other projects and leave the "mess" to the junk removal company.
It's worth comparing the cost of junk removal vs. dumpster rental when determining the best disposal option for your project.
Sometimes, it is very comparable.
When costs are similar, going with a junk removal service may be the better option.
---
---
Disposal Options to Avoid
Never dispose of large amounts of demolition debris in the household trash cart (weekly trash pick-up service).
This is not only bad for the environment, but it's also prohibited in most locations around the country.
Construction and demolition (C&D) debris must be brought to a facility that properly handles recycling or processing of this type of waste.
Learn more: What Can and Can't Go in a Roll-Off Dumpster
Any of the other disposal solutions above are acceptable for C&D disposal.
Please check with your current waste hauling company for details on their disposal policies.
---
---
Read more: