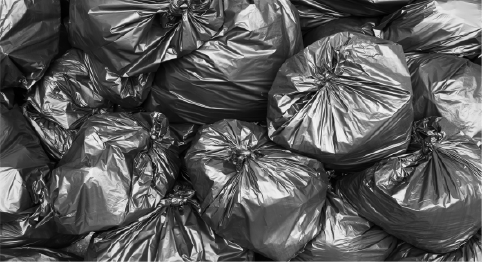 Updated July 27, 2022
If you're planning a deep home cleaning, office cleanout, or other trash-producing project, dumpster rental is a great option!
However, choosing a dumpster size that's too small or too big can end up costing you more than you need to pay.
Choosing the right dumpster size is important, and understanding how many trash bags can fit inside a dumpster is hugely helpful in making sure you do just that.
Dumpster sizes are labelled by yardage. 10 yards, 15 yards, 20 yards, 30 yards, and 40 yards are some of the most common roll-off container sizes available for rent.
This yardage indicates roughly how many cubic yards (3 ft x 3 ft x 3 ft) the roll-off dumpster holds. However, exactly how much your dumpster can hold will depend on the type of debris and how much it weighs, too.

1 cubic yard can hold roughly 6 garbage bags, which means...
10 yard dumpsters can hold 55-65 garbage bags on average.
15 yard dumpsters can hold roughly 82-98 garbage bags.
20 yard dumpsters hold 110-130 garbage bags in most cases.
30 yard dumpsters can typically hold 170-190 garbage bags.
40 yard dumpsters can hold 230-250 garbage bags on average.
---
---
Learn more about choosing the right dumpster size: